Previous
Page
Sumo News
2016 Hatsu Basho Banzuke Released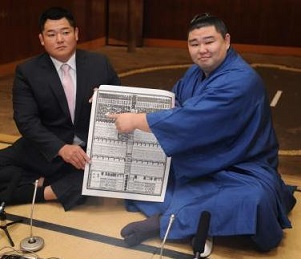 The Sumo Association released the Hatsu basho banzuke early on December 24 to beat the year-end new-year holiday season in Japan, and Yoshikaze grabbed the early headlines with his promotion to the Sekiwake rank following three straight basho where he earned special prizes for his performances. Yoshikaze becomes the second slowest rikishi to reach the rank in modern history requiring 59 basho, and he also checks in as the sixth oldest rikishi to be promoted to Sekiwake at 33 years and 9 months.

Komusubi Ikioi returns to the sanyaku for the first time in seven basho after posting 12 wins at the Kyushu basho, and Shohozan leaps all the way up to M1 after posting 12 wins of his own in November.

Two Japanese rikishi make their Makuuchi debut in 24 year old Shodai and 21 year old Kagayaki. Shodai, a former college rikishi, makes the climb in just 11 basho, a feat good enough to put him in a tie for 3rd place all time. As for Kagayaki, he becomes the first rikishi from the Takadagawa-beya (run by former Sekiwake Akinoshima) to reach the division.