Day 14 Comments (Mike Wesemann reporting)


If I had to liken the first 13 days of this basho to something, I think I would have chosen a North Dakota winter, but day 14 produced one of the most beautiful moments of sumo that the Association could have hoped for, and I really can't remember the last time I felt so much emotion during a broadcast. The Sumo Association knows the power of the weekends, and they will always align their basho so that Monday holidays fall during the basho because like the weekends, it guarantees a sell-out and better ratings on television, and so to have the highlight of the basho--no, the highlight of the year--come on day 14, a day when everyone is watching, is pure gold for the Sumo Association. Not only can the media parade the moment on the Saturday night sports shows, but they have all day Sunday to relive the moment as well, so the Association hit a home run with this one.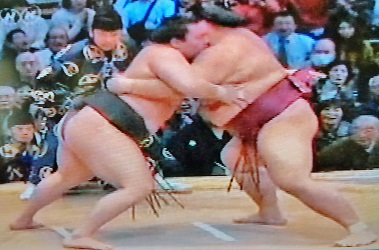 Let's move right to the bouts starting with the most anticipated matchup of the tournament, Yokozuna Hakuho vs. Ozeki Kisenosato. As I've stated ad nausea the last little while, Hakuho holds all of the cards every basho and has done so for years now, and he dictated the pace in this one from the start making the curious decision to lead with the left inside instead of his usual right and slumping back a bit instead of bodying the Ozeki upright. It was at this point that it was clear this would not be the typical Hakuho bout, and as the Ozeki responded with a left inner of his own, it was now a question of who could grab the right outer first. Hakuho fished for the grip two or three times, and it was undoubtedly there for the taking as seen in the pic at left, but the powers that be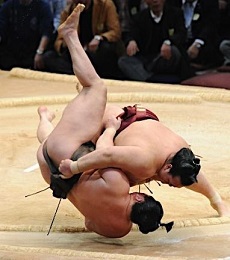 thought it better that he somehow refrain, and so he ultimately brought his right arm up high into the kote-nage position giving the Ozeki the right outer grip...and the advantage. At this point, Kisenosato had to have figured it out, and so he forced the action sideways near the edge where the two engaged in a nage-no-uchi-ai with Kisenosato throwing with the right outer and Hakuho going through the motions with the left inner. The two paused near the edge with the crowd going crazy whereupon Hakuho dropped his shoulder and elbow making damn sure he touched down first dragging Kisenosato on top of him and giving the Ozeki the sweet uwate-nage win.

The crowd was in a frenzy at this point, and after the two rikishi climbed back atop the ring and gave each other the customary bows, the crowd spontaneously began chatting in unison, "Banzai! Banzai! Banzai!". Sanbe Announcer and Chiyonofuji were busy breaking down the bout when Sanbe suddenly stopped mid sentence and declared, "Ara...kannai ha banzai, banzi, banzai!", or "Listen...they're chanting banzai in the arena." NHK played the moment perfectly capturing close-ups of both combatants as they sat down on their cushions with the crowd still chanting "Banzai!", and it really was an emotional moment, the kind of experience I don't think the Japanese fans have experienced since the early days of Takanohana when he began to move slightly ahead of the two Hawaiians.

Now, let's examine the banzai chant for a moment and consider what it means. The history of the term goes way back more than a thousand years and isn't limited to just Japan, but the Japanese people adopted it as their war cry so to speak and hailed their emperor before going into battle using the chant. Prior to World War II and during the war, Japanese national pride was at it's peak, and the banzai chant was used as a verbal expression of their nationalism. In modern times when Japan is participating in an international sporting event like the World Cup or the Olympics, the current chant is "Nip-pon!" Clap, clap, clap, but the point is...why the need to chant banzai at a domestic sporting event? It's akin to the Kansas City Royals driving across the state of Missouri to play the St. Louis Cardinals in an interleague baseball game and having the crowd start chanting, "U-S-A! U-S-A! U-S-A!" It just doesn't make sense...unless we're talking about international competition.

The spontaneous reaction from the Fukuoka crowd today was an indication that they're tired of getting their asses kicked by the Mongolians, and they're ecstatic that Kisenosato toppled both Yokozuna on consecutive days. In my twenty years of watching sumo and never missing a broadcast, I have never heard the fans in attendance chant "banzai!", even back when Takanohana was taking down the Hawaiians. It really was a moving moment, and I think it's something that would only happen at one of the non-Tokyo basho because in places like Fukuoka or Nagoya, you have the old, homegrown fans who have the most national pride.

I'm sure there are many fans out there who don't want to accept that bouts are still thrown in sumo, and they justify this thought within themselves because ultimately a Japanese rikishi doesn't take the yusho, but look at what was accomplished with a superb acting job on the part of Hakuho today and a mukiryoku attitude from Harumafuji yesterday. These guys know what they're doing, and they're being led by oyakata who understand the importance of Japanese pride and the role it plays in Japan's national sport. It was just a brilliant day for sumo despite the actual facts of the bout that led to the moment. When asked for comment afterwards as to why he lost, Hakuho honestly explained, "Yudan shita," or 'I let up.'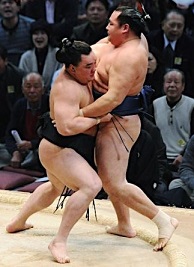 On paper, Hakuho suffered his first loss of the basho falling to 13-1 while Kisenosato moved to 12-2 and still had a shot at the yusho pending the outcome of the Yokozuna Harumafuji - Ozeki Kakuryu matchup that closed out the day. In that bout, Harumafuji came out with powerful tsuppari from the tachi-ai setting up the left inside position against the Ozeki, and on the other side, Harumafuji nuzzled in close with the right outer putting the Kak in a difficult spot. I'm sure that Kakuryu felt the Yokozuna applying the pressure with his legs, and so in an effort to counter, the Ozeki went for a maki-kae with the right hand, but the instant he tried, Harumafuji pounced driving the Ozeki back and across the straw for the emphatic victory. The result moved Harumafuji to 13-1 tied with Hakuho and eliminated Kisenosato from the yusho race, but a yusho for Kisenosato this basho is inconsequential because as Japan's biggest sports daily declared in their lead headline Sunday morning: "Kisenosato Consecutive Banzai Victories, Establishes Tsuna-tori Run!"

Even though Kisenosato was knocked out of yusho contention with Harumafuji's win, it still keeps him one off the pace heading into senshuraku, and you know the rules regarding promotion to Yokozuna: a rikishi must win two basho in a row from the Ozeki rank or post records worthy of the yusho. Kisenosato at 12-2 after having toppled both Yokozuna is a feat definitely "worthy" of the yusho in the minds of the Association and the fans. Technically, Kisenosato doesn't even need to yusho in January either, but regardless of that, Sumo now has their lead headline heading into January, and Endoh should be completely healthy as well. So much was accomplished today in regards to elevating the image of sumo that it truly was a banner day for the sport.

Reviewing the rest of the bouts on the day is pointless in comparison to the finale, but let's touch on a few bouts of interest.
M5 Kaisei pressed forward first against Sekiwake Tochiohzan, but he kept his hands up too high allowing Tochiohzan moro-zashi after about two seconds. The Brasilians in attendance knew Kaisei was in a pickle at this point, so their national pride kicked in as they chanted, "B-R-A! Hold 'em, Kaisei hold 'em!", but it was to no avail as Tochiohzan forced him back so quickly that as Kaisei tried to spin away, he was turned around 180 degrees rendering the okuri-dashi from Tochiohzan academic at that point. Both rikishi end the day at 6-8 and must regroup at Hatsu.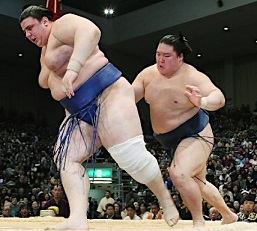 Sekiwake Goeido entertained M5 Aoiyama (or was it the other way around?) in a bout that saw both rikishi employ tsuppari from the tachi-ai but stand straight up in the process. Aoiyama took the initiative first using his sweet hissing tsuppari, but his legs weren't into it, and Goeido was easily able to slip to his left and force Aoiyama to give chase. After a lazy tsuppari from Aoiyama, Goeido swiped at the arm turning Aoiyama around 180 degrees, and he just ran himself outta the dohyo with little to no assistance from Goeido. At first it didn't appear to me that Aoiyama was trying to throw this one, but the way he just ran out of the ring on his own in the end was a little bit spicious. Who cares as Goeido picks up kachi-koshi at 8-6 while Aoiyama is still sitting pretty at 9-5. If Aoiyama doesn't end up winning a special prize this basho, perhaps the Brasilian fans can chip in and buy Aoiyama a B-R-A as consolation. As for Goeido, Chiyonofuji commented afterwards from the booth that Goeido will continue to struggle as long as he doesn't do his brand of sumo and stop aligning his sumo to his opponent. Can't argue with the Wolf.

M6 Chiyotairyu just crushed Komusubi Okinoumi back and out with a straight forward freight train attack that was mysteriously absent the last two days against Kisenosato and Goeido (cough, sputter, clear throat). I would submit that Okinoumi has been a helluva lot more impressive this basho than both Kisenosato and Goeido, and I think Chiyotairyu could have destroyed those two in the manner he did the Komusubi today, but it just goes to show how much of a role politics plays in sumo. The bottom line is it was good to see Chiyotairyu unbridled again today as he moves to 10-4 while Okinoumi falls to a precarious 7-7.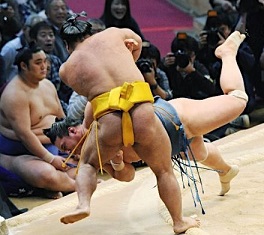 Rounding out the sanyaku, Komusubi Shohozan was proactive in keeping M4 Homasho on the run as Homasho stayed low and patiently waited for an opening. Shohozan just couldn't penetrate inside to pin Homasho up against the ropes, however, and about 10 second in, Homasho seized an opening getting the left inside and immediately going for the kill. Shohozan moved right well along the edge of the tawara countering with a tsuki-otoshi with the right hand, but Homasho's left inside position forced Shohozan to step out just before Homasho's body crashed down. The gyoji flinched in favor of Homasho and then changed his mind mid-gunbai pointing the wooden paddle towards Shohozan, but a mono-ii was called for where it was correctly ruled that Homasho was the victor.

I must add at this point that there was a bit of ballyhoo over Takanohana's return to the chief judges seat this basho, but he totally botched the explanation of the bout saying, "I will now explain our conference. The judge ruled in favor of Shohozan, but we..er..uh..long pause..uh..um...we're giving Homasho the win." And that was that as Homasho ekes forward to 5-9 while Shohozan drops to 4-10.

M10 Tamawashi shaded left and kept M1 Aminishiki at bay with the left hand firmly pushing in at the back of Ami's right shoulder, and Aminishiki just doesn't have the strength anymore to use his legs and break away from this type of hold and still be effective, so when he did try and back out of it, Tamawashi pounced and shoved him outta the dohyo with relative ease moving to 9-5 while Aminishiki falls to a frustrating 6-8.

M1 Myogiryu threatened moro-zashi against M8 Takarafuji, but before he could really get established, Takarafuji backed out of it. Myogiryu had his forward momentum in gear, however, and so he was able to continue driving forward into his foe and forcing him back without argument leading with those dual inners obtained from the tachi-ai. Myogiryu is one step away at 7-7 while Takarafuji shares the same mark.

Sanbe Announcer's first comment regarding M3 Takekaze was, "Masugu ikimashita," or he went straightforward, and so Toyonoshima just barreled to the inside and pushed Takekaze back and out in mere seconds. Toyonoshima picks up kachi-koshi in the process at 8-6 while Takekaze falls to 7-7.

M8 Tenkaiho obtained the deep right inside from the tachi-ai, and he had M2 Kyokutenho on the ropes early, but he gave up way too easily in getting the left on the inside as well, which would have given him moro-zashi, and his indifference allowed Kyokutenho to grab the right outer instead on that side. The Chauffer will simply wear down his opponent's tread from this position, and it showed today as he scored the yori-kiri win moving to 5-9 while Tenkaiho shows why he's 2-12.

M3 Takayasu was a changed man today, but too bad it came on day 14. Or was it because he was fighting M12 Jokoryu? Takayasu led with his head and used tsuppari and powerful de-ashi to send Jokoryu back and on the run, and he stayed with Jokoryu step for step and just wore him out with his tsuppari picking up a rare win at 3-11 while Jokoryu now shares the same mark.

M4 Tochinowaka henka'd to his right, but he still couldn't finish of M13 Gagamaru, and not only did he fail to take advantage of the quick and dirty henka, but he allowed Yubabamaru to fully recover with a right hari-te turned into an effective choke hold allowing Gagamaru to get the left inside, keep Tochinowaka straight upright, and drive him back for the comeback win that resulted in kachi-koshi at 8-6 for Gagamaru. Tochinowaka falls to 3-11 and just can't compete at this level on the banzuke.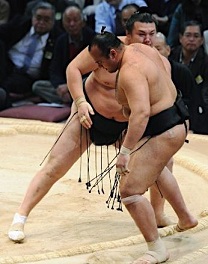 M15 Osunaarashi used moro-te-zuki from the tachi-ai against M6 Ikioi, but the shoves had absolutely no effect. Ikioi simply wiped them aside and got his own right arm to the inside immediately charging his Egyptian gal back and out for the easy win. Osunaarashi has been "hot" of late in terms of piling up the wins, but against a rikishi the caliber of Ikioi, he was just plain lost. Ikioi moves to 10-4 with the easy win, and when they caught up with him afterwards and asked him about winning in double digits he commented, "more than that, I'm just happy with my sumo this basho." I couldn't agree more as Osunaarashi falls to 7-7.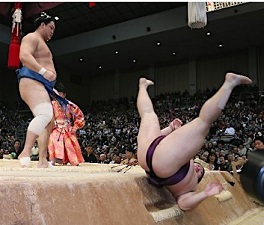 M7 Endoh latched onto a frontal right grip and stayed low, but M14 Kyokushuho backed out of it and countered with a pull, and Endoh just couldn't go forward, so Shuho grabbed the left outer over the top and swung Endoh over to the tawara completely off balance setting up the decisive oshi-dashi win in favor of the Mongolian, who happens to pick up kachi-koshi with the win. Endoh falls to 5-9 with the loss, and that ankle injury has taken away any explosiveness in the ring resulting in lopsided losses and dangerous backwards falls offa the dohyo. After watching him get his ass kicked today, it makes me wonder how many of his five wins were legit.

M7 Toyohibiki picked up his kachi-koshi today thanks to zero de-ashi from M15 Shotenro. Toyohibiki couldn't boast of any de-ashi of his own, but he backed up quicker pulling Shotenro down to the clay about a second and a half in this uneventful bout. Both rikishi end the day at 8-6.

M9 Kitataiki came in low from the tachi-ai and when M16 Tamaasuka's response was nothing, Kitataiki moved left and quickly slapped his opponent down picking up kachi-koshi. Tamaasuka falls to 3-11 if you need him (and you don't ! ).

And finally, M12 Fujiazuma picked up his kachi-koshi by surprisingly forcing his bout against M9 Sadanofuji to the belt from the get-go, and it caught Sadanofuji so off guard that the smaller Fujiazuma grabbed the right outer grip and forced the larger Sadanofuji (7-7) back and out in about four seconds.

Looking ahead to tomorrow, the winner of the Hakuho - Harumafuji bout takes the yusho, but that's probably the last thing on anyone's mind in Japan. Banzai!
Day 13 Comments (Mike Wesemann reporting)


I really thought Kane was spot on yesterday when he talked about simultaneous basho going on...one where the Mongolian Yokozuna were doing their thang, and one where the Japanese rikishi are just trying to make it look close. It reminded me of the concept of time travel where the theory goes there are multiple universes running together in parallel, and if you can figure out a wormhole into a different universe, you can in effect, travel through time. Talk of Ozeki promotion for Goeido and Kisenosato's always finding himself on the leaderboard late in the basho are a few attempts at the Japanese rikishi trying to worm their way closer to the dominant universe, but the fact remains that no Japanese rikishi on the banzuke can currently get there on his own. In time, a Japanese rikishi will be able to rise up and go toe to toe with the Mongolians, and I happen to think there are two in the division that will ultimately fulfill that prophecy in Chiyotairyu and Endoh, but until those two can get more experience in the division and gain more confidence--and until Hakuho loses a step, this current wartime occupation of sumo wrestling by the Mongolian rikishi will continue.

Focusing on the day's bouts, it used to be that day 13 was the coveted reporting day, and I used to call it moving day because by the end of Friday in week 2, the pretenders were sifted as chaff from among the contenders, and we knew exactly who needed to do what in order to yusho. Now, however, day 13 has been reduced to, "So, is Hakuho going to win this thing or give someone else a chance?" With Harumafuji jumping out to a 12-0 start as well, we now have two members of the mafia able to make that decision, so let's start with our two leaders going in chronological order.


The biggest bout on the day was of course the Yokozuna Harumafuji - Ozeki Kisenosato matchup, and it did not disappoint. Harumafuji opted to keep his right arm up high at the tachi-ai and his left arm outside not committed to anything, and from this position, even I would be able to get moro-zashi on the dude. But...since we're talking about Kisenosato here, the Ozeki was unable to get dual insides, and so Harumafuji threw a wild right hari-te that missed it's mark, and at this point the Ozeki managed the left arm to the inside while the Yokozuna responded with a kubi-nage attempt that was never executed. With the Yokozuna's right arm also up high in pull fashion, Kisenosato easily bodied his foe to the side and across the straw picking up the win in maybe four seconds. Just look at Harumafuji's face, his upright stance, and that limp left arm and you know how hard he tried in this one. Kisenosato improves to 11-2 with the win while Harumafuji is saddled with is first loss on paper at 12-1.

As they showed the replays of the bout, Dewanoumi-oyakata who provided color on the day said, "Er...um...ano...oh, look, it was that missed hari-te that gave Kisenosato the opening" upon which Fujii Announcer also jumped in, "yes, the missed hari-te." Damn that hari-te! And to think Harumafuji was so close to the yusho only to be foiled by an ill-advised face slap. The bottom line in this bout is Harumafuji never once tried to establish the inside position; he never once tried to grab Kisenosato's belt; and both arms were at the Ozeki's shoulder level or higher throughout the bout. That it took Kisenosato four seconds to win this shows you just how much the Ozeki bumbles the tachi-ai.

As to why Harumafuji chose to approach today's bout in this fashion, I think it's best explained by examining the leaderboard coming into the day.

12-0: Hakuho, Harumafuji
10-2: Kisenosato

If Harumafuji wins today, we have two more days of bouts with nothing but two Mongolians to look forward to (which would have been fine by me). If Kisenosato wins and stays in the yusho hunt, we at least have Saturday with a Japanese rikishi on the leaderboard (which is fine by the domestic fans). It's dangerous to assume that just because Harumafuji stepped aside today that Hakuho is going to do the same tomorrow. I fully expect Hakuho to come out on day 14 and respectfully kick Kisenosato's ass, but nothing these days surprises me.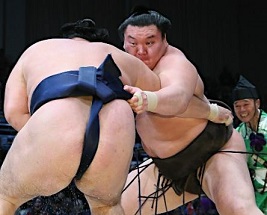 With the penultimate bout in the books, it was now time to see how Yokozuna Hakuho would respond against Ozeki Kakuryu, and once the Yokozuna went for and got the right inside position from the tachi-ai, there was nothing the Kak could really do. He gave an effort of it denying the Yokozuna the clinching left outer grip, but Hakuho responded with a left kote-nage throw instead that knocked Kakuryu off balance to the point where Hakuho was able to grab the left outer, and once secured, he just smothered the Kak across the straw right in front of the chief judge.

As the dust settled from the two bouts involving the leaders, the yusho race now shapes up like this:

13-0: Hakuho
12-1: Harumafuji
11-2: Kisenosato

We've all done this long enough that I don't need to explain the possible scenarios, so let's move along and comment on other bouts of interest.

The Sekiwake Goeido - M6 Chiyotairyu matchup was extremely compelling coming in because I knew the bout would be one-sided; I just didn't know for whom. Chiyotairyu came in high at the tachi-ai swinging his left arm pointlessly into the side of Goeido's right arm, but that move's akin to beating up on your little brother when you don't want to really hurt him. You know, you can hit him in the biceps, frog him in the thigh, or give him some noogies. Yeah, he's gonna feel it, but he likely won't go crying to mom and dad. Anyway, Chiyotairyu kept that left arm in the kote-nage position with the right arm up high threatening a pull, but even Goeido wasn't obtuse enough to blow this one as he immediately shoved Chiyotairyu back and across for the two second win.

My take on this bout is the exact same as the Harumafuji - Kisenosato bout that proceeded. You have two rikishi in Kisenosato and Goeido who are clueless at the tachi-ai (not just today but all the time), and then you have two bruisers who come in high and wide and get forced out in a matter of seconds. Now one might say, "well Chiyotairyu is Japanese, and you're even calling him an Ozeki candidate, so why would he just lose this bout on purpose?" And the answer is...who had more to lose here? Just yesterday, one of the lead stories on the news wires was "Goeido loses his sixth...Kitanoumi Rijicho says of his Ozeki candidacy dame da-ne." You spend the entire pre-basho hyping this guy for Ozeki, and then after 12 days not only is he 6-6, but he's looked just plain awful. And how many basho have we gone through this with Goeido? To have a Japanese candidate for Ozeki make-koshi on this banzuke is unacceptable. Furthermore, what's the difference if M6 Chiyotairyu is 9-4 or 10-3? He's still got two days to pick up that tenth win. Chiyotairyu has nothing to lose here while Goeido has more than just his reputation at stake. Now, at 7-6, Goeido only needs one more bout thrown for him...er...he only needs to win one more instead of two, and so there's less risk in that. As for Chiyotairyu, he settles for 9-4 and the Sumo Association should award him a special prize for his acts against Kisenosato and Goeido alone.

Were there any other bouts of interest on the day?

Sekiwake Tochiohzan got the right arm dangerously close to a frontal belt grip at the tachi-ai, and as M2 Toyonoshima tried to maki-kae with the left arm, Oh moved right with an inashi slap that sent Tugboat clear across the dohyo where the Sekiwake pushed him out from behind scoring the easy win. Tochiohzan is fighting for a Komusubi rank now at 5-8 while Toyonoshima is still alive for a sanyaku berth at 7-6.

Komusubi Shohozan moved slightly left hooking M7 Toyohibiki's left elbow causing the Hutt's right foot to change direction in mid-air and throwing him completely off balance. From this point, Shohozan rushed into moro-zashi, and while Toyohibiki tried to hang on with his feet at the tawara and a right kote-nage counter, Shohozan rewarded him with a backwards trip down the steep east face of the dohyo. Shohozan (4-9) needs anything he can get this basho, so it was good to see him pick up a rare win. Toyohibiki will live to fight another day at 7-6.

M6 Ikioi was unable to budge Komusubi Okinoumi at the tachi-ai bouncing back a half step after that initial clash and allowing Okinoumi the left inside. With Okinoumi's legs moving forward, Ikioi simply didn't have time to counter taking one on the chin from the taller Okinoumi who executed the swift and decisive yori-kiri victory. At 7-6, Okinoumi is one of the surprises of the basho for me, and if a guy with his size and strength would just try as he's done this basho, he can easily kachi-koshi from the sanyaku. Ikioi's still lookin' sharp at 9-4.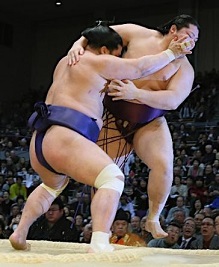 M7 Endoh has been fed nothing but softies this entire basho, and while M1 Myogiryu ain't in the sanyaku this go-around, he's still on par with anyone else who can obtain the Sekiwake rank, and the difference in the banzuke was on full display here as Myogiryu used the right kachi-age at the tachi-ai to set up the left inside position so deep and so fast, he was able to send Endoh halfway up the hana-michi before the gyoji had finished his first "nokotta!". Dangerous bout here for Endoh whose make-koshi becomes official at 5-8, but it's no matter. The agenda this basho was to keep him in the division for Hatsu. As for Myogiryu, he stays alive at 6-7, and who can't help but root for this guy, especially after he treated us to a second face wash in as many days?

M1 Aminishiki was in full control of his bout against M9 Kitataiki after a quick right paw to the throat followed by the right inside that was so dominant for a moment there I thought Kitataiki had on one of those leather harnesses with the ball in his mouth (quick, Kane, find me a pic!). Aminishiki easily grabbed the left outer grip, but before he could retrieve his little tassel whip, his hand slipped out of that uwate as he tried to spin Kitataiki around leaving Shneaky without a pot to piss in. You rarely see the momentum in a match turn like this, but Kitataiki was ready lowering his shoulder and sending Aminishiki into the first row for his troubles. You could just see the pain on Shneaky's face as he walked down the hana-michi because both of these dudes entered the day at 6-6, and now it's Aminishiki whose 6-7 while Kitataiki has two days to win one.

M3 Takayasu came today with another weak tachi-ai surviving with the left inside, But M16 Tamaasuka's charge was even weaker allowing Takayasu to backpedal and pull Tamaasuka down before he could trip up the M3 with an ashi-tori move near the edge. The way these two are fighting this basho, I wonder if they could even kachi-koshi from the Makushita jo'i as Takayasu picks up just his second win against 11 losses while Tamaasuka falls to 3-10.

M3 Takekaze welcomed M14 Kyokushuho to the big leagues throwing him off balance with a henka to his left and shoving the Mongolian back near the edge before he could properly square back up. A bit disoriented, Kyokushuho sent this leg back fishing for the tawara to brace himself, but it was further back than he thought, and he essentially just moved himself into a position to be slapped down. Takekaze's never met a pull opportunity he didn't seize on and that was that as both rikishi end the day at 7-6. Kyokushuho's only recourse from this bout is that Takekaze prolly knew he couldn't beat the Mongolian straight up so he implemented the quick and dirty henka.

M11 Tamawashi caught M4 Tochinowaka with a left choke hold and then moved left pushing at T-Wok's right side (ottsuke) to send him outta the dohyo in seconds picking up kachi-koshi in the process. Tochinowaka continues to flounder at 3-10.

M5 Aoiyama was upright and stiff-legged as he delivered tsuppari into M12 Fujiazuma, but there was enough interference there between his gangly arms and sweet mammaries to keep Fujiazuma away, and though Fuji tried to get inside for about fifteen seconds, Aoiyama never went for a pull and beat Fujiazuma back and across the straw for a decent win moving him to 9-4 while Fujiazuma's stuck on that seventh win.

M15 Shotenro finally picked up kachi-koshi (after that 6-0 start) by catching M5 Kaisei (6-7) with two hands to the neck, standing him upright, and driving him back without argument using two hands under both'a the Brasilian's pits.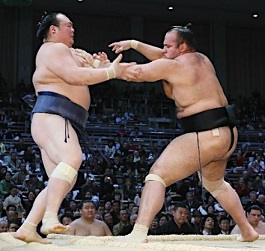 I thought M15 Osunaarashi picked up the best win of his career today using a left choke shove against M8 Takarafuji connecting twice and sending Takarafuji back all the way to the edge where he applied some sort of voodoo spell on his opponent before using a simple push from there to finish off the more seasoned rikishi. I can't really say that Osunaarashi has turned a corner here, but this was no slouch win as both rikishi end the day at 7-6.

And finally (drum roll please), J5 Gangstah-no-sato felled Sotairyu with a kote-nage throw giving Wakanosato kachi-koshi and a chance for double-digit wins from the Juryo ranks!

As we look to the weekend with three rikishi still in the mix, the question isn't "whose it gonna be?" as much as it is "how's it gonna happen?" Be back tomorrow to let you know.
Day 12 Comments (Kane Roberts reporting)


With the painfully obvious disparity between the skilled, aggressive Mongolian wrestlers and the rest of the field these last couple of weeks on planet Fukuoka…I feel like there are two (count 'em) TWO bashos taking place. The mongoru yokozunas seem to be playing in a different dimension than everyone else except maybe Kakuryu (another country mate) who, although may not be as full on as the other two, can sweep the dohyo with 95% of the rikishi board...but he also knows the last thing anyone wants right now is a three way Mongolian yusho race.

The current sumo worriment was never more evident than the last couple weeks. I mean the looks of dismay as fancy boy Goeido gets his knickers twisted all day and night and the audible shudders as Hakuho and Harumafuji face smear everyone…sweet fancy moses, go and finish the year with a resounding knee to the gut of Nihon pride why don't ya?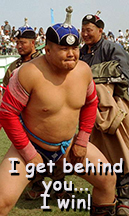 Maybe the disparity is because in Mongolian wrestling tourneys (where these rikishi cut their teeth) there's no weight or age classes so a 12 year old may end up wrestling a 40 year old beast with an intimidating sex device on his hat.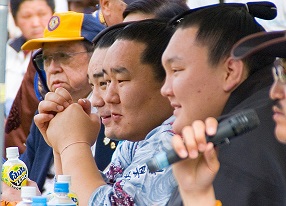 Whatever the reason, the Mongol Mafia has been in full swing for a while now and with these juiced up Ozeki runs that more often than not fizzle into mind bending disappointment, one gets the feeling the banners in the cheap seats will soon read "OH - COME ON WILLYA!" cause GANBARRE ain't working so good no more.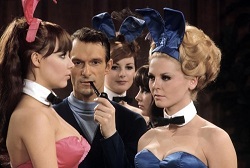 I guess Martin has a point with making everyone prettier…you know to spark interest…I mean even a creepy, stalking, porn addict with a turtle neck and a pipe can cash in on pretty…

But on second thought... "little" things like the tsunauchi-shiki and natto may indicate some powerful cultural dynamics (steeped in heartfelt traditions) are afoot in this beloved sport…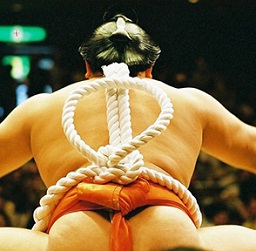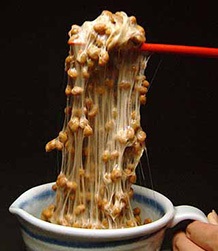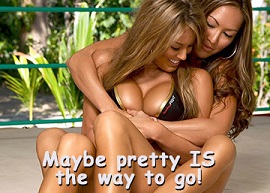 Yo Gaijin, you may enjoy our sumo but it ain't gonna be on ESPN any time soon boy. So you best be getting' your head right. That kinda commercial change prolly won't be happening soon and if it was ever to take place it would have to come from historic figures like Lord Ieyasu, Taira No Kiyomori or SMAP.


Currently, as I observe the humongous difference in sumo skills between the Mongolian Triumvirate and the rest of the rikishi gang, I fear I may be losing my sense of time and space. Kinda like "Are those guys huge or are the other guys just really far away?" (nod to Steven Wright). Maybe…just maybe someone will take up the charge and successfully mix it up with these demons soon or then again maybe (just maybe!) someone will get old or retire and all things will get lined up in Japanville.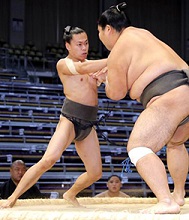 Now, all that hogwash being said, the banzuke is always a complex set of variables and each basho has much to offer beyond 'who's gonna win' (especially since we kinda already know). And yeah there's something to pull down from every bout…and speaking of which…lets take a look at some of these matches. So here we go! - Real Japanese Sumo • Night 12 - Direct from Fukuoka!!!!

After a brief and touching special report on Takamisakari's danpatsu-shiki ceremony, 21 year old Juryo beast, J2 (9-2) Chiyootori showed up sporting an ample amount of notches on his gun belt and as much as M12 Jokoryu wanted to look badass on the dohyo, he couldn't run from his bogus 3-8 performance.

At the git go, the Joker was trying to get some mawashi in his mitts but his adversary effectively slapped his hands away as he sought his preferred yori-kiri win. Unfortunately, neither fat guy could display any classic anything and after some flailing, Chiyootori stepped back and yanked the now 3-9 Jokester to the sod. And so, we start things off with the oft slandered kimari-te - hataki-komi. A smiling Chiyootori returns to the slums with a shiny 10-2 tattoo.

The eternally debonair inamorato M11 (6-5) Tamawashi slapped his belt and stared down Mr. Inconsistent himself, M9 (6-5) Kitataiki. Mongol veteran Tamawashi, now 29, has lost a step or three but he DOES work the dohyo in the right direction. At the tachi-ai he met the nervous footed Kitataiki high and hard, immediately turned him around (like 360 degrees) and then shoved him into the bad place for an oshi-dashi (7-5) victory.

M7 (6-5) Toyohibiki has gotten a bit roughed up this basho and he's also witnessed his country mates being mercilessly knocked around the jo'i by some mean Yokozunas. On night 11 he jacked up the frequently jacked up Tochinowaka with a tweaked dame-oshi, and as he sized up the shifty Egyptian M15 (6-5) Osunaaaaarashi, I got the feeling some more pay back may be in order.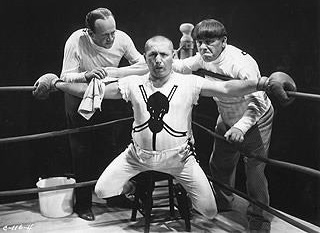 The youngster, Osunaaaaarashi showed little respect for the Hutt and said hello right at the gun with a big pawed nodo-wa and then did his best Yoshikaze imitation (although not at Cafe's light speed) and tried everything from a head pull to a smack down hari-te.

BUT the slap to the kisser of Toyohibiki may have been a mistake… 'cause it surely seemed as if the brain matter underneath his over-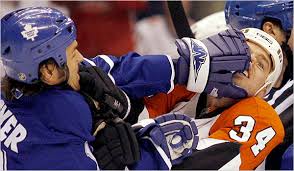 sized occipital crest got doused with some red hot adrenaline (Moe Larry Cheese!). Hutt gutted Osuna's neck with his own nodo-wa choke hold and never let go…oh and once the big Egyptian kid was strangled over the rope the (7-5) Hutt gave him a nice NHL style face wash.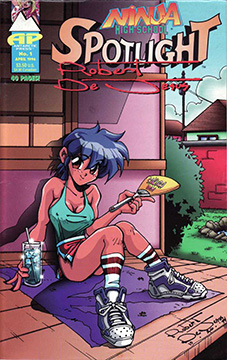 One of the big new kids I'm liking is this M6 (8-3) Ikioi. He may not have his chops fully realized yet but Itchy Koo (no not the little Ninja High School comic hottie we've all grown to adore) is an athletic, strong, enthusiastic rikishi and, as big Mike surmised, he's maturing at a solid clip. (Hey, by the way, another kid with the right spirit, Masunoyama, suffered a knee injury and I wish Sir Cumference a clean and speedy recovery).

On night 12, Ikioi was all kissy face with the solid veteran, M14 (7-4) Kyokushuho and straight from the gun he controlled every second of the rumpus. His low and powerful two armed attack was relentless all the way to the win column. I dug how Itchy Koo adjusted his footwork against Kyoku's defensive moves and kept his forward thrust in play for a well deserved yori-kiri / 9-3 tally.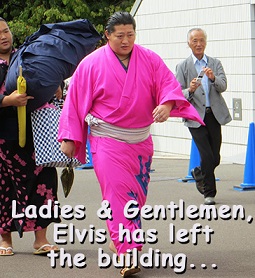 When the lights went down and the fog machines played with the laser light show at the stage entrance I knew who was up next. M7 (5-6) Endo hopped up onto the dohyo and showed off his shiny locks and cool countenance. M4 (2-9) Tochinowaka, who's skillful promise suddenly dissipated a few basho ago, had taken his share of knocks this contest and was here to get some mojo back.

I suspect Sleep-waka barely felt Elvis' charismatic swoon that melted the sexy Fukuoka crowd into a romantic stupor and forced his way off the tachi-ai into a solid migi-yotsu mawashi grip. He exercised Endo around the ring but credit Elvis with an intelligent response.

Endo's clear headedness throughout the course of his matches indicates to me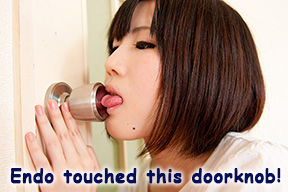 that he stays in the moment and improvises with solid techniques rather than backing up or panicking. Good news that will only get better as time goes on.

As they approached the edge, Endo gained the inside position and attempted a half decent throw but as they fell, his arm hit the turf first (just barely) and Tochinowaka got a much needed (3-9) win. Evidently, the loss will in no way diminish Endo's loyal fan base.

Another promising 28 year old "kid", Komusubi (6-5) Okinoumi (aka Ayumi Fukuoka) seems to love yori-kiri as of late (he also likes to lose via the same kimari-te). He wants to do well this basho because…I mean come on!… they named the prefecture after him. M2 (6-5) Toyonoshima wanted the win cause he's a badass.

Toyota got underneath Oki - Dontcha Know Me - Simone's armpits and bumped him back and out with a Kotoshogiku (remember him?) style stomach massage. The Boat tugs one off for a sweet 7-5 vic while Okinoumi has to swallow an uncomfortably late (in the basho) 50/50 record.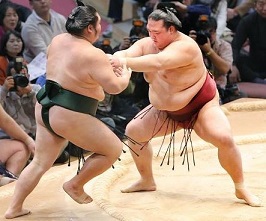 Ozeki (9-2) Kisenosato lost the tachi-ai to the smaller M6 (9-2) Chiyotairyu but Chia Pet suddenly decided to do that thing…you know the hand pulldown thing that pisses off ST Grandmaster Mike. Credit the Kid for moving Chiyo backward and out for a sexy oshi-dashi 10-2 record. On the down side..WTF dude?!…on the plus side - the glimmer of hope for some kinda sumpin' on senshuraku quite conveniently stays alive….schwinnng!

M5 (7-4) Aoiyama soundly thrashed Ozeki (9-2) Kakuryu, but only because the third Mongolian with serious game chose to imitate a man he (along with Osunaaaaarashi) has always admired…Yoshikaze. Like I said, the last thing we all need is a three way Mongolian sumo kinda thing! Aoiyama kachi-koshi's and as Kak walked back to the lockers he looked like a guy returning home from a long day working at a bank.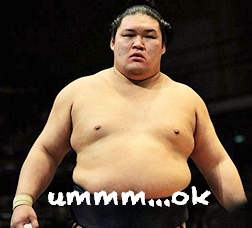 Sekiwake (6-5) Goeido left basho "A" and climbed the beanstalk towards the clouds and into basho "B" where (11-0) President Hakuho awaited his arrival. When he crouched in front of the intimidating Yokozuna, Goeido wondered "Maybe this will be like one of those 2 times out of 23 attempts where the referee pointed to me for some reason".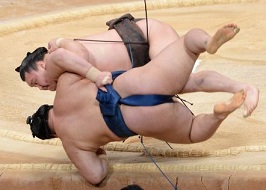 At the gate we saw Hakuho's right hand rocket STRAIGHT for the belt and squeeze it like a vice (or vise if you're a Brit). This is what the guy does when we're living in Realsville. I think Hakuho was gonna let Goeido sit in the ring with him for a bit to make the lopsided fracas look a bit competitive but the "next Ozeki" suddenly started jitterbugging and Hak quickly shoved him off the cliff for an uwate-nage 12-0 zensho award. Yikes…the crowd was like…"Oy vey desu!"

Sekiwake (4-7) Tochiohzan, on the brink of capturing a much deserved make koshi, was facing a fall to the Maegashira ranks and wouldn't you know it…he's gotta fight that other guy - Vice Yokozuna (11-0) Harumafuji (or Slappy as some like to call him).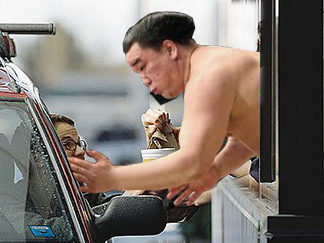 In truth, Tochi held his own but (unlike Endo) his decision making during the bout falls below stellar. Off the tachi-ai he did achieve a right handed belt grip but he didn't do much with it and when you face a focused guy like Slappy (when he's letting the dogs out) you better know where the F you're headed with things.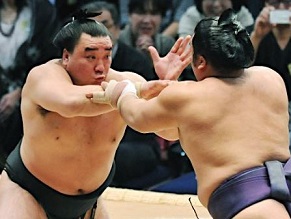 Haru kept tugging and slipping and forcing Tochiohzan backwards and if Tochi gained ground Haru would counter by tying up his arms working him further towards a sorrowful end. Harumafuji finally drove him up and over the straw and gains zensho (12-0) while Tochiohzan considers a different colored belt.

And now, since the theme of this basho has most assuredly been the proper application and ogling of yoga pants, I will leave you with a resounding thanks for the opportunity to expound on such a cool sport and this prime example of how great life can be…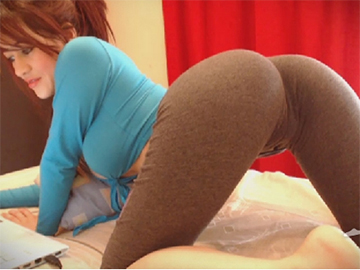 Special Report:

Wakanosato Juryo Update: Day 12 - the gangstah stands at 7-5
Day 11 Comments (Mike Wesemann reporting)


Each morning I get up, the first thing I do is watch the bouts and then check the news wires for the top sumo headlines. The website I go to lists the top five stories, and then you can expand that to get the rest of the news. At the end of the day yesterday, of the top five stories, two focused on Endoh, one focused on the withdrawal of Masunoyama, and then each Yokozuna had an article apiece devoted to him. At the end of the day 11 bouts, the obligatory Endoh coverage was on top, a story about Shohozan's disappointing basho was next, two stories on how Paul McCartney purchased five kensho banners for the day 11 final bout, and another story on rising star, Chiyotairyu. In other words, you have two Yokozuna running away with this basho and the media knowing that they will generate more interest by talking about the domestic rikishi and a former Beatle. I don't think there's anything wrong with what the media is doing; I just wanted to point out that what isn't captivating the Japanese public right now are the two Mongolian Yokozuna.

As we turn our attention to the leaderboard, it is occupied by the top five rikishi on the banzuke in my opinion, but when the guys at the very top are Mongolian Yokozuna with a two-bout lead over the next threesome then there's no way that a Yokozuna won't win the Kyushu basho. The question now is...which one will it be? As I've stated for years, Hakuho holds all the cards, which doesn't necessarily mean that he's going to win it, but regardless of who hoists the cup in the end, I think the headlines bare the fact out that people are getting more and more bored with the yusho race.

As for myself, the points of interests keeping me awake the rest of the way are: Hakuho or Harumafuji? Can Endoh win an improbable eight? Will Osunaarashi win his eight after that abysmal start? Will Chiyotairyu change his style and aggression when thrown to the wolves? And how many more hot chicks in yoga pants are we going to see?

With that in mind, let's start with the leaderboard again that looked like this at the end of day 10:

10-0: Hakuho, Harumafuji
8-2: Kakuryu, Kisenosato, Chiyotairyu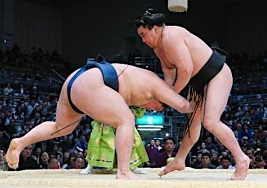 Yokozuna Harumafuji knew he was in no danger whatsoever from Sekiwake Goeido using two quick shoves and decent de-ashi from the tachi-ai to drive Goeido back, and then when the Father tried to duck back in, Harumafuji simply slapped him down hataki-komi style with the emphasis on "simply." There is just nothing further to break down here as Harumafuji becomes the first 11-win rikishi of the basho pocketing Paul McCartney's caish in the process while Goeido's misery continues at 6-5. Ozeki Shmozeki.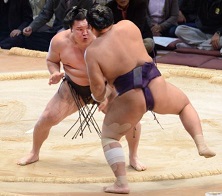 The day's final bout was a little more interesting even though the Yokozuna was never in trouble against Sekiwake Tochiohzan. Tochiohzan actually moved left to get the cheap outer grip from the tachi-ai, but Hakuho reacted so fast you'da thought the Yokozuna was the one going for the outer with the cheap sidestep. With Oh now on the run and still shading left, Hakuho got the right inside enough to where he offered a half shove of Oh back to the edge, and then he stood him up with a right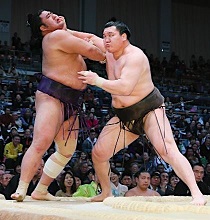 choke hold that sent the Sekiwake back across the straw. Despite Tochiohzan clearly being out of the ring, Hakuho fired another right choke hold into his opponent sending him sprawling back across the salt basket and up the hana-michi a few steps. Hakuho continued to stare down his opponent from the corner of the ring like the badass he is showing he wasn't happy at all with Tochiohzan's tactics today in the ring. We rarely see the Yokozuna lose his cool like this, but he felt as if he was dissed at the tachi-ai, and he has every right to discipline a rikishi whom he feels is out of order. The Yokozuna is a cool 11-0 after the thrashing while Tochiohzan falls to 4-7 and will undoubtedly rethink his tachi-ai next basho.

M5 Aoiyama surprised everyone today most notably Ozeki Kisenosato with a sweet oshi-dashi charge that included decent de-ashi, and he had the Ozeki pushed to the brink a coupla seconds in, but Aoiyama can't do pull sumo 10 days in a row and then suddenly expect to beat an Ozeki with an oshi charge, so Kisenosato countered at the edge and the wild tsuppari affair was on. Instead of keeping up the oshi pressure, Aoiyama went for a stupid pull, which put him on the run forcing him to evade the Ozeki's shoves and grabs at the belt. After about 10 seconds of this nonsense, Aoiyama was simply gassed, and a single shove delivered by Kisenosato from the center of the ring pushed him off balance and out for good. You'd like to see a little bit more stable bout between two guys supposedly "hot" this basho, but this was an indication of Aoiyama's faking his way to the 7-3 mark coming in and the Ozeki's inability to control the bout from the tachi-ai against a decent opponent. As the dust settled, Kisenosato kept his slim yusho hopes alive improving to 9-2 while Aoiyama has now become a hiss and a byword this basho at 7-4.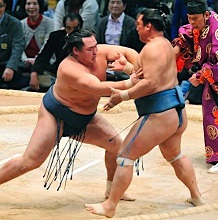 M4 Homasho wanted to stay ducked low against Ozeki Kakuryu, so the Ozeki just went for a series of pulldowns and who can blame him? Homasho quickly realized the danger of staying low, so he finally brought himself up a bit, but the Kak was there to insert his right arm charging hard with his legs and sending Homasho clear off the dohyo via teet-dashi. As I said a couple of days ago, it's just unfortunate that the guys on the leaderboard are being fed guys outside of the jo'i, but whadyagunnado? Kakuryu skates to 9-2 with the win while Homa Sho Ain't Sweet at 2-9.

With the first four leaders safely through to day 12, our final candidate was none other than M6 Chiyotairyu, a rikishi that makes me blush just typing his name. I guess he technically got an opponent today from within the jo'i confines, but his name was M3 Takekaze. To me, the only question in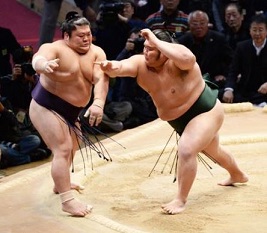 this bout was would Takekaze (5-6) henka? He didn't and paid the price as Chiyotairyu just stormed into his opponent and thrust him offa the dohyo so hard he drew the tsuki-dashi winning technique!! Chiyotairyu is on a roll at 9-2, but doing this from the M6 rank isn't nearly as meaningful as say a 6-5 effort from Okinoumi at Komusubi. Still, the dude can put a stamp on this basho tomorrow as he faces Ozeki Kisenosato, a rikishi whom he destroyed in September. It all comes down to this: Kisenosato cannot beat Chiyotairyu in a straight up fight unless the M6 relents early and settles for the belt contest or becomes fixated on pull sumo. Kisenosato doesn't have the tools to dictate this one from the tachi-ai, so it's all in Chiyotairyu's hands. Hopefully he ignores the stage and just focuses on his opponent's chest with legs a'churnin'.

In other bouts of interest, Komusubi Shohozan used a left straight arm against M1 Aminishiki that he just kept there in place driving Ami back a step or two, but it was too good to be true as Aminishiki slipped right and just swiped at that left arm sending Shohozan down near the edge. So much for a hometown hero making a splash from the sanyaku as Shohozan falls to 2-9 while Aminishiki improves to 5-6.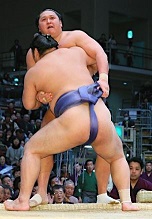 M2 Kyokutenho looked for the cheap left outer grip stepping out wide at the tachi-ai, but he doesn't have the footwork anymore to pull that off, and Komusubi Okinoumi showed why getting the deep right hand inside and police escorting Kyokutenho back and out of the dohyo in mere seconds. Okinoumi improves to 6-5 and could even make Sekiwake next basho pending Tochiohzan's demise while Kyokutenho suffers make-koshi at 3-8.

M2 Toyonoshima employed a left kachi-age from the tachi-ai causing M1 Myogiryu to go for the quick right kote-nage to counter, but you don't want to be reacting to your opponent's tachi-ai; you want to establish your own position at the charge. This bout was a good illustration why because Tugboat's forward momentum knocked Myogiryu 90 degrees to the side whereupon Toyonoshima got moro-zashi with the left arm so deep that Myogiryu stated afterwards he felt violated. The easy yori-kiri was swift as that ruffian, Toyonoshima, improves to 6-5 while Myogiryu must regroup at 5-6.

Normally, I would give a guy a hard time who just doesn't show up to fight, but M3 Takayasu gets a pass this basho because who knows how he or his family was affected by that typhoon in the Philippines. Today in a hidari-yotsu affair against M8 Tenkaiho, Takayasu was too sloppy on the right side defensively easily giving Tenkaiho moro-zashi, and there was nothing he could do from this point. I mean, you have a guy who has validated Hutt status, and he has two dual insides with that belly pressing into you? Takayasu suffers another bad loss dropping to 1-10, but he lives to fight another day while Tenkaiho picks up just his second win in leven tries as my mom would say.

As bad as I feel about Takayasu, look at M4 Tochinowaka getting roughed up. Sheesh. As if getting choked offa the dohyo twice in a row by the two Yokozuna wasn't bad enough, M7 Toyohibiki added insult to injury using a right paw of his own into Tochinowaka's neck making him stare up at the rafters for the third day in a row. You could tell that Sleep-Waka has been here before because he finally figured out how to slip out of the move, but once he did, Toyohibiki (6-5) used a single left paw to the right arm pit of Tochinowaka sending him back and out in one fell swoop. Tochinowaka drops to 2-9 and has been battered so hard this basho I hear Chris Brown is trying to set up an appointment.

M6 Ikioi and M15 Shotenro entered the day at 7-3 each looking for kachi-koshi, and Shotenro shoved up too high allowing Ikioi to slip the left inside and keep Shotenro upright while pushing with the right into Shotenro's left teet, and this wasn't even a fight as Ikioi dumped his foe across the straw with a sweet left scoop throw that was ruled yori-taoshi in the end. Ikioi picks up kachi-koshi and you can see how he's really matured in the division the last year.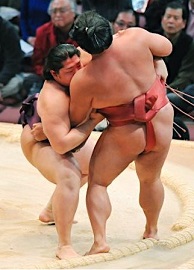 M13 Yoshikaze must have been licking his chops with a hobbled M7 Endoh on the other side of the starting lines, but he hurried his tsuppari attack not concentrating on his foe, so Endoh slipped into the left inside position and wormed his way into the right outer grip with Cafe just trying to worm out of anything. Wouldn't work as Endoh had him locked in, and despite needing to body Yoshikaze across most of the dohyo, he forced him out beautifully in the end moving to an improbable 5-6 record considering that bad wheel of his. Endoh's gotta be a bit careful about actually securing kachi-koshi and rehabbing that ankle of his in the jo'i next basho. Yeah, it would add to his budding legend if he could win eight, but I think it's better for him to hone his skills and his tachi-ai 100% healthy from the mid ranks just for good measure. He's gonna get his, and as seen with Osunaarashi's struggles to adjust to this division, there's no need to rush it. Yoshikaze falls to 4-7 with the loss.

M13 Gagamaru ducked into the hidari-yotsu position against M8 Takarafuji, who showed he ain't afraid to align girth with Yubabamaru. Takarafuji used his sleeker body to slip right and grab the outer grip aiding him in mounting a charge. Gagamaru tried to counter with the right kote-nage, but Takarafuji (6-5) was a bulldog keeping the pressure on before getting Gagamaru (5-6) with the scoop throw near the edge. The only reason I'm commenting on this bout is because I see guys afraid to take Gagamaru on straight up. Yeah, he's a big dude, but Takarafuji showed there's nothing to be afraid of and that an average guy can have his way with Gagamaru if he takes a bulldog approach.

One of the most enjoyable guys to watch this basho has been M14 Kyokushuho. Today against M12 Jokoryu, Kyokushuho was the aggressor at the tachi-ai in this migi-yotsu bout and was thusly rewarded with the left outer grip. Jokoryu tried to spin out, but Kyokushuho had the momentum and threw him down near the edge with the outer belt throw for the decisive win. Kyokushuho is one away from kachi-koshi at 7-4 while Jokoryu's make-koshi becomes official at 3-8.

And finally, M15 Osunaarashi used a quick moro-te-zuki at the tachi-ai against M14 Tokushoryu, but he wasn't moving forward with his legs. Tokushoryu was, and it allowed him to secure the right to the inside, but the rookie adjusted nicely to the migi yotsu bout grabbing the outer grip while denying Tokushoryu (5-6) the same grip on the other side resulting in a pretty straight forward yori-kiri. The rookie got away with one here just because his opponent doesn't exactly redefine speed, and although the Egyptian moved to 6-5, I can't really say he's had a single win where I thought, "dayum, that was sweet sumo."

Kane comes out for the encore tomorrow.
Day 10 Comments (Matt Walsh reporting)


Oh, the Blah
I am so sorry, Sumotalkers. This will have to be short and sweet, and in large part, that is due to a deep lack of interesting sumo to report on. Due in other large part to me not dedicating myself one hundred and ten percent to the great craft of sports writing, and instead goofing off with actual life responsibilities. I lower my head in shame, a shame that is only amplified by the fact that I'm not Japanese, and therefore not capable of a great enough shame to fill these pages with lament sufficiently powerful enough to make up for my lack of great or even funny thoughts. Oh, the shame of it!
Yeah, okay. I'm just burning words to avoid talking about the shitpile of sumo I witnessed on my TV today. (Ha ha! Can't filter me here, comment checker! Love this! Suck my love! Happy loving Thanksgiving! Giant pulsing purple love donkey!)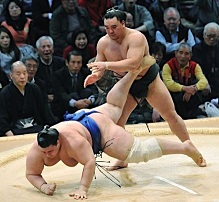 I digress again. So, let's start at the "top". Why are Sleep-Waka and Blue Mountain taking on the Yokozuna-tachi on Day 10 when I'm up to report? Loveit! Haramafuji got straight up beat by Aoiyama last basho, when the Bulgarian managed one big paw against a HowDo blitzkreig, and that push knocked the WY off balance and led to the easy push out win for the now E5. So you had to know that HowDo was going to lay the smack down this time. Unfortunately, that meant less "smack" and more "henka". Well, a slight hit followed by a giant shift, if you're keeping a henka score for a fantasy sumo league. But that was a henka in my book and might well have earned him a warning from the YDC, who already have him in their sights as a favorite whacking pole. (Wait, whacking pole? Isn't that Clancy's favorite hobby? I guess I mean ... whacking stick? That was in the Simpsons and not what I'm looking for. Loving brain ... Doh!).
Anyway, the point is that the Henka-er is still 10-0 and used the cheapest, weakest way possible to let the 7-3 Henka-ee know that the Henka-er is still the second top banana dog around these parts. And don't you forget it. (he he ... banana dog)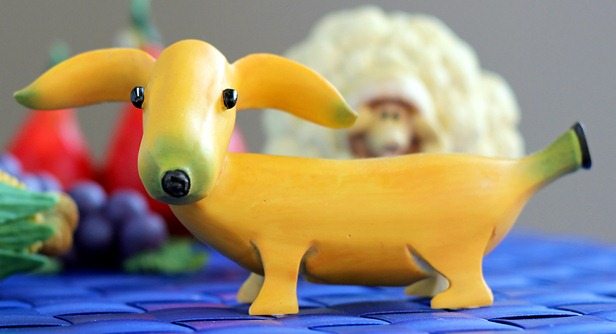 After that, but before that chronologically (I had to get in my heptasyllabic word for the day there), we get the Dai-Yokozuna against Tochinowaka. This had the appearance of an actual sumo match, with multiple movements happening, when Hakuho just knocked the E4 on his ass like a sack of monkey balls. And those be like howler monkey balls, which are really big because the males use sperm competition to "fight" for reproductive success and avoid dangerous fights in which they might fall from the trees. That's right: monkey sperm fights are more interesting than today's sumo. Just imagine those little white dudes going at it, like a bunch of Takanoyamas. Utchari!
Huh? Actual sumo instead of imaginary Czecho-spermokia fights? Oh yeah. I'm just gonna call this one an ass kicking and not pretend there's some kind of special technique that Hakuho knows to pull this off. Both Yoks at 10-0 and headed for that Day 15 battle. I sure hope it's straight up and exciting or at least a good show. I'd live with a good show at this point.
Other "Top-tier" fights
So, I'm going to step up my game a bit. Kane is raising the bar on us with yoga pants and such (at least my bar is getting raised, heh heh). So, Google image search is pretty wonderful:
.
I was afraid of what might come up with "sumo hottie", but this is OK.
Yeah, sumo. The actual best match of the day was Kakuryu v. Tochiohzan. The NHK graphic showed the Ozeki was 1-5 against the Sekiwake over the past year, so this looked to be interesting in any case. In a back-and-forth push-and-slap battle, Kak got the early advantage, driving Oh Snap back to the tawara. El Snappy got back into it for a couple of seconds of holding his own before getting in a good push of his own and moving the Ozeki back to the straw himself. In a wild sequence, Kak drove forward just a bit, Tochiohzan knocked him off balance with a slapdown attempt to the shoulder, Kak spun around and retaliated with a slapdown attempt while moving backwards and regaining his own balance. At that point, Kak had an opening and very quickly took it to get inside position and drive Oh Snap out. A fun, if sloppy, bout. Kakuryu is 8-2, Tochiohzan is 4-6.
Pretty solid sumo from Kisenosato today against the overmatched Shohozan. An OK tachi-ai by both men led to hidari-yotsu. Kise had a mawashi grip, while Cheetos was defensively wrenching up on the Ozeki's right armpit. The smaller man tried to get the bout moving sideways, but Kise kept his partner right in front of him and had no qualms about using his superior strength to take the fight to the edge and out. Kise's also 8-2, theoretically in the race (but someone's gotta win the Yokozuna battle on Day 15, so it's even more unlikely than you would already think), while Sho-me-the-ho ... zan gets his make-koshi on Day 10.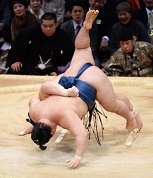 In what I gather was voted the match of the night, forever-a-Sekiwake-never-a-bride Goeido dropped another bout (6-4) this time to Takekaze of all rikishi (5-5). This happened because when Goeido sensed that he was getting pushed back from the tachi-ai, instead of trying to hold his ground, he went for a weak-ass pull. That let Takekaze get moro-zashi with deep inside position -- too deep, actually, as he couldn't maneuver his aite without leverage. Goeido had a kubi-nage thing going, but was up very high on his naturally lower-to-the-ground opponent. So it was nearly a stalemate, but they kept the match lively with attempted throws from Goeido and movement forced by the ugly Kaze (Yoshi being a rather dashing fellow for a sumo ... yes, I'm comfortable with my sexuality. And no, I don't have a thing for fat dudes, or even non-fat dudes. So hold back the marriage proposals, residents of certain US states but not others.).
Oh, the match! Yes, so Geoido finally forced the action with an all out throw and leg sweep attempt. However, he pussied out and stuck his arm out on the way down, giving what would have been a close call to his opponent with no question about the outcome. It looks to me like he would have lost anyway, but that was a piss poor finish by the Sekiwake, along with that piss poor start. I wonder what exactly piss poor meant originally? Poor as piss? So poor you only have piss to drink? So poor you get pissed on? If only there was a way to ask the Internet these questions and get an answer instantly from the collection of information out there. Someone could make a m-i-l-l-i-o-n freakin' dollars with an idea like that.
Myogiryu and Okinoumi faced off in a yotsu battle. It was back and forth, and reasonably interesting. Myogi bear actually had moro-zashi from the tachi-ai, but no grips, and Oki-doki was pinching Myogi's right arm kime-style. Myogiryu couldn't quite figure out what to do with that and choose poorly. He pulled out the arm (the reverse maki-kae, if you will), at which point Okinoumi started to gain ground. So, Myogiryu then tried to put the arm back in (regular maki-kae), at which point it was too late and Okinoumi drove him out during the attempt. The stronger-than-an-average-sumo Myogi probably needed to rework his left arm and try to reposition lower and deeper inside somehow. Giving up moro-zashi there was unwise without a clear path to a strong outside grip, which would have been tough with Oki driving his chin into Myogi's right shoulder. Okinoumi played it quite nicely, given the initial position. Both guys at 0.500 and in good position to finish with KK.
Other Bouts of Note
You still with us? Still in the mood? And that somehow means you're gonna read about sumo? Alrighty, then, let's get it on.
Shneaky (4-6) got solid inside position on Kyokutenho (3-7) and survived the fairly strong slap down attempt to yori-kiri.
Toyonoshima moves to 5-5 by besting Homasho at the tachi-ai, absorbing the expected counter-attack, and finding space to get a deep moro-zashi. Homie's passive tachi-ai bit him this time, as he picks up MK.
Endo had a nifty uwate-nage of Takayasu today. He first tried a forward charge, which was rebuffed, but on the second try, he used his opponent's upright position to execute the throw with power. Good stuff from the youngster (4-6), while the relative vet loses number nine (!).
A lot of "Hak-eh-yoi!"s in the sloooow yotsu match between Takarafuji and Kaisei. Interesting ending, where TK Fuji drives forward and tries a maki-kae, fails to get it, but also creates kime-style cramp-down pressure and gets the force out win. Both at 5-5.
Bit of a slap-fest between Ikioi and Fujiazuma, in which Ikioi got better, lower hand position for pushing and used it for the win. Both at 7-3.
So, Kitataiki (5-5) loves to jump the gun at the tachi-ai. Today, he almost ran halfway across the dohyo straight forward. Hmmmm ... I thought. Wonder if he's setting up a henka here? Well, I guess Chiyotairyu was thinking the same thing, because he had his head up and eyes on Taiki the whole time when the W9 jumped to the left after a minor brush at the tachi-ai. The Pup's pup gets his KK today and will start to get tougher opponents soon.
The Egyptian (can we call him King Tut? too soon, perhaps, at 5-5, maybe just Big Tuts for now) got overpowered a bit by Sadanofuji (also 5-5) today. Sadamight? Sadawill! Better, perhaps luckier, hand placement on the thrusts. We'll keep an eye on those Tuts.
Shotenro is looking like the comeback kid from E15 at 7-3. Dominated Tokitenku today from the tachi-ai and finished the job fast.
Gagamaru had a matchup to love today in Tamawashi, a smaller pusher-thruster who isn't very evasive. But his early drive fizzled at the edge, and Tamawashi countered with effective thrusts of his own. Shockingly, Gagamaru couldn't balance well enough at the tawara to execute an evasive slap-down. Both at 5-5.
Well, I didn't read about Masunoyama (6-4) being hurt before today, and I don't see how he got hurt during today's bout with Tokushoryu (5-5), but he was certainly limping after the bout. It probably was something from before the bout, since he pulled such a crap henka. Somebody should have told him that for a henka to work, you have to be able to move sideways, which seemed hard for him. I feel bad for the injury, but please just stand down for the match until you can function, Spalding-o-yama.
Tamaasuka is included in this report just so I can say ball-suka for some reason.
Well, I guess that wasn't so short. Of course, it's now 1 AM, so crap on my head. I have living alarm clocks who will start squirming in about five hours. Sooooo ... see you in January!
Day 9 Comments (Mike Wesemann reporting)


When Kotooshu and Kotoshogiku withdrew early on, we knew that we weren't necessarily going to miss watching them fight atop the dohyo, but the impact of their absence is now being felt as we gear up for a yusho race and the Yokozuna are being forced to fight guys outside of the jo'i to make up for the absence of the two Ozeki. Today they were fed both M4's, and tomorrow they're starting to dip down as low as M5, so normally when we are used to seeing Ozeki duels and Yokozuna - Ozeki matchups, we're getting complete walk-overs instead. It kind of reminds me about 17 - 18 years ago during the height of the Futagoyama-beya. You had a Yokozuna in Takanohana with two Ozeki stablemates and inevitably two or three guys in the sanyaku from his same stable, and so he'd be fighting M8's and M9's late into week 2 while a single guy like Akebono was getting the kitchen sink thrown his way starting on day 9. It made for some fantastic yusho races to see the two Hawaiians in Akebono and Musashimaru battle the Futagoyama boys basho in and basho out, and when Akebono and Musashimaru faced each other around day 13 or day 14, the guy who would benefit most from the win in terms of the yusho race got it every single time.

I guess you could say that's when I first realized what mukiryoku sumo was all about, but I was okay with it because I felt as if Takanohana had an even bigger advantage due to his weak schedule. Fast forward a decade later when the Mongolians took over the sport, and you could clearly see how they were helping each other to ensure that a Mongolian took the yusho. You had Asashoryu back home in Mongolia proclaim at some event with Hakuho in attendance that he would present Hakuho with a "69" (not that kind of 69 sickos), which was a double entendre referring to assisting Hakuho in becoming the sport's 69th Yokozuna and a crappy old Russian army jeep that is prevalent in Mongolia referred to as a "69".

I guess I'm talking about Mongolians working with each other because it's been clear for a few days now that this yusho race belongs to Hakuho and Harumafuji. With Harumafuji's win yesterday, it marked the sixth time in his career that he has started out a basho 8-0, and the previous five times he did it, he took the yusho. I just don't see anybody stopping Harumafuji from entering senshuraku at 14-0, so we'll see what Hakuho chooses to do down the stretch. At this point, I say the yusho chances are straight-up fiddy-fiddy between Hakuho and Harumafuji, so we at least have that to look forward to.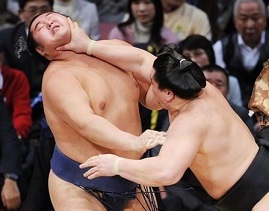 As I am wont to do in week 2, let's break down the bouts in descending order of rank starting with the leaderboard. Yokozuna Harumafuji used as wicked'a right nodowa as you'd care to see from the tachi-ai to get M4 Tochinowaka completely upright in the day's penultimate bout, and from this point, HowDo just rushed inside leading with the left arm forcing Tochinowaka (2-7) back and out so swiftly that Harumafuji actually added what I thought was an unintentional dame-oshi that sent T-Wok offa the dohyo for good. Intentional or not, Harumafuji simply roughed up his gal today with perfect sumo moving to 9-0 and putting the pressure on Hakuho to win his match to keep pace (oh, the week 2 drama!).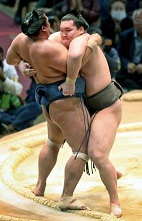 As for Yokozuna Hakuho, he needed to solve M4 Homasho, and he simply did that from the tachi-ai easily getting the right arm to the inside and setting up the outside left. I'm not sure why Hakuho took his sweet time, but he gathered his wits for about five seconds near the edge before executing the yori-kiri kill. A second in, Homasho was like that quivering fish in Japan that they filet and slice up while still alive and serve on a bamboo skewer so the Japanese people can enjoy the freshest sashimi possible, but for whatever reason, Hakuho took his sweet time today. No harm no foul as Hakuho realigns himself with Harumafuji firmly atop the leaderboard at 9-0.

In sole possession of third place coming into the day at 7-1 was M5 Aoiyama, and before we get to his bout against M9 Kitataiki, I want to comment on something Clancy brought up yesterday...Hakuho's henka'ing Hokutoriki on senshuraku of the Natsu 2004 basho. Hokutoriki was an oft-maligned rikishi on Sumotalk basically because of his crap sumo. He thrived on trickery and pull-down maneuvers, and he never got a break from us. Then, all of a sudden at the 2004 Natsu basho, he came out a changed dude from the M1 rank focusing on a wicked tsuppari attack and perfect de-ashi just railroading the competition the first five days. I believe it was day six when he was paired against Asashoryu, and Hokutoriki just kicked his ass with that same straight-forward tsuppari attack. Kyokutenho managed to hand Hokutoriki a loss on day 8 I believe, but he just stormed through the rest of the field heading into senshuraku with a 13-1 record. Asashoryu was stuck on two losses, so Hokutoriki was in complete control of his destiny and only needed to beat the rookie, Hakuho, on senshuraku to capture what would have been the most improbable yusho in the history of modern sumo. Guys winning from the M14 rank is one thing, but a schmuck like Hokutoriki doing it from the M1 rank is a totally different story because he fought and defeated the Yokozun, Ozeki, and all of the sanyaku rikishi. Anyway, Hakuho henka'd Hokutoriki and won; Asashoryu won his match setting up a playoff; and then Hokutoriki was destroyed in the playoff giving Asashoryu the yusho thanks to a Hakuho henka.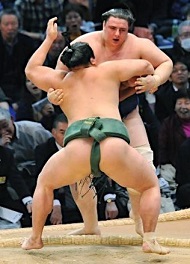 The whole reason I wanted to relive that moment is to describe the run Hokutoriki put together. It was totally legitimate and accomplished with straight forward sumo and perfect de-ashi. Now, compare that run from Hokutoriki to a Goeido run to Ozeki, Kisenosato and Kotoshogiku's runs to Ozeki, and Aoiyama's current run to a 7-1 record this basho. The difference is so stark that to even call it a run is a total joke. The Hokutoriki run contained kimari-te day after day that read like this: tsuki-dashi, oshi-dashi-, tsuki-dahi, oshi-taoshi. Goeido's current run this basho contains kimari-te like these: hataki-komi, hiki-otoshi, kubi-nage, hataki-komi. And ditto for Aoiyama's run as well. There's been no straight-forward sumo; only wins with evasive pull sumo. So to see Kitataiki figure that out today and expose Aoiyama's run for the fraud that it is was so refreshing. Aoiyama used his initial thrust, back pedal, and pull tachi-ai, but Kitanofuji was ready for it advancing into the right inside left outer position, and he wouldn't let Aoiyama go forcing the bout to the belt. Flustered, Aoiyama went for a maki-kae with the left arm, but that was all the momentum shift Kitataiki needed to execute the easy force out in the end. Aoiyama was completely schooled in this one falling to 7-2 while I'm starting to recall prior feelings (blush) for Kitanoumi who moves one ahead at 5-4.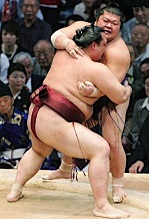 Ozeki Kisenosato gained the straightforward left inside from the tachi-ai against M3 Takekaze, and the M3 couldn't do anything to prevent the pending right outer grip from the Ozeki that came near the edge and spelled the end of the bout nearly as soon as it began. Give Kisenosato a steady diet of Takekaze (4-5), and he can go on a legitimate yusho run, but the problem is the rest of the banzuke. Regardless, Kisenosato moves into a tie for third place along with Aoiyama at 7-2.

Ozeki Kakuryu and Komusubi Shohozan butt heads at the tachi-ai and used a single flailing tsuppari each to stand each other up, and as Shohozan ducked his head and advanced, the Kak moved right pulling his opponent down with a single right hand to the back'a the head. Too easy as the Kak shoots to 7-2 while Shohozan is on the brink at 2-7 despite the Fumies and Kazuos in the crowd wearing those hantens in gay colors and clapping in unison prior to the Komusubi's bouts. Good ole Fukuoka.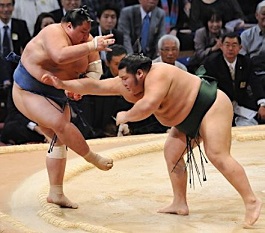 A rikishi who has put together a legitimate 6-2 start is M6 Chiyotairyu, and I realize that he scores the occasional hataki-komi win, but the reason I like him as the next Ozeki is because when he puts a run together, he does it with bruising, straight forward sumo. Against M11 Masunoyama today, Spalding was completely overmatched as Chiyotairyu slapped him silly with series a of pushes and pulls, and the only way he was going to lose this one was to back up of his own volition. He didn't resulting in and a bludgeoning of Masunoyama back and out inna series of four or five shoves that drew the kimari-te tsuki-dashi. Chiyotairyu moves to 7-2 with the one completely outclassing Masunoyama (6-3), and before we move on, I thought Chiyotairyu coulda pasted Endoh on day 7 but chose not to.

The final rikishi to mention on the leaderboard just because I'm playing along with the false notion that anyone besides the two Yokozuna has a chance is M12 Fujiazuma, who used tsuppari from the tachi-ai to stand M8 Tenkaiho upright and then backed out of it managing to pull the Hutt forward and down before Tenkaiho could establish the right arm to the inside. Wasn't bruising sumo I know, but Fujiazuma (7-2) has looked a lot better to me this basho than say Goeido. Tenkaiho receives the dubious honor of becoming the first rikishi to suffer make-koshi at 1-8.

At this point, let's sum up the leaderboard that you will see displayed by NHK tomorrow as follows:

9-0 Hakuho, Harumafuji
7-2 Kisenosato, Kakuryu, Aoiyama, Chiyotairyu, Fujiazuma

There is absolutely no way on Clancy's green earth that both Yokozuna will bring themselves back to the pack, so the real leaderboard for this basho is as follows:

Will Hakuho step aside and give Harumafuji the yusho?

In other bouts of interest, Sekiwake Goeido had a golden chance to join the 7-2 club facing Komusubi Okinoumi and getting the left inside from the tachi-ai, but the Father rushed his charge before he had the sufficient right outside position allowing the taller Okinoumi to counter with a right kote-nage near the edge. Goeido's charge today reminded me of the dude that just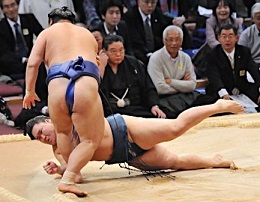 sorta shows up for a pick-up basketball game that nobody knows. He's three inches shorter then everyone else, he has a two handed set shot, he's got a sweaty back after five minutes of play, and when he drives to the basket he puts his head down and just barrels forward completely oblivious to the defense waiting for him. When asked afterwards what had just happened by the NHK announcer, Kitanofuji dodged the question with general questions of his own like "what did just happen there? The way the question was posed to the former Yokozuna made it seem as if Goeido was on this great run and the perfect Ozeki candidate, but Kitanofuji just didn't have the heart to call a spade a spade, so I don't blame him for fidgeting as he did. The end result is Goeido falling to 6-3 while Okinoumi is doing just fine at 4-5.

M2 Kyokutenho obviously lives rent free in Sekiwake Tochiohzan's head. The Sekiwake was hesitant fishing for moro-zashi against Kyokutenho at the tachi-ai, so Tenho just latched onto Oh's left arm, spun back a half step, and kote-nage'd his foe down with aplomb. Tochiohzan (4-5) has got to realize that Kyokutenho (3-6) has lost more than a step and just go in there and kick his ass, but he was timid yet again today, and the veteran made him pay.

In the Maegashira ranks, M1 Myogiryu used a right thrust to keep M1 Aminishiki upright with nowhere to go but back and maybe to the side, so as Aminishiki tried to dodge away, Myogiryu was on the move getting the left inside and using that right hand again to thrust Shneaky back and across with little argument. Myogiryu hungrily waits for the Komusubi to drop at 5-4 while Aminishiki is at least sleeping like a king at 3-6.

M2 Toyonoshima survived an effective tsuppari attack from M3 Takayasu that raised him up and back a step, but as he fished for the left inside position, Tugboat connected with a right counter tsuppari of his own into Takayasu's neck sending the Heisei-born rikishi back near the edge where Tugboat (4-5) rushed in and finished off his bidness. Takayasu becomes the second rikishi of the basho to make-koshi at 1-8...and so much for a return to the sanyaku next basho.

M5 Kaisei employed a quick attack with the right outer grip but no left inner to sustain the charge, so M6 Ikioi countered quickly with a right scoop throw that didn't knock Baby Huey over, but it did give Ikioi moro-zashi, and he showed why you need to attack with inside position established spilling Kaisei (5-4) down to the clay with a left inside belt throw. Occasionally during this basho I've commented on rikishi who give up the wins in their bouts, and I point out that they do nothing with their arms. Just watch Ikioi's arms in this one to see a rikishi who is trying to win a bout and what he does with his arms. Ikioi moves to 6-3 with the comeback win.

M7 Endoh actually came in with tsuppari up high against M9 Sadanofuji, and I like the move for him because there's no way he's going to beat Sadanofuji at the belt in his (Endoh's) current condition. And while his move to tsuppari up high was the correct decision, the lack of de-ashi meant that Sadanofuji was going nowhere. It took about three seconds for Sadanofuji to figure out that he was taking Endoh's best shot, and so he started fighting his way forward causing Endoh to immediately retreat and grab the right outer grip in an effort to dashi-nage his foe as he did against Chiyotairyu, but Sadanofuji is too much of a beast and slapped him down to a respectable 3-6 record. All Endoh's trying to do here is show how tough he is and make-koshi is inconsequential; staying in the division for Hatsu is what counts. As for Sadanofuji, he improved to 4-5 with the smart win.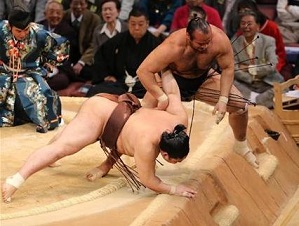 You can just see how M15 Osunaarashi is morphing away from the straight-forward tachi-ai that got him in trouble early and resorting to cat and mouse sumo, which is largely what got him to this division in the first place. After a few tsuppari up high against M12 Jokoryu, the Egyptian quickly backed up, but Jokoryu was on the move disallowing a pull attempt, and so in desperation, Osunaarashi grabbed Jokoryu's left arm and went for a yank down as Jokoryu just bodied the rookie back and across. The ref ruled in favor of Jokoryu, and watching live, it looked to me as well that Jokoryu won, but there's a reason why I'm not wearing black robes and sitting on a cushion ringside. A mono-ii was called for, and replays did show that Jokoryu's right forearm touched down before Osunaarashi stepped out touched anything with his foot. This honestly coulda gone either way, but it's another ugly win for Osunaarashi, who incredibly moves to 5-4 after a purely awful start. Jokoryu let one get away falling to 3-6.

Juryo Kagamioh committed an obvious false start against M13 Gagamaru and he knew it, so just as he let up in his charge, Gagamaru decided to go himself catching the compromised Juryo rikishi with a single left tsuki to the back of Kagamioh's shoulder sending him outta the dohyo in one fell swoop. With the way Gagamaru (5-4) has been fighting, there's no way he does that if Kagamioh (5-4) doesn't let up to begin with.

M15 Shotenro's tachi-ai was non-committal against M14 Kyokushuho where he couldn't decide if he wanted to shove his way in or go for the belt, so Kyokushuho decided for him rushing into the left inside position setup by a right kachi-age that resulted in the gappuri hidari yotsu position. Problem was...Kyokushuho had the momentum, and he was able to completely pin Shotenro's left arm inside, and you knew it was over at that point. Took about three seconds as Kyokushuho has looked impressive in Kyushu ending the day at 5-4 while Shotenro (6-3) continues to stink the place up after his hot start.

And finally, Tokushoryu took way too much time at the starting lines, which says something about your confidence when your opponent is visiting from Juryo. Course, said opponent was my man Takanoiwa, so I'll let TS off the hook this time. When they finally did charge, Takainowa used tsuppari into Tokushoryu's neck to set up the left inside, and before Tokushoryu could really settle into a left of his own, Takanoiwa pivoted back to his right and executed a killer inner belt throw spilling the larger Tokushoryu to the dirt in all his girth. Since Martin isn't reporting again this basho, I'll repeat my take about Takanoiwa in that he dominates in the Makuuchi division because he has mastered sound sumo techniques. He struggles in Juryo, however, because that division is more akin to sumo like we've seen from Osunaarashi the last few days. Takanoiwa just isn't programmed for cat and mouse sumo, and so his struggle for promotion continues at 4-5 while Tokushoryu shares the same mark.

Matt takes the wheel tomorrow.
Day 8 Comments (Clancy Kelly reporting)


As most of you know, Fukuoka is the birthplace of Sumotalk. Mike was created in a lab on Hakata Bay by Mormon genetic engineers in 1989, while Kenji was a foundling being raised by inoshishi when he was adopted in 1994 by the Dewanoumi beya as a slop bucket boy. So to see this annual basho ravel into the glorified jungyo it has become, with its sparse attendance and high price pillows filled with run of the mill octogenarian Fumies and Kazuos (does the Emperors brother Gold Hat Man even bother to show up here?) saddens us deeply.

Adding insult to injury is this particular basho being denuded, as it were (and it were), by injuries to two Ozeki and abysmal sumo by the top guys. Week Two has almost never looked to hold such meager fare. Of the fourteen men ranked from M4 to Sekiwake, only one is above .500 (and he is being handed wins by horribly sloppy sumo on the part of his opponents). These men have a combined record of 36-76 going into Day 9.

Given this state of affairs, and the fact that my children are home bothering me today after having school this past Saturday to follow up on an early morning tsunami drill (why didnt my wife tell me I had to get out of bed at 8am and run to the highest spot in our neighborhood?—I might NOT have stayed out till 3 am drinking Ichiban Shibori after running 25km in the daytime), Im not exactly chomping at the bit to do too much exploration of Day 8s tussles. Ive also a date at 2pm with the local JPese popo to take "incident photos" at a temple where I whaled on (aka "punched in the mouth") a bunch of dudes who tried to utchari and kubi-nage me at a festival. Still, lets have a looksee at some of these bouts anyway, shall we?

Continuing a disturbing trend in Fukuoka of few, if any, hot Eris or Ayumis, the only thing sexy that showed up to the Kokusai Center today was Asasekiryu, the former Komusubi and kohai of Yokozuna Asashoryu (described hilariously in this paper on page 40 by university student Imai Ryoichi as a Yokozuna who "retired in 2009 because of a scandal with violence on his fans. He was very popular as a heel with many unmannered behaviors"). Today he stayed low, getting an inside left while using his right hand to deny Tamaasuka the same and methodically forcing the W16 out. Didnt exactly hand Tama his aasuka, but a win is a win, and for a Juryo man looking to get back to Makuuchi, this one was doubly important for his Jan. resume.

Despite having two cute little bedrolls wrapped around his forearms (an homage?), Juryo 4 Asahisho was looking to hit the "Up Arrow" button again as he recovered from a henka to engage a watered down Yoshikaze in a fast and furious slapping bout, which Mini-Shneaky finally won by pushing out the recently Decaffeinated One via appropriately enough oshi ("push") dashi ("out"). 6 wins in 8 days spells Jan promotion for this regular patron of Otis machinery while the opposite means Makuuchi mainstay Starbuck is staring into the abyss and prolly doesnt like whats staring back.

Sporting a shiny 6-1 coming in, Shotenro leaned too far forward by having two far back, and was easy slapdown material for Gagamaru.


Fujiazuma was in the same position as Shotenro, and he too lost, in this case by blowing a great tachi-ai that had rookie Osunaarashi (Im only now, as I painstakingly type the newcomers name, getting Kanes Day 6 "Arashi" joke) at the bales. The African slipped away and niftily claimed an inside left while back up! He quickly turned this into two belt grips that transformed Fujiazuma into the fly and the W15 into (cue The Who) 4-4 Boris the Spider.

Chiyotairyu looked like some sort of supernatural being as he put two hands to Jokoryus throat and lifted him back and out. Spooky stuff and the 6-2 E6 is one of this dismal bashos bright spots so far (despite his beating at Endos hands on Day 7). With so many above him possessing an ample supply of bubble gum, it might be up to this Kokonoe man to try and kick ass on the two remaining Ozeki and Yokozuna. (A soiled Akebono practice mawashi to the reader who can get that reference.)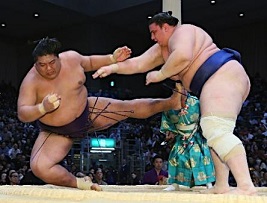 Just outside the reach of the top guys at E5, Aoiyama the Sailor Man continued his excellent tourney by bludgeoning Sadanofuji back at tachi-ai and then pulling him forward and down when he resisted at the edge. At 7-1 expect this giant Bulgarian to be the one fighting the Sanyaku guys in Week 2 and for his record to reflect it.

To give you an idea of how hard up we are for stories, Toyonoshimas uwate-dashi-nage win over Tochinowaka was deemed interview material by the NSK, and also highlight material by the NHK. Dont misunderstand; Tugboat pulled off a spectacular throw, and Tochinowaka gave as well as he got, but normally on nakabi wed get some crackin bouts among the playuhs. Not the case so far this basho.

Tochinowaka owned the tachi-ai, driving his much shorter foe back and to the edge with a good outside right belt grip Toyonoshima jammed his foot against the ropes and pushed back, breaking the W4s grip and getting a moro-zashi two hands on the inside. The crowd appreciated this as they reset to the middle. The taller Tochi leaned in and tried many times to snatch Tugboats belt, but he kept moving his hips out of reach when he sensed his opponent grabbing for him.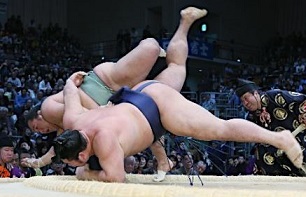 Abruptly Toyonoshima gave up his right inside for the left, one armed turning belt throw, but Tochi fought it off and got an outside right that once again took Tugboat to the edge. Where he once more resisted. And pushed the action back to center. Now with a tenuous left hand inside belt and visibly exhausted, Toyonoshima responded to a Tochinowaka belly lift by executing an uwate that didnt work but set up a second which did. Tochinowaka was also throwing and both men flipped and crashed nearly simultaneously. The MIB met and upheld the gyojis call for Toyonoshima. Great bout and worth the notice, but its at W4 and W2 with both men a combined 5-11, so. . .

Myogiryu evened his record at 4-4 by using a strong tachi-ai moro-zashi to run in on Kyokutenho, who had little strength to resist and was meekly pushed back and out. Injured foot for The Chauffer?

The Komusubi Kyushu matchup pitted two wrestlers not doing terribly but neither doing all that well in Shohozan and Okinoumi. Theyve lost to their betters as can be expected but in my opinion have not looked good in defeat. Today Fukuoka native Shohozan punched his golden ticket by demanding the inside moro-zashi and unrelentingly driving forward until the taller Okinoumi had nowhere to go but out. Both men ought to have a bit easier time of it feeding on upper Maegashira in Week 2.

Its good that Aminishiki is a platter of scrambled eggs and bacon away from having everything he needs to open his own bed and breakfast, because he is looking old and weak. Today he scraped at Tochiohzan looking for purchase and finding none, tried pulling and all it got him was a buttcrack full of sand. Those bedrolls get any longer and dudell be wearing pantaloons!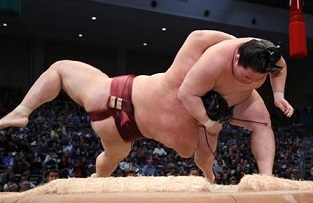 What looked in binary code to be a great bout turned into anything but as Ozeki Kisenosato charged forward with his left hand deep inside and directly over Goeidos belt and yet. . .and yet. . .nah, I dont need the belt, hell, dont even need to TRY and grasp at it tho its right under my fingers. And while Im at it why dont I keep my legs spread as wide as the fucking Suez Canal. That oughtta make me nearly impossible to defeat by headlock. . oh, wait, actually, it did not. My mal. Shitty sumo by an Ozeki at 6-1 with a chance to keep the pressure on the Yokozunas. But hey, we get Goeido at 6-2 if, as Mike likes to intone, ya need em (and I for one do not).

If you go and take a look at the "bout of the day," namely Tochinowaka and Toyonoshima, youll see that when Toyonoshima has the moro-zashi, Tochinowaka keeps trying to grab the belt, and thats because. . .? Grabbing the belt insanely increases ones chance of wining in sumo. The fans saw that and were ecstatic. So hes REALLY trying to win, eh? Yeah. Then contrast it with Kisenosatos blind plunge off the cliff where he acts like his foe is nekkid. Brain fart or Hamlet nailed it?

Normally Id think that a fight between Kak and Tak was a lock to rock, but with the Pilipino coming in sporting one single win, and the Ozeki at 5-2, portents were shoddy at best. Once it began, it was obvious Takayasu wanted none of the throat and chest beats that the Mongolian was laying down. Across the ring one way and then the other, accompanied all the while by the steady rhythm of Kak just hammering on the upper body of the E3. It ended in hataki-komi rather than oshi-dashi and that was the only bright spot for Takayasu. 1-7 is a deep hole out from which to climb, but good luck to him!

I cant imagine how it feels for guys like Harumafuji, let alone Takekaze, to line up across from Hakuho. He is so big, so strong, so fast, and so wrestling smart that its gotta be something along the lines of his inner voice saying, "Just dont embarrass yourself here, Take-kun." Well, he didnt today, but neither did he have a remote chance of winning. The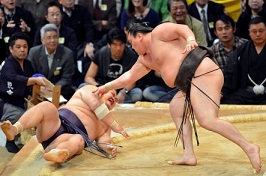 Yokozuna slapped and pushed and pulled and pushed and slapped and pulled then pushed and finally Takekaze went all Popeye on us ("That's all I can stands, I cant stands no more!") and crashed/rolled off the dohyo. No shame here in losing to this magnificent sumo wrestler, one who, as Mike has made clear for years, ALLOWED Harumafuji and Kisenosato and Kotoshogiku and Kyokutenho to achieve the things they have in the past few years. This year he decided hed done enough and now its slaughter pon slaughter. And to think, Hakuho HENKAD Hokutoriki on senshuraku in his very first Makuuchi basho in May of 2004 to help Asashoryu take the yusho.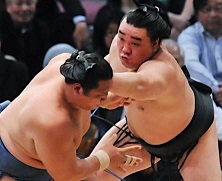 Finally, Harumafuji took on Homasho, who chose the strategy of staying perpendicular to the Yokozuna as he was hammered repeatedly. After a few seconds of being pummeled while circling, Homasho called it quits and leapt off the dohyo (HowDos hard piping blast to his throat may have had something to do with his decision).

All signs are pointing to a Genghis/Kublai level showdown on Day 15, which is something Id like to see on one hand, but something I dread on the other, as no matter how good Harumafuji looks against the scrubs, we know that Hakuho can beat him nine times out of ten if he applies himself.

Still, if anyone can rock Hakuhos world, its (dur-r-r) the other Yokozuna. With the Ozeki promotion of Goeido still technically alive after todays good fortune, that is the only other (mildly) interesting talking point in Week 2. Ill be back on the final day to hit it and quit it, and my crystal ball predicts Mike will be the one sporting henna tattoos on Day 9. Cheers and beers, ya queers.
Day 7 Comments (Martin Matra reporting)


Woke up a bit on the philosophical side today so I thought I'd rant on few things that have been on my mind lately, as in a few years, but couldn't really get to be expressed, mostly because of something called "can't-be-arsed-ness". Everyone who still follows sumo (and dare I say the numbers are dwindling – even though I don't have any survey or study to back this bold claim up) knows the biggest problem that has plagued sumo for the last not so few years is the lack of popularity in Japan. Yep, captain Obvious here, telling you that the Japanese don't care about Japanese sumo anymore.

Why is that? Well, I remember reading all sorts of possible reasons and plausible explanations, but my can't-be-arsed-ness prevents me from going back and checking, so I'll just rely on my excellent memory to try to enumerate some of them.

Lack of motivation. This one is indirect, but may well be the #1 culprit. Japan is a great country, with good living standards, safety, etc. and even the most underprivileged members of the Homo Sapiens Japonensis species can make a decent living sweeping streets or flipping burgers, if not staying in front of a computer for 8 to 10 hours a day. But some will want to do sports, you'll counter, and I'll have to agree, but sumo is most definitely not your garden variety of playing-after-work-with-your-moderately-competitive-colleagues sport. According to some, it isn't even a sport per se, but that's another delicate discussion. Most people looking for amusement of the physical kind (not THAT physical kind, you perverts) will go for football (I'm European, get over it), tennis or Occitan pétanque before choosing to get half-naked and slam their peers out of a circle on the ground. In short, not too many Japanese will do sumo, and that translates into poor performance atop the professional dohyo, which, in turn, you guessed it, results in poor ratings from the moderately nationalistic Japanese.

Poor management. There's definitely more to it, but I think this problem can be summarized quite accurately by saying "Sumo is managed by former sumo wrestlers". Wait, what? You mean an organization subsidized by a government ministry which deals with funds to the order of tens, or possibly hundreds of millions of dollars, is run by, gasp! guys who bonked their heads against one another and have no formal business training? Seems legit. OK, I'll admit it probably not nearly as bleak as I tried to make it seem, but it's still a big problem. Just look at some of the results. 80% of sumo (i.e. the weekdays) overlaps with most people's time at work. Would it really be such a pain in the arse to shift it 2-3 hours towards the night? Also, I understand Japanese teenagers are sensitive and in touch with their feminine side and like kawaii things like anthropomorphic chickens and stuff, but… what the actual fuck?! Your country has one of the richest cultural backgrounds in the world and has a bestiary ranging from dragons, ogres and devils right down to epic firebirds and the best you can come up with is a fucking flock of CHICKENS? If it were up to me, I'd fire the PR team so hard their ash would undergo spontaneous combustion and turn to finer ash, then rise from that and burn again.

Controversy. Drugs, doping, gambling, yaocho, drunk driving, you name it, they've done it. And while it can be argued that this isn't easy to control at organizational level (it can be, but it requires, wait for it, professionalism – see the first part of the paragraph above), the results of such behavior can definitely be contained. The fact that most new fans associate sumo with the things above is quite worrying and it means that someone in PR isn't doing their job – see the second part of the above paragraph.

Some of you will dismiss all of the above like so much drivel (which I'm not saying it isn't, by the way), while most of the others will agree, at least partially, but counter with "Yeah, OK, but what do you suggest they do about it?", and this is where I will appeal to common sense. What would I do if I were in charge of the sumo association and had no idea where to start? First of all, I'd look for professionals (as in guys who do it for a living, with visible results) in running this kind of organization. In the very unlikely event none of them would be found, or in the even unlikelier event their solutions would fail, I'd look for organizations similar to mine, but successful. Like Pro Wrestling. Or the ATP. "But that's not the same", you will, again, legitimately contend. The differences are there, but only superficial. At the core, those organizations run popular, individual spectator sports.

Pro Wrestling is all about good-looking, fit, muscular guys who pretend to fight and feud with one another, for the sake of a storyline. But mostly about good-looking, muscular guys. I.e. something the masses of fans can RELATE to. Men who would like to be those guys, or women who would like to bang those guys. Wham! Attraction, POPULARITY! How about tennis? Tennis is about two guys (or gals) who hit a ball. So what? Two good-looking, fit (and sometimes muscular) guys (or gals) who hit a ball with great precision, while sprinting around the court… for HOURS. Those who watch want to be those guys (or gals). Or want to bang those guys (or gals). Compare sumo to these two types of sports above. Are the guys in sumo good-looking? Would you want to be one? Would you like to, ugh, bang one? The answers will surely vary, but I think the majority would answer no to all of the above, and for good reason.

The obvious solution is to make sumo more similar to those things. It isn't guaranteed to succeed, but it has a greater chance than not doing anything about it. For example, you could add weight categories or BMI and fat percentage restrictions to make the guys better looking It'd be a great logistical nightmare, for sure, but, if put into practice, it would most definitely work. Another thing that could be done is changing the structure of the competition, from the old, dusty round-robin-like system, to something more… binary. Look at tennis draws, for instance. You have one main draw of 32 to 128, with seeding based on rank, and anyone from below has the opportunity to qualify, and even win the tournament, no matter their rank, if they're good enough. That has the beneficial effect that true talent rises to the top much faster than in sumo, where the young guys are forced to "pay their dues" for years, and even if they're exceptionally talented, they can't make it to the top division in less than a couple of years at least. It also has the effect that a lot more competitors are noticed and followed by fans. Not to mention it would render yaocho obsolete – you lose, you're out. It's not hard to imagine a purely numerical sumo ranking based on points, and tournament draws similar to those in tennis, with the possibility for even Jonokuchi wrestlers to qualify for the main tournament after a great run. Would it be different? Yes, definitely. Would it still be sumo? For sure.

I feel like I'm beating a dead horse here, because none of the things I'm preaching is too special in any way, but proper implementation needs professionals. Basically, sumo needs to become fully professional in order to survive. And with that, let me get to some actual bouts.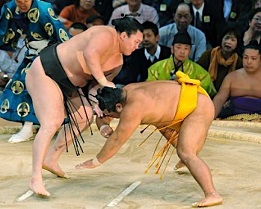 Hakuho stayed perfect through the first week for the fifth straight basho with a swift execution of overzealous Shohozan, whose spirited tachi-ai was brushed aside like so much pocket lint by the heavier Yokozuna, who then shifted momentum to pull his overmatched victim down. Shohozan falls to 1-6.

Harumafuji won in somewhat similar fashion, but a little bit more violently, thrusting into Takekaze's wide body and bringing him to the edge, and when the Oguruma man dug in on the tawara, yanking him by the back of the head straight down. They rarely come by easier than this, the wins. Ex-Ama stays perfect as well, while Takekaze falls to 4-3.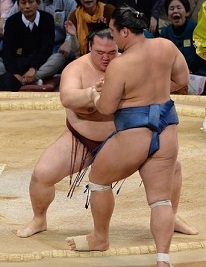 Top Ozeki Kisenosato looked like he was in trouble against Homasho after the tachi-ai, but Homasho inexplicably stopped for a split second, looking like he wasn't expecting that. I'm not crying foul play here (N.B. Kisenosato is 6-1), but I can't, for the life of me, understand why Homasho didn't pounce after seeing Kisenosato off balance. In any case, the hesitation brings about Homasho's 5th loss, as Kisenosato was never in trouble after the initial moment, and ultimately pushed his lesser foe out.

Next up on the leaderboard is, out of nowhere, Aoiyama. You know, the Bulgarian guy. Soon to be the ONLY Bulgarian guy. The Blue-ish Mountain used his superior strength and thrusting power to stop Tenkaiho's charge and turn the tables on him, eventually pushing him out with little resistance. Tenkaiho sinks to 1-6 and looks set to return to Juryo. Aoiyama hasn't been impressive so far, and he'll be in for a roughing if they decide to pair him with the big guys in week two.

The other two guys at 6-1 on the leader board fought each other, with Fujiazuma getting the better of Shotenro after the Mongolian came in a bit too low in his pushing attack. Big Shot is dealt a costly, momentum-halting first loss.

Kakuryu recovered a bit from a weak 1-2 start with a deft evasion at the edge followed by a well-timed hataki-komi against 2-5 Toyonoshima. While it is known I'm not Kakuryu's biggest fan, I'll admit the guy improved a lot since his first days in the division. However, this particular basho he seems to be back to his old self, with four of his 5 wins so far coming by hataki-komi and tsuki-otoshi. Looked for the trend to continue in the near future and to be broken in week two, when he starts losing. Toyonoshima is 2-5 after the first week, facing all the significant opposition, so he can look forward to an easier schedule and perhaps a kachi-koshi.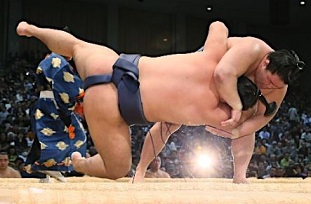 Goeido also improved to 5 wins, but in his case the sumo's been even worse. While Kak had one non-evasive win, Goeido simply has none. One hataki-komi, one tsuki-otoshi, two hiki-otoshi and one trademark kubi-nage, which came today against Tochinowaka (2-5). On the plus side, someone who can pull off a kubi-nage as often as Goeido can't be all bad (he has 12 of those, which represent roughly 3% of his wins, with the usual sumo wrestler averaging 0.28% kubi-nage) – however, kubi-nage is one of the ultimate desperation moves, and if you're ever in the position of executing one, it means you were truly beaten tactically and are already in a precarious position. And being in precarious positions more often than not leads to losses, which Goeido will start accumulating as soon as he starts meeting the tougher guys - unless he can kubi-nage, hiki-otoshi or hataki-komi the hell out of those guys as well (not gonna happen).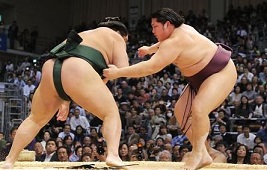 Chiyotairyu looked large and in charge against Endo, pushing him around with little effort, but he made a little mistake and let Endo grab a shallow hold on his mawashi, which immediately proved fatal. Endo recovers just a little after the bad start, limping to 2-5 with the uwate-dashi-nage win, while Chiyotairyu falls to 5-2. I really hope Endo is worthy of all the hype, but so far he's been pretty unconvincing. And he's 23 already, so he really doesn't have much time left to prove himself, but time alone will tell.

Ikioi improved to 5-2 as well with a solid win vs. Kitataiki (4-3). The man whose dohyo name is synonymous with vigor stood his ground well and kept his stance well shut, disallowing any intrusion from Kitataiki's greedy limbs (reading it again, it sounds VERY strange), finishing his foe off with a tsuki-otoshi which looked more like a throw from my angle.

Masunoyama rounds up the 5-2 guys after establishing a little losing streak after a rensho of 5. His Roundness looked like he had the initiative, driving Kyokushuho back immediately, but the tall Mongol wasn't going to go out without a fight, so he used his left inside grip to swing his massive foe around and down. Kyokushuho improves to 4-3.

The last bout I'll cover today is Osunaarashi (3-4) vs. Tokitenku. It wouldn't be a Tokitenku bout without some sort of bad timing at the tachi-ai (I tells ya, that time kanji in his shikona must be cursed) so there was, of course, a false start. That made the Egyptian cautious, so when they went at it again, he just kind of slipped to the side in what may or may not be called a henka and grabbed a left grip on Tenku's mawashi. Twas all he needed, as Tokitenku had nothing to work with and was pushed out easily to his 5th loss. The young Arab rights the ship a bit after the abysmal 1-4 start, and he might just win 8 or 9.

And, in tune with my current pet project of learning Japanese, I feel compelled to draw attention to this guy. Aside from the remarkable start in sumo (17-1 so far), it's his name that intrigues me. The first kanji in his shikona (which is also his family name) means moat or ditch, and the second one is the more common "to cut", which has a LOT of secondary or figurative meanings. So this guy's name would mean something like… crossing the moat? No doubt a reference to some very important event in the family's history. I'd love it if he could make it to Makuuchi so we can joke about his name when he wins by yori-kiri or something.

I'll see y'all next basho, but make sure to read Sumotalk for the rest of the tournament, OK? I really have no idea who's up for tomorrow, but past history suggests that it should be Clancy. If that's the case, don't forget to bring your own apostrophes.
Day 6 Comments (Kane Roberts reporting)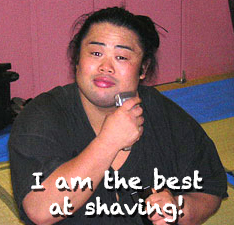 Last night, I grabbed some Kettle Corn and sat down in front of my idiot box to eyeball some sumo action in Fukuoka and saw a brief piece on Konishki (who won the Kyushu basho 24 years ago) and soon after, Kakizoe's mug appeared on the screen (and yo, I didn't know he's an oyakata!). Remember that dude? Kakizoe? He was a chisa sugi ("too small") sumo athlete but always acted like he was supposed to get the white circle no matter who was crouched in front of him.

Kakizoe left the spotlight without much fanfare and while he color commented about Jokoryu, I pondered the growing list of guys (of various skill levels) who've recently gone intai or have been injured or dropped to the Juryo ranks…

(2013 Wakanosato Juryo Watch: The gangstah is currently 3-3).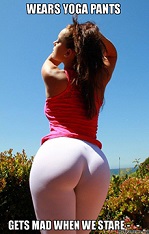 Miyabiyama, Kakizoe, Takamisakari, Iwakiyama, Chiyotaikai, Aran, Kaio, Asasekiryu, Wakanosato, Daido, Wakakoyu, Kotooshu, Kotomitsuki,Tochinoshin, Kotoshougiku, Baruto, Dejima, Asashoryu and many more seem to be coming and going at a rapid rate. And as in all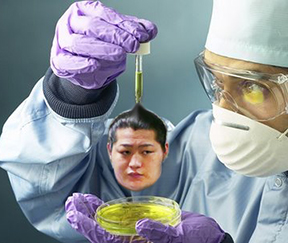 sports, we as fans witness a shifting dynamic on the playing field and it really can get as confusing as a girl who wears yoga pants and then gets mad when you stare at her with a flashlight under your chin.

When our favorite uber exciting sumo god, Asashoryu went splitsville, the current Mongolian era was already in play and the disparity between upper and lower tier athletes remains chasm-like. But the recently morphing sumo landscape indicates some real markers of real change and now…NOW the dohyo appears a bit more like a petri dish than a fight ring (well, except for the pyrex and spores and…you get the picture).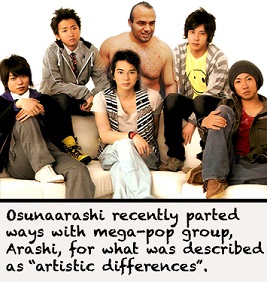 With the arrival of a few (and in my opinion, VERY WELCOME new rikishi) we're officially witnessing sumo's next era slooooowly take shape. I believe there's a lot of positive energy and talent up there right now and in a few years (not quite yet) the calendar will be filled with truly exciting contests. As Mike has stated, if you remove Hakuho from the proceedings, the banzuke would obviously even out, but as new rikishi like Endo, Chiyotairyu, Masunoyama, Osunaaarashi, Jokoryu, Myogiryu, Okinoumi, Ikioi et al arrive and hone their skills, the action atop the dusty ring will become increasingly engaging and senshuraku can't help but get the juice it so desperately needs.

And now, as I'm sure you'll agree, it's mos def time I got out from under my pedestal and throw the most recent festivities under the Sumotalk Microscope. So lets get it rockin' on this sweet basho ... Real Japanese Sumo - Night 6!!!!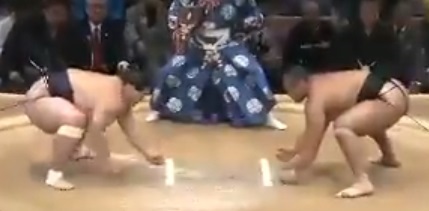 On this night, M15 youngster Osunaaaaaaarashi (1-4) lived up to his self deprecating review regarding his current rikishi status. Even his "goal line stance before the snap" indicated an enthusiastic reliance on purely power-based athleticism as opposed to a set of developed, "in the trenches" sumo skills.

I like Osuna because he personifies raw power and if he keeps his balls out spirit in play and receives proper coaching, he'll certainly bring some much needed "tude" to the dohyo. But right now his footwork is kinda weak. I'd love to see him plant his dogs on the turf and access more low body thrust rather than skip around and rely so thoroughly on his ample upper body strength.

Both Osuna and Juryo dude, Terunofuji, stood straight up at the tachi-ai and started things off with a duo tsuppari festival. Terunofuji desired (albeit sluggishly) some mawashi while Osuna eagerly slapped his way to a mawashi grip and, truth be told, youth and exuberance were the essential diffs between the two men.




As they danced around the ring, Osunaarashi kept his head down and knocked his way inside his opponent's wheelhouse. And while Terunofuji attempted a number of half decent kote-nage throw, the young Egyptian said "no deal chief" and eventually "stuck a fork in it" pulling off the frontal force down for a yori-taoshi win and a 2-4 record.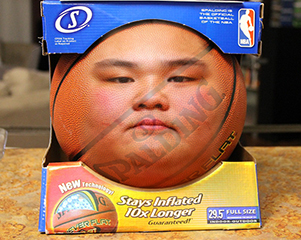 Right 'round about now, M11 (5-0) Masunoyama had been circling around the ring of hay, and was eager to get his balls rolling with the consistently okay M15 (also 5-0) Shotenro. When the lovable Masunoyama wins he displays an almost magical swagger and I for one appreciate his brand of sumo love.

Unfortunately, the veteran Shotenro chose not to allow a Spalding victory jiggle and in quick order shoved Sir Orbsalot out of bounds. The Great Spaldini was late on the tachi-ai and Shotenro does display sound sumo at times…and as a result…Sho gets a tsuki-dashi victory and continues to keep pace with the Mongozunas at 6-0.

As usual, dapper gent, M11 (2-3) Tamawashi got a decent thrust at the gun and backed up his opponent, M12 (4-1) Fujiazuma, to the line but, as is often the case, Tama's feet were aligned and he lacked the raw power to smash his way into the end zone. They spun each other around and settled into an opposing yotsu grip stalemate in the middle of the ring. I was glad when both dudes had solid foot holds on the clay and after a bit, Fujiazuma chugged Tamawashi to the edge and threw him into the expensive seats for a kote-nage (5-1) win.

I was looking forward to the M14 (2-3) Tokushoryu / M10 (4-1) Kotoyuki match. These guys throw down some aggressive matches and they're equipped with similar physical attributes (Toku has the edge in size but Koto is 5 years younger) and weapons.

The crowd cheered Koto's signature, tourettes like "WHOOP" and I scanned the audience for anything that resembled a Suicide Girl, but alas this was all I could come up with…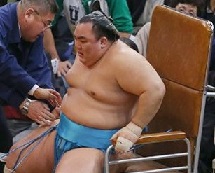 Kotoyuki decided to stand his opponent up and work his mug over with some aggressive tsuppari but it wasn't long before things got sloppy and he found himself with one arm pinned in the air and Tokushoryu shoving him around and to the clay. Koto falls to 4-2 and Toku rises to 3-3. Kotoyuki took a very awkward fall and hyper-everythinged his left leg (and left on that weird wheelchair). Sincere hopes and wishes to the kid for a clean recovery but I'll be surprised if he shows up tomorrow. Also, Tokushoryu gave him an extra shove for good measure after the win but as soon as he saw Kotoyuki was in serious trouble he ran over and showed some legit concern.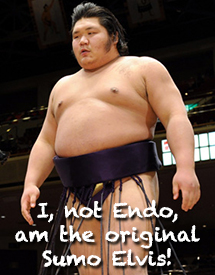 It seems only yesterday that M6 (4-1) Chiyotairyu hit the scene sporting an Elvis-like set of sideburns and pompadour. He showed serious nad then and even though his rise to mega-stardom is far from meteoric, I suspect he's on a slow but steady upward curve.

Against M9 (3-2) Sadanofuji, Chia Pet demonstrated the kind o' sumo that Mike and Clancy scream at him from the rafters. Steely determination to grab some belt real estate and forward moving POWER sumo. After the initial impact, Chiyo fought off some hard slaps to his mug and grabbed Sadanofuji's belt for some solid migi yotsu. He buried his head in Sada's chest and bull dozed the large fellow across the hay. Chia rocks my socks at 5-1 and Sadanofuji enjoys a sense of uniformity at 3-3.

Big galoot, M5 (4-1) Aoiyama, looked to clean M7 (3-2) Toyohibiki's plow as he hunkered down and went mug to mug with the Huttman. Toyo blasted hard off the tachi-ai but Blue Mountain offered up his much maligned retreating / pulling sumo and the Huttman isn't known for having a solid fulcrum. His Huttness rolled hard to the dohyo as Aoiyama won the day and got an easy hiki-otoshi and a smart 5-1 tally. Although he was the last man standing, this sleazy style sumo is why Blue can't break hard into the elite gang. Biki gets knocked into a cocked hat and falls to 3-3.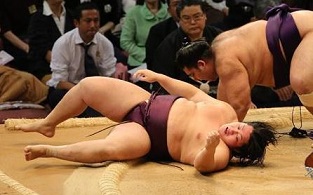 Heart throb M7 (1-4) Endo looked good in defeat. Although M5 (2-3) Kaisei was certainly able to take advantage of the dashing rookie's injury, Endo's potent sumo instincts were evident. At the gate, Elvis absorbed a solid tachi-ai, retreated and almost pulled Baby Huey down and out but somehow the big clumsy bird recovered and was able to drive the unproven superstar to the ropes. Elvis escaped disaster, dug down into Kaisei's chest and grabbed some serious belt. I dug his grappling in the trenches and I suspect he would have had a win if not for his gimpy ankle. In the end, Huey was able to leverage his weight and twist Endo to the clay. Huey will again afford clean diapers at 3-3 while Endo somehow shines at 1-5.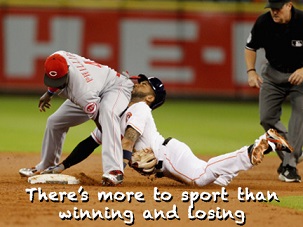 Whenever lost boy, Sekiwake (4-1) Goeido, steps up onto the dohyo I sense a weird blend of over blown hype, legit expectations and WTF. Sporting his customary, "OK, what are we doing again?" look on his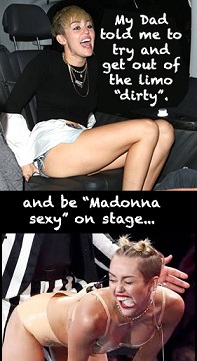 face, he got set to face-off with the ebullient M2 (0-5) veteran - Kyokutenho. Even through his fog he must have counted on an easy win but Kyokutenho handled him with ease. After being spun around and down in about 5 seconds the now 4-2 Goeido stood up and surmised that A. there's more to sport than winning and losing and B. Ummmm…"OK, what are we doing again?"

With a lot more sumo in front of these guys, Kyokutenho sits on a Ritz at 1-5 while Goeido needs some serious coaching like say...Miley Cyrus.

Ozeki (4-1) Kisenosato exhibited a half decent start as he met M2 (2-3) Toyonoshima for a trippy hoe down affair. Kid Kise repeatedly shmacked into Toyo and sought solid oshi-dashi position but his opponent was light of foot and kept slipping to and fro around the dohyo. Eventually Toyonoshima ran out of gas and the Kid chased him across the wire but this went on too long. The Kid gets a shaky 5-1 record while the Tugboat slides to 2-4.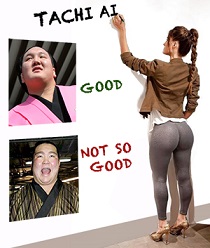 Hakuho demonstrated his sweet tachi-ai…his creativity…his understanding of physics…his ability to take what he creates or is given and improvise…adjust…win.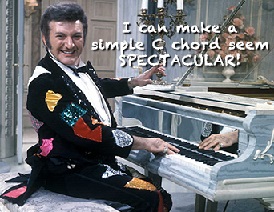 This bout was certainly not epic but the supreme one's skills sure are…plus he threw in some serious Liberace flair as he finished M3 (1-5) Takayasu off with an ostentatious sukui-nage throw. Lord Ho is pic perf at 6-0.

Finally, Vice Yokozuna - Mr. Harumafuji, made quick work of Komusubi (2-4) Okinoumi. Both Haru and Haku possess game changing tachi-ai because they hit hard and then immediately turn the initial impact into something. In this bout Haru manned up to the bigger Okinoumi with a resounding "clunk" and then grabbed the back of the kid's belt (hidari yotsu) and spun him out for a neat yori-kiri slam dunk. Mr. Fuji is doing things on the straight and narrow this week and stands at a solid 6-0.

And speaking of yoga pants...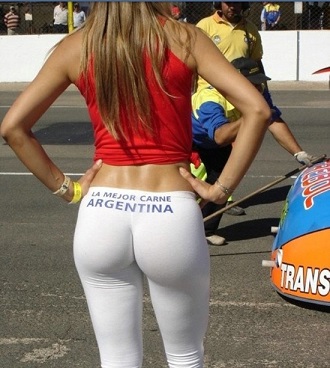 Day 5 Comments (Mike Wesemann reporting)


I know we've taken a few jabs so far at the sparse attendance at the Kyushu basho, but it looks to me like there are a lot more fans attending the festivities this year. It seems that in years past, the venue was only full about five rows deep the first week, but it looks to me as if there are a lot more fans this year in attendance, perhaps double. It's still not close to where the Sumo Association wants to be, but it could be a sign that things have already bottomed out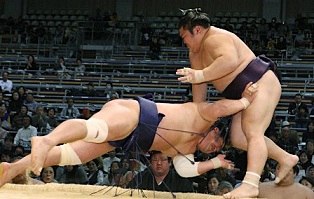 and are on the rise again. I'm posting a picture here from day 10 at the 2011 Kyushu basho, a time when scandals were probably still fresh on peoples' minds, and you can definitely see an improvement now compared to then. Could the presence of Endoh have such an effect already? I'm trying to think of what else it could be, but during Endoh's bout against Kitataiki today, the latter went for a quick pull soon after the tachi-ai eliciting the largest reaction from the crowd the whole day albeit a collective scream. A guy like Endoh can have that effect even when he really hasn't accomplished anything yet as long as he is the touted media darling, so it will be interesting to see what happens moving forward when Endoh can actually complete a basho.

Starting from the bottom up yet again, M14 Kyokushuho survived a henka to the left from J2 Azumaryu who attempted the the quick and dirty force-out using the right inside position, but Kyokushuho survived it well digging in for the migi-yotsu affair. Having been foiled in his henka attempt, Azumaryu next attempted a right scoop throw, but Kyokushuho was steadfast in surviving it, and by this time, the Juryo rikishi was outta tricks, and so Kyokushuho executed the force-out charge moving to 3-2 in the process.

The only thing missing from M15 Osunaarashi's amateur tachi-ai today was a pair of underwear beneath his mawashi. Standing straight up and going for moro-te-zuki against M13 Gagamaru is frivolous, and Lord Gaga showed why pushing in and upwards against Osuna's teet with the left arm while maintaining a right armbar as insurance to keep the rookie in place. This one wasn't even close as Gagamaru scored the oshi-dashi win in mere seconds moving to 2-3 while Osunaarashi falls to 1-4. I highly overestimated Osunaarashi prior to the basho. I figured he would come in fighting as he did in Juryo which led to wild affairs with a lot of slapping and pulling, but he's making a conscious effort this basho to go straight up at the tachi-ai...and he's getting his ass handed to him as a result. I guess when you think about it, this guy has only been exposed to sumo for less than two years, so to throw him to the Makuuchi wolves this early is making him look like an amateur. As for Endoh, sure, he's only been in professional sumo for a handful of basho now, but dude's been learning and practicing the basics since he was a kid. You can definitely see the difference.

M13 Yoshikaze is quickly nearing that sick-dog-that-needs-to-be-shot status. Today he attempted to go toe to toe with M12 Fujiazuma in a tsuppari fest...for a whole second before baling and trying to pull and evade. He only managed two pull attempts before Fuji had pinned him to the edge and sent him on his way for good with a sweet oshi-dashi attack. These two are heading in opposite directions as Fujiazuma proudly stands at 4-1 while Yoshikaze is just 1-4.

Ditto the above analysis for the M12 Tamawashi - M15 Shotenro clash. The Mawashi couldn't wait to pull, and Shotenro got'im quick with straightforward tsuppari. Shotenro continues to cruise this low moving to 5-0 while Tamawashi (2-3) will be lucky to get mentioned in week 2.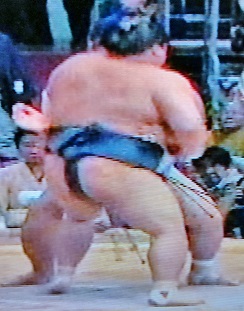 A couple of basho ago as part of the broadcast, NHK would conduct a survey each day of which rikishi exhibited the best fighting spirit that day. I haven't seen them do it yet here in Kyushu, but maybe it's because I'm fast forwarding in between bouts, but the leader on those lists was always Masunoyama. On one hand, it's a bit of a surprise, but on the other, the Japanese people love quirky people who break the mold, and Masunoyama breaks the mold with his lung condition and overall underdog status. Anyway, the reason I bring this up is that someone in Tamaasuka's camp decided that it'd be good if Masunoyama won today because Spalding completely lost the tachi-ai coming in high and allowing Tamaasuka the easy left inside position, but not only did Tamaasuka do nothing with it, he purposefully kept his hands on both sides away from anything and let Masunoyama just charge forward and push him out in a matter of seconds. I took this pic with my cell phone to show the position of Tamaasuka's hands during the bout. His left hand rests just above Masunoyama's belt doing nothing, and his right hand is open and away from the body all together, a usage of the hands that defies all sumo logic. This is a low profile bout, I know, but I call'em as I see'em, and this one was obvious as Masunoyama moves to 5-0 while Tamaasuka falls to 2-3.

M9 Sadanofuji came in high with moro-te-zuki, but M14 Tokushoryu couldn't take advantage settling for hidari-yotsu where he sloppily allowed Sadanofuji the right outer grip. Give a guy with some length that outer grip, and you's in trouble as was the case today where Sadanofuji executed the easy force-out moving to 3-2 while Tokushoryu drops one under at 2-3.

M8 Tenkaiho threatened moro-zashi from the tachi-ai, but M12 Jokoryu backed away to his left forcing the gappuri migi yotsu contest instead. That slight momentum shift seemed to take Tenkaiho out of the bout, and Jokoryu dug in surprisingly well setting up a powerful inside belt throw that gave him the dominant win after a shaky tachi-ai. That was no easy task, which shows Jokoryu's potential as he moves to 2-3 while Tenkaiho is languishing like a slug on the sidewalk after a rainstorm at 1-4.

M10 Kotoyuki got back on track today against M8 Takarafuji, who really needed to get something to the inside but seemed afraid of his opponent's thrust attack opting to spend time dodging this way and that. Takarafuji's moving around meant that Kotoyuki didn't have to, and so he kept himself square with his opponent the entire time finishing him off in about four seconds. Kotoyuki'll take his 4-1 record while Takarafuji falls to 2-3.

M7 Endoh looked to get the left inside from the tachi-ai, but M9 Kitataiki executed a quick pull throwing Endoh off balance, and from this point he was a sitting duck as Kitataiki couldn't rush forward fast enough licking his chops. He actually hurried the force-out attempt too much because Endoh nearly pulled him down by the left arm at the edge, but in the end, Endoh just didn't have the balance or footwork to no one's surprise as Kitataiki (3-2) pushed him hard and down to the dohyo before mounting him for good measure. Endoh falls to 1-4 but only needs two more wins in my estimation. Horrific starts also bring the weakest possible rikishi in week 2, so Endoh should eke out five or so wins.

M10 Tokitenku henka'd to his left, but the move was read brilliantly by M7 Toyohibiki who all but caught Tenku in mid-air and shoved him outta the dohyo a second in. Love to see Tokitenku get his ass handed to him in this manner as he falls to 1-4 while Toyohibiki scampers to 3-2.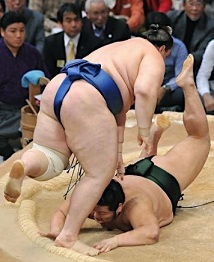 M6 Chiyotairyu was just too hesitant and worried about the pull today from M5 Aoiyama, so when it did come at the edge, his legs couldn't catch up with the upper body giving Aoiyama the easy hataki-komi win in a coupla seconds. If you know you're opponent is going to pull, you go at him full boar and take advantage when the pull comes; you don't work your way forward timidly because you'll get burned as Tairyu did today. I was sorry to see him suffer that first loss as both dudes stand at 4-1 now.

We witnessed a light tachi-ai today between M6 Ikioi and M4 Tochinowaka with neither sticking and neither wanting to get back in close. After a bit of stalking each other in the ring, Ikioi (3-2) finally lunged for and got the deep left setting up the right outer, and once that was obtained, he executed the nifty right outer throw for the methodical win. You snooze you lose as Tochinowaka has found out the last four days at 1-4.

Hopefully Chiyotairyu watched the M5 Kaisei - M4 Homasho bout today because Kaisei knew his opponent would back pedal, and once the retreat came, he was on Homasho like stink to bait leading with the right inside and scoring the quick and easy oshi-dashi win that probably could have garnered tsuki-dashi status.

Komusubi Okinoumi came with a haphazard tachi-ai where he monkeyed around trying to connect up high. In order for him to take advantage of his height, he's gotta get inside and pull his gal in close. Course, who'd wanna pull M3 Takekaze in close? Anyway, with Okinoumi pushing up high, Takekaze said "I'll show you close" getting inside and spinning Okinoumi 90 degrees setting up the easy scoop throw with the right arm. Man, when you get done like that at the hands of Takekaze (who is 4-1 now!), you've go to rethink a few things as Okinoumi falls to 2-3.

Komusubi Shohozan (1-4) was so rushed and unsettled in his charge that his feet slipped out from under him allowing Sekiwake Tochiohzan (2-3) to slap him down in one second flat as Oh leaned to his left. We've definitely seen that disturbing pattern all basho from Shohozan where his footwork is all over the place. Dude needs to settle down and realize the only rikishi he needs to truly fear is Hakuho.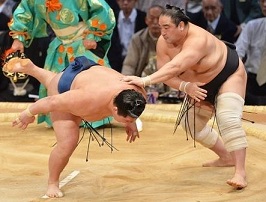 For seemingly the fifth day in a row, Sekiwake Goeido charged high, unsure, and with his feet aligned. For the first time this basho, his opponent--who happened to be M1 Aminishiki--wasn't looking to do any favors, so he just pulled the Father forward and down with a long right arm to the back'a the head. Goeido's 4-1 record so far is inconsequential. It's his horrible sumo that has me worried. Last basho when there was no talk of Ozeki, dude moved forward and fought well from the belt on most days. Now that expectations are heaped upon him again, he's folding like a dude with a 7 - 2 off suit. Aminishiki picks up his easiest winna the basho at 3-2.

Ozeki Kakuryu and M1 Myogiryu engaged in a wild pull/slapfest where the Ozeki looked to connect with huge tsuppari which was risky, but his experience and longevity in the division allowed him to survive in the end pulling Myogiryu forward by the back of the shoulder and into a little squat at edge where the M1 tried to keep his balance but just stepped at in order to save himself a further beating. Kakuryu probably coulda sent him three rows deep from that position, but he was in pull mode throughout and had no forward momentum. Ugly bout here all around as Kakuryu creeps to 3-2 while Myogiryu is 1-4.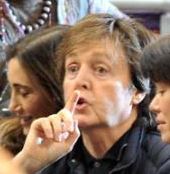 To change the subject a bit, some of you may be wondering what happened to Kane this basho, and to be honest, Kane really didn't give me any details of why he'd be missing the first five days; all he said was that he would be "on the road" whatever that meant. Well, it all made sense today after the previous bout when the NHK cameras finally caught up with the celebrity in the house, Sir Alice Cooper. I think Alice looks great without his makeup, and after his gig in Fukuoka tonight, Kane will be back where he belongs strumming the action on day 6.

Only against a 39 year-old can Ozeki Kisenosato get the quick left inside from the tachi-ai, but he was nearly burned when Kyokutenho grabbed the right outer grip and looked to take charge. Kyokutenho just isn't strong enough and fast enough, however, to bully a big guy like Kisenosato around, so the two settled into to the gappuri yotsu bout where Kisenosato capitalized on his right outer grip scoring the easy force-out win after a brief tussle. Kisenosato improves to 4-1, and as much I enjoyed Kyokutenho working his magic last basho, he clearly does not belong among the jo'i.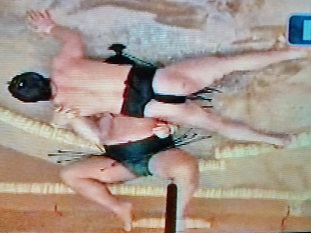 In the Yokozuna ranks, M3 Takayasu walked into the deep left inside position that Harumafuji wouldn't waste spinning his opponent around quickly and felling him by that same left inside position obtained from the tachi-ai and his right hand at back of Takayasu's head. While Harumafuji was never in any danger, this was an unstable bout that ended in the Yokozuna adding insult to injury by mounting his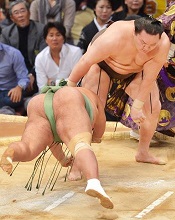 opponent awkwardly and saying, "get a whiff of this" as seen from the camera angle above the dohyo. Whew! Harumafuji is poifect at 5-0 while Takayasu is just 1-4.

And finally, M2 Toyonoshima kept his left arm in tight denying Yokozuna Hakuho his favored right inside position, but at some point he'd have to open himself up, and when he did Hakuho just pulled him down with a right hand to the back of the head. This was akin to shooting fish in a barrel for the Yokozuna who waltzes to 5-0 while Toyonoshima finishes the joban with a respectable 2-3 record.

As promised, Kane headlines the show tomorrow.
Day 4 Comments (Mike Wesemann reporting)


The biggest news heading into day 4 was the withdrawal of Ozeki Kotooshu. Normally, the old adage holds true of "if Kotooshu participated in a basho would anybody notice?"...wait...maybe that should have been about a tree falling in the forest. Anyway, the Ozeki's withdrawal from this basho is significant because he is already kadoban meaning he failed to kachi-koshi last basho, so he is on Ozeki probation where he must win eight bouts or be demoted from the formerly prestigious rank (see paragraph 2 from yesterday's intro). Kotooshu's stable hasn't entirely ruled out the possibility of his returning this basho, but that would be insane. He faces all of the softies on his schedule in week 1, so why try and come back in week two against the better competition? There is a rule in place where a rikishi demoted from Ozeki can regain his rank if he wins ten or more bouts at the basho directly proceeding his demotion, so that's the more reasonable course for Kotooshu with this injury.

Regardless of what he does, I don't think he can come back from demotion. Kotooshu reminds me a lot of Aran the last few basho before he retired, and Aran came out and admitted as much that his heart just wasn't into it, and it definitely showed in his sumo. The same can be said for Kotooshu's sumo. If you remember when he first reached Ozeki all those years ago, he was a bitch at the belt demanding at least one grip at the tachi-ai, and it didn't really matter if it was an inner or outer. Lately, however, Kotooshu can't get anything from the tachi-ai, and he's more wide open than a Kardashian looking for publicity. I think for the good of sumo and for the Ozeki that he should retire if he is unable to win 10 bouts in January. His heart just isn't into it anymore, and you know the real sumo adage of "letting up in the ring only leads to somebody getting injured."

With that said, let's move to the day 4 bouts starting with M13 Yoshikaze who came in extremely low against M16 Tamaasuka gaining the early left inside. Usually, you want to be the dude lower than your opponent, but if you're too low, there's no way to mount a serious forward attack and so Tamaasuka was able to persevere. Finally, Café went for a pull that provided the momentum shift Tamaasuka (2-3) needed, and he was able to eventually turn the tables and push down Yoshikaze (1-3) in the end. The gunbai went to Yoshikaze in this one, but they correctly called a mono-ii and reversed it in favor of Tamaasuka.

M12 Jokoryu used a quick pull from tachi-ai giving M15 Shotenro all the momentum using a tsuppari attack to drive Jokoryu back to the edge. Near the tawara, Jokoryu forced the bout to migi-yotsu and had Shotenro up high, but when you've been going backwards, pulling the trigger on a yori move is like a quarterback throwing on his back foot...you just don't have the same power, and so Shotenro just pinned his opponent in with his left leg and forced him down from there moving to 4-0. Jokoryu falls to a paltry 1-3.

M14 Tokushoryu had happy feet at the tachi-ai resulting in timid tsuppari, so M12 Fujiazuma pushed his left hand into Tokushoryu's right pit and shoved him off course. When Tokushoryu (2-2) failed to adjust, the force coming from the side and his own forward momentum caused him to be easily pushed down to the dirt sending Fujiazuma to a 3-1 start.

Today was a perfect example of how M15 Osunaarashi is fighting on his "back foot" so to speak due to his inability to create from the tachi-ai. Against M11 Tamawashi, both rikishi were up way too high in a tsuppari affair from the get-go, but the larger, more experienced rikishi had his way knowing where to fire, when to fire, how to work his feet, etc. This wasn't close as Tamawashi (2-2) easily dispatched the rookie sending him to a terrible 1-3 start.

Today was the first time I saw M10 Kotoyuki attempt a pull and/or move to the side, and today was the first time he lost. I realize M14 Kyokushuho is tall, but he ain't the size of Gagamaru. After connecting with a sweet right paw to the face, Kotoyuki moved right swiping at Kyokushuho and lost the momentum at that point. Credit Kyokushuho (2-2) for his persistence and seizing the opening when it came scoring the nice oshi-dashi win. Kotoyuki falls to 3-1, and more than most rikishi, it seems as if a loss can derail Kotoyuki pretty quickly.

M13 Gagamaru came out pushing, but there were no legs behind it, so when M9 Sadanofuji braced both feet against the tawara, Gagamaru was done. As he still leaned into the Sadamight with arms extended, Sadanofuji slipped into moro-zashi, moved left, and dumped Gagamaru forward and down with an easy-does-it tsuki-otoshi. The fact that Sadanofuji could do all that with Gagamaru still pushing at him shows how weak Yubabamaru's attack was. Sadanofuji is now even steven at 2-2 with Gagamaru continues his slide at 1-3.

M11 Masunoyama employed a straight forward tachi-ai and potent thrusts followed by the quick left inside that he used to scoop M8 Tenkaiho down before the Hutt could do anything. Masunoyama commented afterwards to NHK's man on the street..er..hana-michi that he knows he has to finish his opponents off early, so credit him for coming in with a plan this basho and sticking to it regardless of his opponent. He's 4-0 if ya need him (and you DO!) while Tenkai the Hutt falls to 1-3.

M7 Toyohibiki and M9 Kitataiki hooked up immediately in hidari-yotsu, but Kitataiki had Ibiki up higher than he wanted to be. As Kitataiki burrowed forward, Toyohibiki tried to move to his left and counter with right- kote-nage, but it would never develop due to Kitataiki's constant pressure. As Toyohibiki went for a final counter throw, he lost track of his positioning and stepped out as he loaded for another kote-nage providing a rather uneventful ending to a rather uneventful bout to begin with. Both gentleman are 2-2.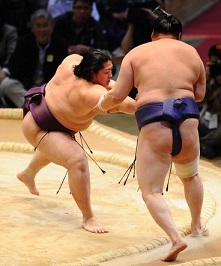 M10 Tokitenku initiated a punk-ass false start against M7 Endoh slapping the youngster with a left hari-te. Endoh took it in stride though, and I'm sure when he's completely healthy, he's going to repay the favor. I guess he got his reward anyway because when it really counted, Tokitenku used another left hari-te and push to Endoh's face, but Endoh just swatted at Tenku's extended arm like an annoying fly throwing the Mongolian off balance whereupon Endoh pounced forward and finished Tokitenku off for his first winna the basho. I would not be surprised if Tokitenku is eating yaki-niku tonight in Nakasu on Endoh's dime because this one looked pretty easy, but regardless, Endoh's off the shneid at 1-3 while Tokitenku falls to the same mark. Before we move on, Endoh really only needs four wins this basho to safely keep himself in the division and three might work as well, so I'm sure he'll find a way to get them.

M5 Aoiyama and M8 Takarafuji were involved in a slow developing bout with both rikishi connecting on legless tsuppari, and after a few seconds, Aoiyama went into complete pull mode, and Takarafuji just couldn't keep up with it. There's really nothing more to break down here as Aoiyama improves to 3-1 with the tsuki-otoshi win. Takarafuji has cooled back downta 2-2 as we say in Utah.

M4 Homasho stayed low just daring M6 Ikioi to go for a pull, and Ikioi looked befuddled not able to employ an offensive maneuver of his own, so he continued to press into Homasho while Homie lulled his opponent into his own game finally springing the pull trap that worked to perfection. Notta great bout as both rikishi end the day at 2-2.

It's unbelievable to me that M6 Chiyotairyu was 0-2 going into today's bout against Tochinowaka because Sleep-Waka is just a big passive target for a dude like Chiyotairyu. I think Chiyotairyu realized the follies of his previous ways because he slammed into Tochinowaka (1-3) from the tachi-ai, and it was literally once, twice, three times a lady in the perfect oshi-dashi charge and slick win for Chiyotairyu (4-0).

M3 Takekaze (3-1) henka'd left and just stayed to that side pushing M5 Kaisei (1-3) back across the straw without argument. The problem with this 3-1 start from Takekaze is he's likely going to be fighting up this high next basho.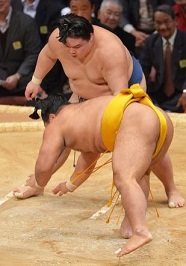 Sekiwake Goeido opened with a left hari-te against Komusubi Shohozan, but the Father's feet were totally aligned as both he and Shohozan engaged in a girl slap bout for two seconds (no offense to our hot chick readers). Finally, Goeido just swiped down at Shohozan's arms making him touch the dirt with his hands although the Komusubi never fell to the ground entirely. I thought this was another suspicious bout, but it coulda been real. The point is that Goeido's four wins are all from crap sumo and look nothing like a true Ozeki run. As for Shohozan (1-3), they caught up with him in the hana-michi where he said he lost his composure at the tachi-ai after being slapped, and that led to his poor performance. Whatever dude. Goeido improves to 4-0 with the ugly win.

Sekiwake Tochiohzan and M3 Takayasu began in the migi-yotsu position, but Tochiohzan, who owned his foe something like 10-1 coming, was too nonchalant in going for the left outer, so Takayasu had the wherewithal to pull the trigger on a do-or-die force-out charge leading with the right arm. The Sekiwake tried to counter at the edge and actually succeeded in pulling Takayasu down just as Oh's own foot stepped out, but the referee's gotta point that wooden paddle in the direction of someone, and he chose the aggressor, Takayasu. Replays showed that a do-over was in order, but the men in black didn't even call a mono-ii, so gunbai to Takayasu (1-3). As for Tochiohzan, he prolly got jobbed here, but you own this guy head to head, Takayasu is winless this basho, and you put forth no effort just to go out and kick his ass, so you deserve the loss today.

Ozeki Kakuryu stayed home at the tachi-ai against M1 Aminishiki, and who can blame him? They don't call him AminiShneaky for nuttin. The Ozeki alternated thrusts with pull threats keeping Ami at bay, and when the M1 finally committed to coming forward, the Kak pulled him down in a single swipe. Fish in a barrel if you ask me. Both combatants end the day at 2-2.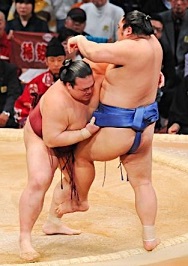 Ozeki Kisenosato got back on track today against the one guy who actually has a worse tachi-ai than himself, Komusubi Okinoumi. Kisenosato managed the left inside position, which easily set up right outer grip, and once in this position, Kisenosato is one powerful dude. Problem is...against the rest of the banzuke, he can't set this up from the tachi-ai. Anyway, it was an easy force-out win for the Ozeki after grabbing that outer grip as Kisenosato improves to 3-1 while Okinoumi is still decent at 2-2.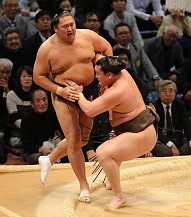 Yokozuna Hakuho got the easy right inner from the tachi-ai against M2 Kyokutenho, and as soon as he pulled his gal in tight and got the left outer, it was curtains. Hakuho actually showed good respect for his foe by not just kicking Tenho's ass off the mound entirely, but Kyokutenho deserves it after his lengthy career. I don't think Hakuho (4-0) has even showered yet this basho his bouts have been so easy while Kyokutenho falls to 0-4.

And finally, the day ended with a bit of controversy that really wasn't noticed until Harumafuji had made his way back to the hana-michi to watch slow motion replays of his bout with the rest of us. Against M2 Toyonoshima, the Yokozuna led with a left paw and wicked right hari-te that was probably unbecoming of a Yokozuna, but Toyonoshima took it all in stride and set up the good position from which he could counter. Harumafuji pressed quickly and took his foe for granted because not only did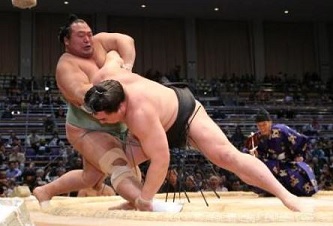 his attempt to strong arm his foe across the straw fail, but Tugboat grabbed the Yokozuna's right arm in tottari fashion and yanked Harumafuji down so fast that the Yokozuna's left fist actually touched down. The action was so quick, however, that no one caught it, and before his body hit down too, Harumafuji brilliantly grabbed Toyonoshima's right ankle with that same left hand and tripped him up for the sweet suso-tori move giving HowDo the victory. Toyonoshima deserved the win and a kin-boshi today, but the two judges manning that corner of the dohyo simply blew it as the gyoji was out of position through no fault of his own. The result in the end is a 4-0 record for Harumafuji and 2-2 mark for Toyonoshima.
Day 3 Comments (Mike Wesemann reporting)


With Hakuho's seemingly uneventful win yesterday over Aminishiki, the Yokozuna set a few milestones that are worth noting. First, the win guarantees that he is once again the rikishi with the most wins in the calendar year, a feat he has achieved the last seven years in a row now. Kitanoumi is the only other former rikishi to have achieved the feat seven times, but give Hakuho one more year to easily surpass that mark. Second, the win marked Hakuho's 500th from the Yokozuna rank, a feat that only three other rikishi have achieved in Taiho, Chiyonofuji, and Kitanoumi. Previously, Kitanoumi was the fastest to reach 500 among that threesome requiring 40 basho, but Hakuho has surpassed that mark as well taking just 38 basho to reach 500 when he realistically only needed 35 or 36. One one hand, I want to say that we are witnessing greatness, but on the other hand, how great is this run really when not only does the Yokozuna not have a rival, but there isn't a rikishi on the banzuke who could legitimately beat him straight up more than once in 10 tries? Take Harumafuji out of that equation and then it's like once in 20 tries because I think a guy like Chiyotairyu could figure it out with enough chances.

Now, contrast Hakuho's domination with the sorry state of the Ozeki ranks, who collectively after three days stand at 5-7 with more guaranteed mediocrity to come. It is no longer the case where Ozeki are capable of winning a yusho. It's no longer the case where Ozeki are a key component of the yusho race. And it's no longer the case where an Ozeki can win 33 bouts over the span of three basho on his own. The elders in the Association have to be staring at this current scenario and wondering what the hell happened? My purpose here is not to analyze what has happened since I've done that numerous times in the past; rather, I just want to point out the current predicament sumo finds itself in is a partial result of such a wide gap between the top two ranks on your banzuke. Harumafuji is the one exception, but in order to provide more balance to the upper tiers, he has purposefully (in my opinion) aligned himself closer to the Ozeki than he has to the other Yokozuna. The challenge then becomes...how does the Sumo Association retain fan interest in the midst of these circumstances?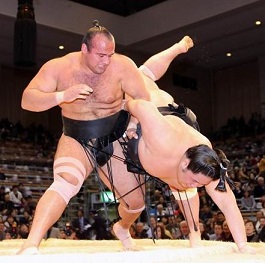 Ponder that as we head to the day three action starting with M15 Osunaarashi welcoming J2 Chiyoooootori. Chiyootori actually set the pace from the tachi-ai using effective tsuppari into the Dejyp..er..Egyptian's torso drawing a stupid pull attempt from the rookie. Chiyootori's attack was cautious, however, and so he was unable to capitalize completely on the pull settling for a gappuri migi-yotsu contest instead. Thanks to Chiyootori's short arms, Osunaarashi was able to reach for an outer grip of his own, and the rookie's strength took over from there as he forced Chiyootori back and then sensed the timing was right on an outer belt throw. Wasn't purty, but Osunaarashi has his first win in the division although he technically hasn't beaten a Makuuchi rikishi yet. No matter, though, as this win relieves some pressure and will help the dude settle in from here. It was also great to see his smile as he departed the dohyo and headed down the hana-michi providing one of the better moments of the broadcast.

M15 Shotenro used a tsuppari attack against M16 Tamaasuka driving him back step by step to the edge whereupon he latched both arms around Tamaasuka's extended left and forced his foe across kime-dashi style. Unlike Chiyootori earlier, Shotenro's thrust attack was an offensive maneuver, not just a reaction to keep his opponent at bay. Shotenro is a quiet 3-0 while Tamaasuka falls to 1-2.

M12 Fujiazuma barreled in for the quick left inner and right outer at the tachi-ai due to M14 Kyokushuho's nonchalance and upright hips, and as hard as Kyokushuho (1-2) tried to shake off that outer grip and use his height advantage for some momentum, he simply gave up too much at the tachi-ai and was defeated in fairly short order by yori-kiri. Fujiazuma improves to 2-1.

M13 Yoshikaze henka'd left but didn't do anything with it against M12 Jokoryu. As Jokoryu looked to square back up, Yoshikaze assumed moro-zashi, but with his momentum going backwards and to the side, Jokoryu easily pushed his way out of the hold, set up the hidari-yotsu contest, and then used his size advantage to score the comeback yori-kiri win. I think we probably saw a sign of Yoshikaze's age in this one as both rikishi end the day 1-2.

M14 Tokushoryu showed his versatility by battling M11 Tamawashi in a short thrusting affair. As Tokushoryu pressed forward with his bulk, Tamawashi (1-2) went for an ill-advised pull and you could already hear Rosie O'Donnell singing at this point as Tokushoryu (2-1) finished off his bidness with a four second oshi-dashi win.

M13 Gagamaru and M10 Kotoyuki found themselves in a tsuppari-ai from the tachi-ai, but the difference was that Gagamaru mixed pulls in with his shoves whereas Kotoyuki stuck with his straight up thrusts. Not only did the pull attempts take away Gagamaru's forward momentum, but they also kept him up higher than he wanted to be resulting in Kotoyuki dictating the pace throughout and scoring the shweet oshi-dashi win in the end. Kotoyuki's 3-0 if ya need him while Gagamaru has run his course in the division falling to 1-2.

M10 Tokitenku used a left hari-te at the tachi-ai against M11 Masunoyama and continued to shade left with his hips high, but Masunoyama had the legs pumping and just bulldozed Tokitenku back and across the straw without argument. I have no idea what Tenku was trying to accomplish today as he falls to 1-2 while Masunoyama is soaring at 3-0.

It says a lot when you have a bout that goes well over a minute and the fat guy is the one in better shape. M9 Kitataiki and M8 Tenkaiho hooked up in migi-yotsu, and Tenaki the Hutt musta sensed that Kitataiki wasn't pressing because he succeeded in a drawn out maki-kae with the left arm. He still wasn't able to drive Kitataiki back across the ring, however, and so the two settled back into a boring hidari-yotsu belt contest where Kitataiki went for a listless outer belt throw with the right hand a minute and change into the contest, but that completely gassed him, so Tenkaiho resumed moro-zashi and silled the dill in true Hutt fashion. Both rikishi end the day at 1-2, and I can't believe I wasted this much bandwidth on this bout.

M8 Takarafuji blew one today after surviving a long and methodical tsuppari attack from M9 Sadanofuji. When Takarafuji sensed his opponent was tiring, he forced the bout to hidari-yotsu but was careless in his attack allowing Sadanofuji to burn him with a counter left scoop throw that set up the yori-kiri win for the Sadamight, who improves to 1-2. Takarafuji suffers his first rejection at the dance at 2-1.

M7 Endoh executed his usual low tachi-ai looking for the belt against M6 Ikioi, but once again, Endoh's lower body couldn't comply, and so the dude missed out on the right outer, which was open. Unable to catch his foe early, Ikioi just spun away leaving Endoh a shot now at a right tottari grip, but Endoh couldn't latch onto that either, and so Ikioi kept spinning sideways where he grabbed the back of Endoh's left arm up high and just threw him to the sand with a nifty right kote-nage throw. Once again, Endoh fell awkwardly to the dohyo, which is a true sign that he's covering for that injured ankle, and I'm not sure what his intentions are for staying in the race this long, but his efforts are all in vain as he falls to 0-3. Ikioi should savor this one as he moves to 2-1 because something tells me he's not going to have a lot of wins over Endoh in the future.

M6 Chiyotairyu employed a quick right paw to the neck of M7 Toyohibiki at the tachi-ai and then quickly executed a phantom swipe downward that caused Toyohibiki to just plop forward and down in all his mighty girth. It's really an uneventful bout, but the takeaway here is the overall presence of Chiyotairyu. I guarantee you that such a phantom swipe from Endoh wouldn't have had the same result, but if you're leery about getting pummeled by one of Chiyotairyu's hams, a quick change in pace like this could have an effect as we saw today. Chiyotairyu moves to 3-0 and is a future Ozeki in my opinion. Toyohibiki suffers his first loss'a the basho.

M4 Tochi-Sleep-Waka lived up to his shikona walking straight into a left outer grip from M5 Kaisei at the tachi-ai, and while you don't want to attack from the outside first, Tochinowaka is one rikishi where you can get away with it. Kaisei didn't even need a balanced inside grip on the other side opting to just push into Tochinowaka's teet with the right hand setting up the force-out win. Both rikishi are 1-2 and unexciting this basho.

M5 Aoiyama capitalized on his length (his arms, sicko!) to tsuppari M4 Homasho back and despite offering a pull, Homasho was in no position to counter opting to evade to the other side of the dohyo, but when you actually stand close to the dohyo, it's surprising just how small it is, and so Aoiyama (2-1) merely kept square with Homasho (1-2) and pushed him out with relative ease.

As soon as I praise M3 Takekaze, he returns to his true form and makes me ill again. After stalling big time and baiting M3 Takayasu into a false start, he musta justified within himself that his opponent disrespected him by jumping the gun, and so on the do-over, Takekaze just classlessly henka'd to his left slapping down Takayasu in the process. This was so ugly that even the tens of fans in attendance could be heard groaning over the arena mics. Dirty pool all around as Takekaze moves to 2-1 while Takayasu may have more on his mind that sumo right now at 0-3.

Sekiwake Tochiohzan looked for the left inside against Komusubi Okinoumi but was pinched out of moro-zashi on the other side with his right hand, so he unwisely decided to put that right arm high and go for a pull, and that's when the taller Okinoumi got him with the easy push out. Just horrible mechanics on the part of Tochiohzan who falls to 1-2 while Okinoumi is a surprising 2-1.

M2 Toyonoshima went through Ozeki Kotoshogiku as if the Ozeki wasn't even standing there improving to 2-1 in the process.

Ozeki Kisenosato exhibited another bad tachi-ai turning his left shoulder inwards a bit against M1 Aminishiki who flirted with grabbing the right outer but had retreat on his mind from the get-go. Despite backing up a step, Aminishiki still got that right outer as Kisenosato lumbered forward whereupon Shneaky tried to pull the Ozeki down with the left hand at the back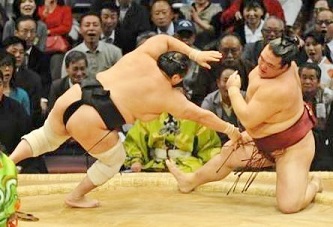 of Kisenosato's head, but his fingers got stuck in the Ozeki's mage, and so he quickly pulled out (cool) and went ring around the rosies methodically spinning the Ozeki in circles with that belt grip. Before Kisenosato could gather his wits, Aminishiki used his left hand to brilliantly pull from the back of the Kid's left hiney felling him to the dohyo with the seldom seen komata-sukui. I'm not sure if the sudden silence in the arena was due to the crowd just having witnessed an inner-crotch scoop throw or because one of their yusho hopefuls just went down in solid defeat, but this loss really puts the pressure on Goeido now. Both rikishi end the day at 2-1, and when I'm describing a bout that involves the top Ozeki on the board for the last year and a half, I shouldn't be describing only what his opponent was doing, but that illustrates just how lost and unresponsive Kisenosato was in this bout. I also think there was a little bit of not knowing what to expect since his first two opponents just handed him easy wins. Shneaky's a bastard to try and figure out, but regardless, Kisenosato suffers a costly loss.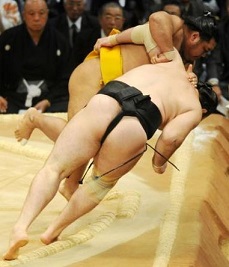 Ozeki Kotooshu just lollygagged at the tachi-ai baiting Komusubi Shohozan into two false starts, and each time Shohozan came forward, the Ozeki stood up and just leaned on his opponent like a stiff corpse sending him back to the other side of the lines. Anyway, when it really counted, Shohozan got the left inside on a wide open Kotooshu and then wildly pushed with the right hand in tsuki-otoshi fashion forcing both parties quickly towards the edge. A desperate left inside belt throw came from the Ozeki as he tried to counter causing Shohozan's foot to step out just as the Ozeki's own foot was being dragged across the straw, and I guess it was close to the judges because they called a conference. Watching live, it looked like Shohozan simply kicked Kotooshu's ass but replays did show both feet stepping out around the same time. Regardless, they gave the win to Shohozan, which was good I guess because Kotooshu was extremely slow in picking himself up off the arena floor and prolly couldna handled another bout. And while I'm on that subject, why is it that I have so many images of Kotooshu lying in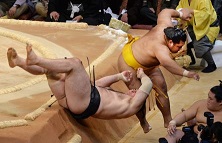 the fetal position at the base of the dohyo? Someone of that stature should not be getting roughed up by Shohozan, but it goes to show how...dare I say...soft the Bulgarian is. There was a time when that statement would have elicited some nasty emails from Kotooshu's countrymen, but even they have seemed to give up on their Ozeki. Turns out, Kotooshu injured his left shoulder, so we'll see if he'll be able to continue. If he can't go on or even if he does but can't win eight, he'll be demoted from the rank and will likely retire. I won't tell you what I'm hoping for as both rikishi end the day at 1-2.

With three straight Ozeki having lost (albeit one was a no-show), why not make it a foursome, especially since Kakuryu's opponent was Sekiwake Goeido. In one of the weaker bouts of mukiryokiu sumo I have ever witnessed, Kakuryu ducked low at the tachi-ai offering a meek kachi-age with the right, and then he just stood there waiting to be toppled. Goeido complied in short order swiping with the left arm at the back of the Ozeki's right shoulder, and there you have it...another win for Goeido in a second or two. Thing is...this 3-0 start is not characteristic of a typical Ozeki run. Who can forget when guys like Asashoryu, Hakuho, Kotomitsuki, Tochiazuma, etc. made their Ozeki runs? Those guys were ass kickers and everyone knew it. We celebrated yori-kiri, spectacular throws, and young guys that actually made sumo fun to watch. Goeido's current run has consisted of at least two awful yaocho and one iffy call on Sunday. Regardless of whether or not the Father gets 12 wins or whatever, this is not what an Ozeki run looks like. I don't know who was behind Kakuryu's decision to just fall over today, but it doesn't do sumo any good whatsoever. The Kak is 1-2 if anyone cares.

Yokozuna Harumafuji secured the left inside position and had a right frontal belt grip on M2 Kyokutenho so deep they were about to rate this bout NC-17, but before they could even do that, HowDo (3-0) drove the Chauffeur (0-3) back and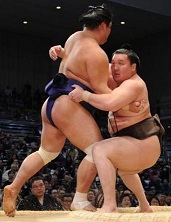 across for the easy yori-kiri win.

And finally, Yokozuna Hakuho employed a cautious charge against M1 Myogiryu who kept his arms in so tight that he actually denied the Yokozuna his initial belt grips. Hakuho adjusted by backing up a half step, and Myogiryu (0-3) had no choice but to move forward, and when he did the long arm of the law snagged a right inner that set up the left outer, and it was curtains as Hakuho scores the easy force-out win. Needless to say, Hakuho moves to 3-0 and controls the yusho race.

With Endoh all but done, Kotoshogiku gone, Osunaarashi struggling, and Kisenosato marred with tsuchi, it will be interesting to see what course this basho takes.
Day 2 Comments (Mike Wesemann reporting)


Having lived in Fukuoka for many years, the Kyushu basho obviously holds great sentimental value for me, but it's clear that the year's final tournament has become nothing but a liability for the Sumo Association, both financially and in terms of brand image. Geographically, it's the furthest basho from home, hardly anyone wants to be there, and the city's senior citizen population is no longer showing up at the venue. You mold all of those factors together and it clearly has an impact on the level of competition (or lack thereof) we see atop the dohyo. Then, adding insult to injury, the media spent the entire basho hyping two particular rikishi, one of whom should withdraw any day now and the other who is off to an ugly 0-2 start. I'm not saying that this basho can't be salvaged on paper, but I can already tell from the first two days that a contested bout this basho is going to be about as common as an honest politician.

Kicking off the day's festivities, M15 Shotenro welcomed J1 Takanoiwa, a dude whose got one of the best Makuuchi winning percentages ever but who has never been ranked in the division! Shotenro met his fellow Mongolian with a moro-te-zuki tachi-ai completely denying Takanoiwa the belt, and Takanoiwa couldn't evade fast enough around the ring's edge (a term called mawari-komu) resulting in the eventual oshi-dashi win for Shotenro (2-0) and rare Makuuchi loss for Takanoiwa (1-1). Regarding Takanoiwa, I love his fighting style and can't wait for him to reach Makuuchi, but this is his ninth straight basho in Juryo where he hasn't been able to get over that hump. Credit Shotenro today for denying Takanoiwa his style of sumo in what would be one of the better fought bouts of the day.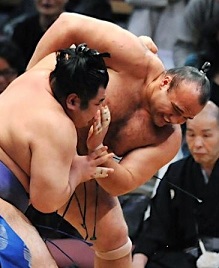 Our lone Makuuchi rookie, Antonio Pedro Osuna Arashi, knocked M16 Tamaasuka back from the starting lines with a superb tachi-ai, but the rookie promptly forgot his lower body from there and was unable to capitalize on his initial hard ball attack despite Tamaasuka's aligning his feet. Tama survived about five second's worth of upper body slaps before dodging to the inside left, and then it was over inna flash as Tamaasuka (1-1) sent Pedro to his second loss in as many starts with a forceful yori-kiri. For the second day in a row, Osunaarashi was up way too high, and an experienced Makuuchi rikishi made him pay the price. A couple of takeaways from his sumo so far: 1) the Juryo division is unwatchable, and 2) if Osunaarashi is going to retool his style, the place not to do it is the Makuuchi division. I expected a gradual easing from his haphazard evade-and-pull style to a more straight-forward brand of sumo, but the rookie is hellbent now on a straight-forward attack...which is good...but it's not the sumo that's gotten him here in the first place, and that's why his losses look so bad. Osunaarashi thrived on his strength and speed in rising to this level, but this change in tactics has completely eliminated any element of speed in his sumo. It will probably take one henka and pulldown win for the dude to come to his senses and start winning.

M13 Yoshikaze used a right kachi-age to stay in tight looking for position on the inside, but M14 Tokushoryu finally backed out going for the quick pull resulting in both rikishi facing outside the ring at the edge looking at the other to see who would step out first. I really couldn't tell who stepped out first and neither could the judges so they called a mono-ii and explained the previous bout as follows: "This was such an ugly bout of sumo, and it didn't really fit the definition of sumo, and we have no idea how to judge this thing, and so we're going to make them to it again. Uh, yeah!" Okay, maybe that wasn't my best translation, but you get the point. In the redo, Yoshikaze henka'd to his left and employed the cheap shoulder slapdown about a second in. Usually the fat guy is the one who just quits and goes for the henka in the do-over cause he's outta breath, but apparently Yoshikaze was on decaf today as both dudes end the day at 1-1.

M14 Kyokushuho ducked in courageously getting a left inner and right outer against M13 Gagamaru, but Yubabamaru wouldn't go easy threatening a counter right kote-nage throw. Kyokushuho was just the better tactician in the end, however, using his lower stance to fell Gagamaru (1-1) with an inside belt throw near the edge of the ring as he evaded Gaga the Hutt's girth. This was a great win for Kyokushuho (1-1) who dove right into the abyss from the start, and you'll remember that Endoh wanted no part of Gagamaru in this fashion last basho.

M11 Masunoyama used a quick tachi-ai and left inner that he actually managed to maintain throughout the bout against M12 Fujiazuma easily forcing Fuji back to the edge, and when Fujiazuma dug in at the edge and tried to counter, Spalding just bounced him clear off the dohyo with a left sukui-nage throw moving to 2-0 in the process. Fujiazuma falls to 1-1.

At this point in the broadcast, NHK showed a wall that runs along one of the halls in the venue where they had posted large glossy photos of all the rikishi from the island of Kyushu AND Yamaguchi Prefecture, which lies to the north on the island of Honshu. What, now they're trying to leach off of Yamaguchi Prefecture to the north in order to hype this basho? I see them working here. You have Homasho from Yamaguchi, and so it gives you one extra Makuuchi rikishi to hype in an effort to sell a few dozen more seats, but this is really a sign of desperation.

M11 Tamawashi used a left inside and right paw to the neck against M12 Jokoryu from the tachi-ai, and Jokoryu's footwork was absolutely horrible from the beginning, so as he tried to evade, he nearly tripped on his own feet as The Mawashi slapped him down in the end. Tamawashi improves to 1-1 with the win while Jokoryu falls to 0-2. We now have the two speediest rikishi in history to rise to the Makuuchi division at 0-4 in Jokoryu and Osunaarashi. I already touched on this in my pre-basho report, but it's an indication not of how good these two rikishi are but of how dreadful the entire banzuke is.

I'd like to say that M10 Kotoyuki's two second win over M9 Sadanofuji was due to a great tachi-ai, but his was just not quite as bad as Sadanofuji's. Kotoyuki actually came up and over the top with his tsuppari, but with Sadanofuji just standing there feet aligned, he was the easy tsuki-otoshi target. Kotoyuki improves to 2-0 with the ugly win while Sadanofuji's sumo has been just plain ugly leading to his 0-2 start.

M9 Kitataiki got his right arm to the inside and fished for the left outer against M10 Tokitenku, but Kitataiki mounted his charge before he really had established a position, and so Tokitenku just retreated a step and threw him to the side with a left tsuki-otoshi. Both parties are 1-1 after the uneventful bout.

M7 Toyohibiki proved again today to be a brick wall at the tachi-ai using one ham at M8 Tenkaiho's neck and another ham at the back of Tenkaiho's right teet (mind you, Tenkaiho's so large his teets actually extend into his back) to keep his fellow Hutt away from the belt, and after two seconds of inaction, Hibiki used a left tsuki-otoshi to easily dump Tenkaiho to the dirt and an 0-2 start. Toyohibiki skates to 2-0 with another easy win.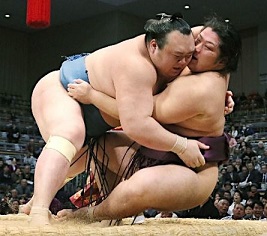 Both M7 Endoh and M8 Takarafuji had shallow left inners from the tachi-ai with Endoh hunkering down low, and Takarafuji's first reaction was a brief retreat and push-down attempt at Endoh's extended arm, and that was the chance Endoh needed to pounce and finish his gal off, but he didn't budge a centimeter because he can't move forward with that ankle of his. After that exchange, the two hooked back up in hidari-yotsu with Takarafuji this time maintaining the right outer grip, and Endoh just collapsed to the dirt in the end unable to use that left foot for anything. Thanks to the sparse crowd today, I was actually able to see the wall at the venue, and there was some serious writing on it. I don't see how this isn't the..er..uh..End for Endoh as he falls to 0-2 while Takarafuji steals candy from a baby at 2-0. If he tries that stupid pull move agin any other rikishi even in the Juryo ranks, he's done in two seconds today.

Both M5 Aoiyama and M6 Ikioi executed a Slow, straight up tachi-ai where there was a helluva lotta tsuppari from both flat-footed rikishi with none of the punches connecting. Finally, Ikioi ducked in low threatening the right inside belt grip, and when Aoiyama didn't slap him down immediately, he was able to establish his position down low and easily push Aoiyama back and out from the perfect angle to attack. Both rikishi end the day at 1-1, and when Shirasaki Announcer stated that the first half bouts were concluded, my heart seriously sank as I thought, "this is just half?" I don't mean to be down on the basho so far, but none of these bouts are contested. There's sloppy sumo everywhere, and just too many kimari-te are the result of pull/push downs.

M5 Kaisei is such a big, slow target that I have no idea why M6 Chiyotairyu abandoned his tsuppari attack so quickly, but fortunately he was still the aggressor getting the left inside deep and eventual right outer grip that allowed him to easily polish Kaisei off from there. I normally wouldn't recommend that Chiyotairyu invite a belt fight with the Brasilian, but Kaisei has been so passive this basho that it worked out in the end. Chiyotairyu is 2-0 if ya need him while Kaisei is 0-2.

M3 Takayasu was up high at the tachi-ai allowing M4 Tochinowaka moro-zashi, and you'll notice if you go back and watch this bout that even though T-wok had moro-zashi, it didn't look like he had it because he fights so upright himself that it was hard to notice. Anyway, the end result was an easy yori-kiri win with Takayasu unable to do beans after giving up moro-zashi. Tochinowaka gets off the shneid at 1-1 while Takayasu is still winless.

M3 Takekaze used a left hand to the neck and a surprising low stance where he actually drove with his legs keeping M4 Homasho completely away from anything. Homasho ducked this way and that a bit, but Takekaze was on his every move finally pinning him up against the edge where there was nowhere to go but back. This was stunning sumo from Takekaze today and also a sign of Homasho not used to the stiffer tachi-ai way up high. Call me crazy, but I think Takekaze's performance was my favorite of the entire day as both rikishi sit at 1-1.

Sekiwake Goeido hit M2 Toyonoshima hard at the tachi-ai with the right shoulder in sort of a kachi-age move, but Toyonoshima got his left arm up and under Goeido's armpit in the process standing the Father fully upright where the inside position was wide open for Toyonoshima's taking, but instead of going in for the yori-kiri kill, he just kept his feet planted in place and leaned forward allowing Goeido to slip to the side and score the tsuki-otoshi win resulting in a very unnatural looking fall from Tugboat. The bout itself lasted maybe two seconds, but Toyonoshima clearly did not capitalize on the opportunity that was wide open for him. Not gonna say any more about it as Goeido moves to 2-0 while Toyonoshima falls to 1-1.

For the second day in a row, Ozeki Kisenosato's opponent got the left inside from the tachi-ai but didn't grab the belt nor slam the arm up into the Kid's pit to keep him upright. As for Kisenosato's tachi-ai today, his left arm was dangling down low as Sekiwake Tochiohzan had him locked up on that side while the Ozeki's right arm was on the outside with maybe a chance for a kote-nage counter position. From this stance, Tochiohzan suddenly backed up towards the edge going for a non-committed pull allowing the Ozeki to just step forward quickly and shove the Sekiwake out in a two-second affair that appeared to be a lopsided victory for Kisenosato. As Tochiohzan walked back down the hana-michi, NHK's sideline reporter called up to the booth saying that he had just gotten comment from Tochiohzan as to why he tried that inexplicable pull move, and the response from the Sekiwake was, "gaman shikirenakatta," which is slang for the proper term, "gaman dekinatta," or "I just couldn't stand it anymore." Couldn't stand what? One second of having prime position from which to defeat an Ozeki? Shirasaki Announcer could only repeat the term "gaman shikirenakatta" to himself as he appeared in deep in thought over the new revelation. The reason that Shirasaki Announcer was at a losfer words was because Tochiohzan's move and subsequent explanation made absolutely no sense if his intention was to win that bout.

I'll just pause here after the two preceding bouts to say that I'm not offering an explanation or speculation as to why both Toyonoshima and Tochiohzan abandoned favorable positions in exchange for quick losses; I'm just saying they did.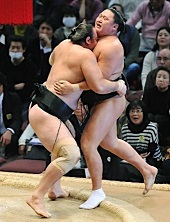 Ozeki Kotooshu and M2 Kyokutenho hooked up in migi-yotsu from the tachi-ai, and despite neither rikishi maintaining an outside grip, Kyokutenho went for a silly maki-kae with the left arm, and that's all the momentum shift Kotooshu needed using two smothering outside belt grips to score the easy yori-kiri win. The Ozeki picks up that important first win in his quest to stave off demotion while Kyokutenho (0-2) has no bidness whatsoever driving around these parts.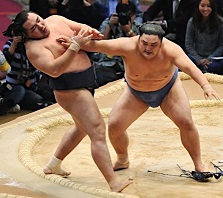 Ozeki Kakuryu opted for quick pull at the tachi-ai instead of getting inside against Komusubi Okinoumi resulting in a long, drawn-out hidari-yotsu stalemate. After about a minute, the two created some separation where Kakuryu fired a few thrusts up high, but all that did was allow Okinoumi to the inside where he knocked the Ozeki completely upright and on his heels before pushing him out in the end. Inane sumo from Kakuryu all around as both rikishi end the day at 1-1.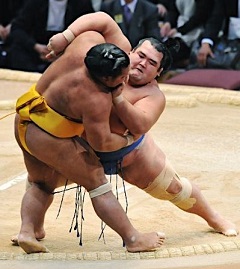 Ozeki Kotoshogiku mounted a quick charge despite no inside position opting to smother Komusubi Shohozan back with the right kote-nage grip. The Komusubi offered no counter move, and so Kotoshogiku just bellied Shohozan back and out, and this was so easy that the Ozeki's forward momentum carried him right off the dohyo face-first, and as he instinctively put his right arm out to break his fall, the elbow got caught on the step carved out of the dohyo. As Kotoshogiku stood back up, he held that right arm in close with the elbow bent at a 90 degree angle in a matter that rikishi do when they've dislocated a shoulder. The last thing the Kyushu basho needs after paltry attendance figures and horrific starts from Endoh and Osunaarashi is for the hometown Ozeki to go down. Not that he was exactly generating headlines, but it's one less option with which to hype the basho. Kotoshogiku has a 1-1 record to show for the first two days but has officially withdrawn with a ruptured right pectoral muscle that will require about 3 months from which to recover. The other hometown rikishi, Shohozan, falls to 0-2.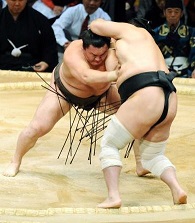 In the Yokozuna ranks, Hakuho led carefully with his usual right kachi-age at the tachi-ai against M1 Aminishiki, who must be sleeping on a king-sized double bedroll these days. A second or two in, Aminishiki went for a quick phantom pull, which completely opened up the door for a mammoth pushout from the Yokozuna that sent Shneaky a coupla rows deep. Fortunately for the M1, there were plenty of empty cushions for him there on which to land. Another anticlimactic bout at the end of the day as Hakuho improves to 2-0 while Aminishiki is 1-1.

And finally, Yokozuna Harumafuji secured the right inside position at the tachi-ai allow him to duck in low under M1 Myogiryu's body and back him up straight way. As Myogiryu showed the first sign of resistance, the Yokozuna switched gears on a dime near the tawara and pulled Myogiryu forward and down for the methodical, hataki-komi win.

I expect more of the same tomorrow, and I'll be right back here to narrate.
Day 1 Comments (Clancy Kelly reporting)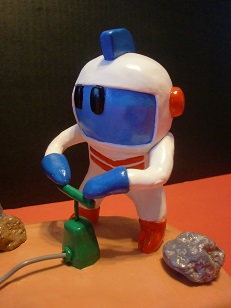 In case you missed it, the biggest news in sumo leading up to the Kyushu end of the year basho has been the revamping of the already vampy Sumotalk homepage. Speculation on why Mixmaster Mikenstein decided to make it look like a platinum LP runs the gamut from "Maybe hes been turned" to "Whats Sumotalk?" Touche!

But we here at ST are nothing if not iconoclasts, who just loveto poke holes in your sacred cow balloons. Were not allowing ourselves to be distracted by all the phony hype (okay okay already, YES, Kenji DOES look like a special needs child in his profile photo!) We have dug and dig, and DigDug, and we have turned up something that is going to put you ALL back on your heels.

Evidently there is a Maegashira 7 who is listed on the banzuke for his second tourney and, hold your hats, he may even wrestle this basho! We shit you not (youre our favorite turds, after all). But instead of just telling you his name, we decided to coin a little jingle. Only fans of the Lizard King may be able to appreciate it:

♪ This the Endo
Beautiful friendo
This is the Endo
Our only friendo, the Endo

Of wonderful Japan, the Endo
Everyones main man, the Endo
No yusho or special prize, the Endo
But hes easy on the eyes, the Endo

Can you picture what we see
A media frenzy
Desperately in need, of a, home grown hero
Before interest hits zero!

Lost in a Mongol. . .wilderness of pain
And all of sumo going insane
All of sumo, going insane
Waiting for a Yokozuna reign!!

Theres danger, in the banzuke
Shoot for the Ozeki rank, baby
Weird scenes inside the heya
Now that Barutos gone, maybe

The rikishi awoke before dawn
He put his mawashi on
He took some salt, from the ancient basket
And he walked on down the hana-michi

And he came to dohyo
And he sat beside
"Howdo?" "Yes, Endo?" "I want to yori-kiri you."
"Hakuho?" I want to. . . .oshiiiiiidashiiiiiiaaaay!! ♪

Enough musical parody. These are grown men, Kelly. Get on with it.

The tournaments VERY FIRST TOP FLIGHT BOUT featured a dude from the second flight. Damn, that kind of ruined my buildup. At any rate, young Kagamio made Tamaasuka his queen for the day by throwing him to his hands at the edge. ♪ Kagamio, Kagamio, Kagamio Nanjikun, magnifico ho ho ho ho ho Im up from Juryo, nobody loves me. Hes just a poor boy, from a poor division, spare him his life and his monstrosi ♪...ah, forget it.

Shotenro was up against bandaged newcomer Osunaarashi, who was dying to win in his debut. Unfortunately Shotenro wrapped him up, and while the W15 didnt start calling for his mummy, he did get worked to the edge where it looked like he was going to be walked out like an Egyptian. Here Osu showed some sand by resisting valiantly, but Shotenro knew the ritual and countered with an emphatic kote-nage pharaoh...I mean, throw. (I know, Im SO glad I was the first one to report on this guy.)

Tokushoryu got a very nice and quick win over Kyokushuho by getting inside/outside at the start and doing a Kotoshogiku on his hapless and helpless foe. Props to our Nara-ken homey, yo!

Yoshikaze lost his focus after one false start, and thinking the gyoji was going to call another, did nothing to avoid Gagamaru. Yababumaru hit Starbuck exactly twice, and he was back and out, staring at the ump like, "Huh?" Given the potential for wonderful farce in a Yoshikaze/Gagamaru tussle, I was hugely disappointed. For the record I agree with Café, that if the gyoji called a re-do on the first tachi-ai, he ought to have called it on the nearly identical tachi-ai that followed. Gagamaru needs to get his fat ass up sooner.

Jokoryu is going to have a tough time if he goes to a public sento after today, cause Fujiazuma had his hands on the E12s neck for so much of the bout that hes bound to have palm shaped tats there now. Fujiazuma never let the Jokerman in close enough to get any kind of grip, and eventually bludgeoned him into submission. This was bulldog sumo at its finest.

Tamawashi got a quick inside left outside right vs. Masunoyama, but backed off and turned the right outside into an armbar on his foes bandaged left arm. As he went for the kote-nage arm throw, Masunoyama slipped out of it and was given his own sukui-nage win.

The Tokitenku/Kotoyuki clash was a treat for JPese fans, as Tokitenku lollygagged to such an extent that he was loudly reprimanded by the MIB. This made the fans clap enthusiastically, and once they set down for the third time, Kotoyuki knew he had the advantage, cause there was no WAY the gyoji was going to call him back a third time now that it had been announced that the Mongolian was fuckin shit up. He stood and hammered Tokitenku back, and the E10 just went out with nary a whimper. Ive never seen him so flustered. He didnt even have the wherewithal to do one of his goofy leg kicks.

(You know, Ive been doing Day 1 reports now for five or six years, and I am dead serious when I tell you, I am only NOW noticing that the paired up rikishi from M16 to about M5 or M4 are both at the same rank. Wow, what a moron I can be.)

Sadanofuji was content to let Kitataiki have the inside left armpit, outside right belt he got at tachi-ai, cause with Sadas much larger body, time is normally on his side in a cheek to cheek struggle like this. After about 15 seconds of leaning in on him, Sadanofuji had a very strong inside left belt and made the push. Kitataiki lost or gave up his outside right and looked for sure to be dead, but Sada, as he advanced, let go his belt grip (NO idea why, folks), allowing Kitataiki to lift up on that arm and teeter him off balance and down.

Takarafuji had two belts from the gun (sounds like the title of a great cowboy flick--"You've seen him at the OK Corral, now watch as Burt Lancaster hunts down the men who killed his wife and raped his donkey in 'Two Belts From The Gun,'" in Cinemascope) and did not let them go (wow, a novel idea) and hence was able to keep him pinned in tightly until he threw him down with the left belt. Excellent sumo illustrating the importance of being earne. . I mean, of winning the tachi-ai. (Sorry, it was wild bout, not a Wilde bout. Dar har!)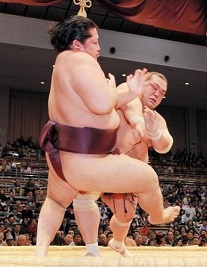 Next bout had the a-Door-able Endo taking on one mean mass of Hutt in the form of Toyohibiki. The Nikibi popped the shorthaired terrier back at tachi-ai, one hand clamping down on the sophomores arm, the other pressing into his throat. Endo escaped in a backpedal, but Toyohibiki kept on him and finally sent him hard to his ass in the corner. Reminded me of how my father used to make me stand in the corner when I was little ("Go stand in the corner till you learn to stop drinking all my beer!") Still, if what the papers say is true, this guy will be The Master of Time, Space, and Dimension by 2020.

Ikioi (doesnt that shikona sound like he was named by a sensitive 11 year-old girl who is grossed out by fat guys?) was knocked back so hard at tachi-ai by Chiyotairyu that he was forced to lean forward to body up, and this left his feet so far back that he went down into a kneeling position and well, in sumo in case you didnt know, kneeling is a sign youve lost. Chiyotairyu takes over the leaderboard at 1-0. The kimari-te was "supplication."

381 kilos of Eurapean man flesh was on display as Aoiyama the Sailor Man took on Mighty Kaisei at the Bat. Tachi-ai was a fair fight, and then Aoiyama backed up and slid to the side and poor Kaisei had nowhere to go but down! You could almost here Kaisei muttering, Get BACK here you little fricka fracka...

Is it possible for one to "hop to ones ass?" (Ill pause here while you lol.) Cause if you cant, somebody had better tell Tochinowaka. Today he had Homasho at the ropes (course, thats where Homasho ALWAYS goes early in his bouts), but as Homasho slid away to the center, Tochi just sort of, well, hopped backward onto his ass. In need of a kimari-te, they chose "hiki-otoshi," but that was just scrambling. Homasho, for his part, does not embarrass the banzuke makers who rocketed him from M13 to M4 following his excellent Aki basho 10-5.

Why do I always feel like I need a hot shower (or five) after watching a Takekaze bout? No, today he did nothing egregious, but it seems like most every fight hes part of is...somehow...wrong. Today, after much hemming and hawing and one false start he finally got his shite together and proceeded to fall straight to his palms as Tochiohzan came in looking for blood. Id yawn but for the fact that I NEED THAT SHOWER first.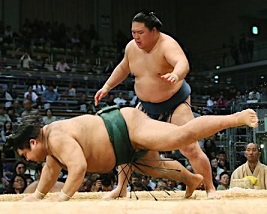 Wanna piss your pants? Of course you do. Go to YouTube and this link to the Goeido/Takayasu match. Start and listen at the 0:04 mark. Some kid, maybe 9 or 10, shouts out The Fathers name in this hilarious beseeching cry! The kids emoting sounds like hes been violated by the Sekiwake and yet longs for his love and acceptance. (Ill pause here while you lol.)

The match itself went thusly: The Sekiwake lost the tachi-ai, there was a fiery seven slap slapping fest, hands to hands no face or chest involved, and Takayasu left his feet behind him and fell down as Goeido got in the last slap. Dullsville. But oh that kid!

There had to be a bit of trepidation in Kotooshus heart as he stared across the dohyo at his one time nemesis, Toyonoshima. Despite having recently owned the W2, he surely has not forgotten the time when, between Sept. 2008 and July 2011, he was 2-9 vs. The Tugboat. With his Ozekihood on the line here at years end, the tension in his breast must be high (tho personally I love breast tension). Getting a good inside right belt, Kotooshu blasted the smaller man back, but Toyo armbarred the Bulgarian into circling. They came out of that with Kotooshu still gripping that belt, but Toyonoshima showed superior strength and ring sense by using a double inside pit grip to swing the Ozeki down as Tugboat backpedaled. As sweet a desperation sukui-nage as youll ever see.

Kakuryu and Kyokutenho looked to be getting into a protracted belt battle, but the Kak slid to the side and used a frontal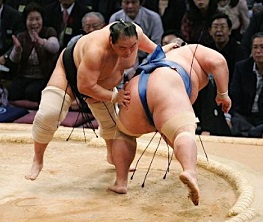 belt grip to drag the E2 forward and down via uwate-dashi-nage.

Aminishiki, a guy no one wants to meet on Day 1, got his hands up on the back of Kotoshogikus neck at the tachi-ai and used it to pull him forward and off balance where he was easy slap down material by tottari.

I was very perplexed by Myogiryus unwillingness today in his match vs. Kisenosato to try for the belt with his inside left, which seemed to be there AT LEAST for the trying if not the taking, and his UTTER refusal to try for the right hand belt even though his hand was right there and not obstructed. Yes, I know if he had gone outside with his right hand it could have let Kise in with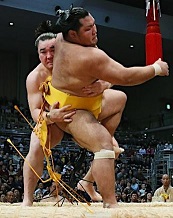 his left, but come on, the alternative was what? Without either grip, he was unable to do much and after several long and frustrating seconds, was worked out by the Ozeki. An utter shit bout where one guy seemed to be trying to NOT win, and one I am finding it difficult to be at peace with. Ptooey!

Harumafuji knocked Shohozan back, into a run, and then sort of lifted him out with a cute little putting down a bunny finish that is what MORE of HowDos bouts ought to look like.


Finally, Hakuho was given a firm, solid tachi-ai by Okinoumi, but the Yokozuna was able to press in quickly and as Okinoumi tried to back away Kublai chased him out.

Two good wins by the Yokozunas, so lets hope that continues. Ill be back sometime this basho, and in the meantime, our bevy of hard core sumo journalists will keep yall amused and informed till then. Over and out.