Kenji Heilman
Roundtable Report
Yokozuna Asashoryu won his fifth yusho in grand style, delivering a 15-0 performance by a rikishi for the first time in 44 long bashos. He's only the third rikishi to go undefeated in the Heisei era (since 1989) and 35th to do so since Sumo adopted the Yusho format almost 100 years ago. It was one of the most dominating displays I've seen for 15 days; never was he in trouble in any match. Also impressive is the fact that, in his 5 basho wins, he is 6-0 after the Yusho has been decided, which is a tribute to Sho's will and concentration. This trait, his will and sheer desire to win, is one I've never seen surpassed in my years of watching sumo. However, I will stop short of saying he's the greatest rikishi I've ever seen. To garner that kind of comment he'll have to show me he can sustain this kind of dominance for years, similar to what I saw with Takanohana, Chiyonofuji and Kitanoumi, and read about with Taiho and Futabayama. That said, I do believe it's safe to say sumo in 2004 has entered the Asashoryu era in earnest.

It's unfortunate that Tochiazuma won't be joining Asashoryu at the pinnacle of sumo in March, as he failed in his second campaign for Yokozuna. He bowed out easily to Sho on day 15 in an anticlimactic final bout of the basho to put a stamp on his mediocre performance. He had me and the whole Japanese nation behind him to break the Ozeki mold, but Azuma's trademark oshi-zumo and initiative in the ring was absent this basho. From my eyes, it looked as though he was trying not to lose instead of trying to win as he did so effectively in November. Although he finished 9-6, Azuma has proven he is back to being a solid Ozeki. His chances are as good as any of the other Ozeki to become the next Yokozuna. I just wish one of them would suck it up and do it already.

Kaio easily defeated Chiyotaikai on Senshuraku, resulting in both Ozeki finishing with solid but unspectacular 10-5 marks. 10-5 is respectable for an Ozeki, but we have come to expect more from these two, I guess, so 10-5 seems disappointing anymore. Both usually look exceptional in winning but when losing, it can be enough to pull your hair out. Have these two reached their ceilings? Are they destined to stay at this rank for the remainder of their careers like predecessors Hokutenyu, Asashiyo and Takanohana 1, just to name a few? I hope not, but their clocks are ticking.

Ozeki Musoyama made some noise early for a change, starting 3-0, but succumbed to injury once again on day 8 to finish 5-4-6 and make yet another unfortunate early exit from competition. The doing away with the kosho system means his failure to win 8, regardless of whether the injury was sustained on the dohyo or not, will again put Musoyama in kadoban status come March. This guy is about as hard luck as Dejima when it comes to injuries. I'll be the first to admit that I thought he was done a few basho ago, but he has shown flashes of his old self enough recently to make me believe that he can still hold this rank...IF he can only stay healthy. Let's hope he comes through with his back against the wall again.

The Sekiwake and Komusubi ranks had a Hatsu basho to forget. The only one of the bunch to manage kachikoshi was Wakanosato at 9-6. Subsequently Waka will next basho tie the modern record for most consecutive basho in Sanyaku at 14, a bittersweet record I'm sure he won't particularly be proud of. Better than his Sanyaku counterparts Tamanoshima (5-10), Tosanoumi (4-11) and Tochinonada (6-9) though. That's a combined 15-30, folks. All are better than those records indicate, which will prove to be true in May when they are up here once again.

We had some interesting goings on in the rank-and-file this basho. Here are some tidbits from the longest list of Maegashira ranks in recent memory (way down to M-17):

*M2 Kyokushuzan somehow pulled out a kachikoshi, no pun intended this time. To go 8-7 this high up in Maegashira, including wins over Kaio and all four of the Sekiwake and Komusubi, with his piss poor sumo is something I still can't believe. Nonetheless, he did it so I must tip my hat to him. Good thing he got blasted by Dejima on day 15 to be denied his 9th win or we'd be looking at Kyokushuzan in Sanyaku next basho. Good lord.

*M3 TakamiRobocopSakari limped his way to a dismal 4-11 campaign. He claims his right knee started bothering him midway through the basho, an ailment he highlighted ever so strongly as the losses mounted in the second week. He may as well have hopped down the hanamichi on his left foot after being handed another lopsided loss on day 15. Funny how the limp doesn't show itself after a win. No, I'm just teasing this guy. I love him as much as the next guy does. Let's hope he regroups for Osaka.

*M3 counterpart Kyokutenho was quiet as a mouse this basho but did well to turn a 2-6 start into an 8-7 finish.

*M4 Kotomitsuki deservedly garnered the Kantosho with a spectacular 13-2 mark, which matches his yusho winning effort a couple of years ago. His only losses came to Dejima and Asashoryu, and on Senshuraku he made a very strong Buyuzan look like an amateur. Mitsuki claims his condition wasn't as good coming into this basho as it was in November, which bodes well for his future. If his surgically repaired elbows hold together, we could be looking at another drive toward Ozeki starting in Osaka. He'll should be in prime position as Sekiwake along with Wakanosato.

*Not to be outdone, M5 Kakizoe had a career basho going 11-4 and receiving the Ginosho, even if his career is only three Makuuchi tournaments. You gotta like this guy. He's humble, he's quick, he's aggressive, and he gets right down on the shikirisen with both hands when it's time to go. No wasting time. I believe the only guy who could possibly produce a matta against Kakizoe is Takanonami. He'll be right up there in Osaka, maybe even at Komusubi. Should be fun to watch.

*M6 Dejima followed up an 11-4 in November with a 10-5 mark in January. If this guy could win out of the gates he'd be dangerous. He typically looks awful the first few days and this basho was no exception, but I do believe the former Ozeki is back. He can once again challenge for Ozeki IF he can stay healthy, but that is a HUGE IF if you've followed this guy's luck.

*The double-digit-win parade continues at both M7 slots, where Shimotori and Miyabiyama chime in with identical 11-4 records. Miyabiyama shares the same "can't win the first few days" syndrome with Dejima, but had an even more successful outcome than his fellow former Ozeki. We've been expecting this from Miyabiyama for quite some time and now he's delivered. However, I don't think he'll make it back to Ozeki. He's a little too clumsy in his losses to be a consistent double digit winner in my eyes. Shimotori has been hiding in mediocrity for quite a while now since he made a nice splash a couple years ago when he first came up. Now that everyone's just about written him off, he looks like a star again. He showed good balance, solid defense and good belt tactics. I would have been okay with him getting Ginosho as well. Let's see if he can keep it up in Osaka.

*At M10 both Takanonami and Kokkai come in at identical 8-7 records, but that's where the similarities end. Nami is over the hill and doesn't give a damn anymore while Kokkai looks like he's trying harder than anyone I've ever seen in every bout. Nami kachikoshied for the first time since 2002 and Kokkai had to settle for barely majority wins, something he's not used to in his skyrocketing career. Nami almost lost every bout he won while Kokkai almost won every bout he lost. Nami beat Kokkai on day seven. I'd venture to say that will be the last time he ever beats the Georgian. With more polish, we're looking at the next superstar in Kokkai.

*With Kotomitsuki, Dejima and Miyabiyama all turning in stellar performances, the upper Maegashira and Sanyaku should be stout in Osaka. One past solid performer who will not be joining the party is Takanowaka, who turned in a paltry 4-11 at M13, including an 8 bout losing streak. I haven't read much about Taka's condition but judging by his sumo, something must be wrong because this guy is way better than this. Remember how he was wreaking havoc in Sanyaku just last year? Maybe the injury hasn't completely healed, but the fire is also gone. He might be gone from Makuuchi in Osaka.

*M14 Buyuzan showed he's ranked too low. He bullied people around with his strong oshi attack enroute to a nice 10-5 showing.
I conclude Makuuchi with a first. Asanowaka at M16, going 10-5, has accomplished double digit wins for the first time in his career. No further comment.

In Juryo, we had a 3-way Tomoesen (play-off) between former Makuuchi mainstays Wakanoyama and Chiyotenzan, along with Russian newcomer Roho, all finishing 11-4. Wakanoyama prevailed, but Roho should be joining Kokkai soon to give people trouble in Makuuchi.
Finally, congratulations to Sashimaru from Germany for winning our biggest Fantasy Sumo competition to date. A whopping 127 stables entered this time around in our first attempt at automating the game. Look for more things to come with the banzuke in the future, although I can't guarantee what or when. We have some ideas but not always the time. Thanks for your time and ideas, though. We appreciate all of your comments. We'll see you in Osaka, the basho of upsets!
Day 14 Comments
Asashoryu joined stellar company today in securing his 5th overall and 4th consecutive Tokyo basho yusho, a feat accomplished only by Wakanohana 1, Taiho, Kitanoumi, Chiyonofuji and Takanohana. Those five Yokozuna have 117 yusho between them. Today's final bout produced 27 kensho (advertisement banners), the most in the history of the sport, eclipsing even the Taiho-Kashiwado rivalry of the early 1960's. Each kensho today was worth 60,000 yen, of which the winner pocketed half. In beating Chiyotaikai (10-3) in an exciting oshi-zumo, Sho took home 810,000 yen (that's somewhere in the neighborhood of 8 grand for those of you in the US) just from the banners and extended his hope to accomplish the first zensho yusho in 7 and a half years since Takanohana did it in September of 1996.

If you're still reeling from the string of stats I just threw out, just know that Asashoryu has dominated this basho more thoroughly than he ever has. That's all.

In the bout prior, Tochiazuma overcame a banged up Kaio to even both Ozeki records at 9-5. Even though Azuma showed a brief pull, for the most part he initiated the attack with nice oshi-zumo, a trait that has been lacking from him this basho.

Kotomitsuki notched his 12th win against two losses today vs. Kokkai (8-6), but simply ran out of days to catch Asashoryu. Let's hope Koto is back for good and that his elbows hold up for an Ozeki run starting in March.

Also winning to offset a dismal Sekiwake and Komusubi performance this basho was Kakizoe, improving to 11-3 over Tochisakae (8-6). You've got to like this guy's firey yet humble demeanor. He should be exciting to watch in the coming basho as well.

Way down the ranks, Miyabiyama and Buyuzan both collected their 10th win to continue their strong showings.

Finally, Mike and I's favorite two rikishi have kachi-koshied this basho. Kyokushuzan, at M2, got his eighth today. Let's all raise our glasses for this accomplishment. Asanowaka, Kyokushuzan's partner in sumo crime, is sitting on a 9-5 record in the dregs of Maegashira. Let's face it, these two personify quality sumo. I'm "pulling" your leg, of course.
Day 12 Comments
This is becoming old hat. Asashoryu (12-0) once again totally dominated today, breaking his own record for consecutive wins out of the gate. Even Tosanoumi (3-9) bang up tachiai was no match for the streaking Yokozuna. Mike and I have taken shots for what is perceived out there by some as us being overzealous Asashoryu advocates, but who can argue to the contrary when it comes to actual sumo on the dohyo? I think his dominance just burns up the sumo fan masses in Japan.

Kaio (9-3) and Chiyotaikai (9-3) both dropped crucial bouts today against Kakizoe (9-3) and Kotomitsuki (10-2), respectively, to fall out of the Yusho hunt for all practical purposes. Kotomitsuki remains as the only 2-loss rikishi to chase Asashoryu. Koto hit Chiyo straight up today but then deftly moved to his right and let the Ozeki's momentum do the rest. Not the best sumo, but at least he went in hard. Kakizoe did a tachiai henka that may have thrown Kaio off a bit. The Ozeki then tried an ill-advised pull which resulted in his stepping out before the upstart crashed to the clay. The gyoji ruled in favor of Kaio but it was overturned. There will be no overturning of he Yusho.

Tochiazuma (8-4) finally secured kachikoshi today after three consecutive losses. To my eyes he still looks overly cautious but he got the job done against a struggling Tamanoshima (4-8). The content was okay but it was a less stellar version of what we saw in Kyushu, with a hikiwaza thrown in for bad measure.

Kyokushuzan (6-6) let Wakanosato (7-5) chase him around the ring for about 6 seconds, enough to infuriate the Komusubi and make him loose his patience and balance for that matter. Kyoku then snuck behind Waka and walked him out with an okuri-dashi. Vintage Kyokushuzan. Wait, did I just comment on a Kyokushuzan win without being negative?

Folks, if you want to see Asashoryu lose, tomorrow might be your only chance. I believe he is matched up against Kaio. Normally I would say Tochiazuma has a chance but I don't like those odds this basho. Kaio and Tochiazuma are the only rikishi to have winning records against Sho. The only questions remaining are: Can they continue that trend, or will we finally see a 15-0 performance by Asashoryu?
Day 10 Comments
Asashoryu has disappeared. Asashoryu is missing practice. Asashoryu is breathing heavily after a few bouts. That was two weeks ago. Today, Asashoryu (10-0) is kicking ass after 10 days. The victim on this day was Kotomitsuki (8-2), no slouch himself this basho, in what is becoming somewhat of a signature move: A pro-wrestling-like tsuriotoshi in which he lifts his opponent high and drops them on the clay. Kotomitsuki's strategy was to avoid letting Asashoryu in with his left, which he was not able to do. Not only that, he gave up moro-zashi. You had to feel for him at that point. Remember when Sho beat Hokutoriki in the same grandiose way a couple of basho back?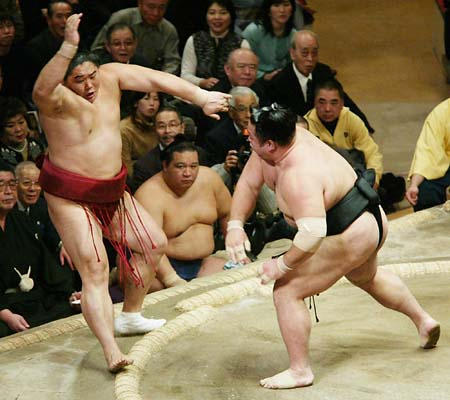 One back in the loss column is Chiyotaikai (9-1), who took exactly 1.62 seconds to blast Kyokushuzan (4-6) into the second row (pictured at right). No, really. I had my stop watch out for this one. It was like a nervous twitch of the thumb trying to time the bout. The hilarious thing about it was that Kyokushuzan tried to give Chiyo multiple harite. It was the weakest harite effort I've ever seen. I actually had to rewind the tape and enjoy it a second and third time.

Kaio (8-2) faced Tochinonada (3-7), who quietly had a five bout winning streak going against the Ozeki. Well, you wouldn't have known it today. I'd say it was one of the most powerful Kaios you'll ever see that was on display. After a punishing tachiai (yes, a punishing Kaio tachiai) that included a mean left forearm to the jaw, Kaio grabbed the belt on the outside right and flung Nada like a rag doll. The poor Komusubi probably didn't know what hit him. The arena watched in awe. This may be the only guy who can beat Asashoryu this basho.

Tochiazuma (7-3) fell to Kyokutenho (4-6) to drop his second straight and just like that, we've pretty much lost hope for a Japanese Yokozuna for the time being. Unfortunately, Azuma deserves this because his effort today boggles my mind. Where's the movement? Where's the pressure? After an overly cautious tachiai, Azuma locked himself into a gappuri (both rikishi locked down on both sides of opponent's belt) migi-yotsu. Advantage Kyokutenho. With this being the case, I was like "Go Tochiazuma, go. You've got to attack!" Didn't happen. He waited to lose just as he did on day one of the tournament. He won't make Yokozuna being reactive. He has to take initiative in the ring.

With five days to go, we've got Asashoryu with a commanding 10-0 lead followed by Chiyotaikai at 9-1, then Kaio, Kotomitsuki, Kakizoe and the upstart Buyuzan at 8-2.
Day 8 Comments
Asashoryu made short work of Mr. Gimmick today to start 8-0 for the 7th time in the last 10 basho. He has captured the yusho in 4 of the previous 6 such starts and is looking more and more like he may do it again despite all of the hubbub about his poor fitness. Mr. Gimmick "retreats" to a 4-4 mark.

Tochiazuma, as if intimidated by his being beaten straight up by Tosanoumi last basho, copped out and delivered a cheap Hatakikomi win at the tachiai to deprive the Kokugikan crowd, which included Japan's Emperor and Wife, of real sumo. Nice display. Azuma climbs to 7-1 but this win will accompany with it an asterisk in the minds of those mulling his promotion at basho's end. Tosanoumi continues to struggle at 2-6.

I wish I could tell you Chiyotaikai showed an Ozeki-like performance. He was beaten by Kyokutenho (2-6) at the tachiai and thus was stopped dead in his tracks. I think you know the rest of the story, so I won't even bother. Just know that Chiyo did win and moves to 7-1 as well.

Musoyama at least gave a valiant effort worthy of the Ozeki rank. He clashed with Sekiwake Tamanoshima in a tachiai in which neither rikishi gave any ground. The bout settled into a migi-yotsu contest with Tama gaining the upper hand. At ring's edge Muso tried to evade being pushed out but ended up pinning his left knee awkwardly under Tamanoshima (2-6). It resulted in a loss (5-3) and possibly the end to his tournament as he required a wheelchair to make it back to the dressing room.

Kaio is also somewhat banged up with his right hand under wraps. Apparently it's his thumb in question. His opponent today, Tokitsuumi, did his best to avoid hidari-yotsu at the tachiai but to no avail. This gave Kaio a chance to use his questionable thumb, which he did. He offered a thumbless uwate-dashinage (one arm throw) that sent Tokitsuumi across the ring and off balance enough that Kaio only needed to squash him down for the win. Kaio is 6-2 while Tokitsuumi falls to 3-5. The good news for Kaio is that he has Musoyama tomorrow. It may be a free win due to Muso's knee and a day to rest his hand.

Takamisakari picked up his second win against six losses versus Wakanosato (5-3) to the delight of the crowd. Sakari got his right arm in on Waka and kept the pressure on. He can scoop throw almost anyone in that position, which he did prior to a strong yori-kiri. It was a much needed win for sumo's kanban rikishi.

The leaderboard after 8 days has Asashoryu on top at 8-0 followed by Tochiazuma, Chiyotaikai, Kakizoe and Kotomitsuki all at 7-1.
Day 6 Comments
Thankfully, the Ozekis regained their form today as they and Asashoryu all posted vintage wins. Aside from Chiyotaikai, I guess you could call it a stroll down rock-solid Yotsu-zumo Boulevard.

Asashoryu (6-0) displayed a rare gem today in a testament of his diverse attack. Faced against fellow countryman Kyokutenho (2-4), Sho secured morozashi despite Kyoku's attempt to squeeze the Yokozuna's right. With a deep left grip it looked as if Sho may unleash a shitatenage but it was just the opposite that brought Kyokutenho to his knee: a nicely executed shitatehineri, or pull down using the belt grip.

If Chiyotaikai lost today I think Kokonoe Oyakata would have booted him right out of the heya. He has already practically disowned Taikai with harsh comments to the media after two consecutive embarrassing pull-down attempts. Fortunately, Chiyo (5-1) went straight through struggling Iwakiyama (1-5) to stay one win back of Asashoryu.

Kaio (4-2) also got back on track against Takamisakari (1-5). The key here was not letting Sakari get in on his left side. As an added bonus, Kaio secured his favorite right outside grip for a hidari-yotsu stance. Game over for Takamisakari, even though it ended up being a sotogake (outside leg hook) instead of a powerful throw.

Musoyama (4-2) got locked up with Tochinonada (2-4) in hidari-yotsu as well, a position that favors the Komusubi. Muso must have known this because he quickly rectified it by getting moro-zashi and then promptly dumped Tochi with a strong shitatenage.

Tochiazuma (5-1) was matched up with M1 Hokutoriki (1-5), against whom he had a career record of one win against two losses (go figure). Well, it didn't look like it the way Azuma manhandled him. The Ozeki locked onto Hoku's front belt with his left, effectively killing the Maegashira's tsuppari, then proceeded to escort Hoku out in short order. Tochi has five consecutive wins now after his opening day stumble.

Wakanosato (4-2) overcame Tamanoshima (1-5) in a classic yotsu bout that started in
hidari-yotsu, went to migi-yotsu and ended when the bullish Waka cautiously yet convincingly drove the Sekiwake out of the ring.

Kotomitsuki (5-1) dropped his first bout today to Dejima (4-2), while the upstart Kakizoe (5-1) notched his fifth victory against Jumonji (3-3). So with six days in the books, we're looking at Asashoryu alone at the top at 6-0 followed by Tochiazuma, Chiyotaikai, and the aforementioned two hira-maku rikishi all one back at 5-1.
Day 4 Comments
If you like good sumo, read Mike's column again from day 3. If you must read on, join me for the day 4 festivities, featuring a veritable plethora of hikiwaza gems. Look! Here comes the first float, the Asanowaka Shuffle. A pioneer in the art of hikiwaza as a sumo staple, it's only appropriate that he leads the parade today down Hatakikomi Street. See how he frustrates M13 Takanowaka (2-2) by keeping the much better rikishi out of his rhythm. A couple of shoves here. A token push there. And there it is! The little shuffle and Takanowaka walks himself out of the ring. What a great start to the parade and to M16 Asanowaka's basho. He is a sparkling 3-1.

Next up is up and coming puller Kyokutenho (2-2). Okay, maybe it's easy to slap down Tosanoumi (1-3). But he sure had some gems in Kyushu with those beautiful tachiai henkas. Now that's the kind of sumo that makes you want to shell out the dough to sit on a square cushion for hours on end.

Oh, here comes a good one. Sekiwake Tamanoshima (0-4) is on display now. See the straight up tachiai with Iwakiyama (1-3). Who wants to see a straight up fight mano-a-mano? Not I. Wait, look at that! Tama tried a hikiotoshi and gave all his momentum away. Wow, look how he just flew out of the ring back tracking like that. That is good stuff.

Oh boy. Now for the mother of all pulls. The clean up hitter of hikiwaza and the feature attraction today on Hatakikomi Street is here. Kyokushuzan is facing undefeated Kaio. Note the apprehensive tachiai and the strategic spacing between he and opponent. In the blink of an eye as Kaio steps forward, oh! A brilliantly timed hiki and side step and Kaio (3-1) has both hands on the clay. Kyokushuzan (3-1) even takes a little jaunt half way around the dohyo after his hard earned victory. He has 'pulled' off yet another upset. The 'man-in onrei' (arena at full capacity) scroll is sure to hang above the Kokugikan crowd tomorrow.

As an encore act today we have Ozeki Chiyotaikai (4-0), still undefeated mind you. He showed power and grace today employing the Hatakikomi. You didn't want to see him plow through Hokutoriki did you? After all, what is one to do when a Maegashira rikishi neutralizes your tachiai? Stick with your game plan? No, you pull 'um down, tightrope the tawara and call it a day. Sheer quality sumo.

I hope you enjoyed the parade today. For some reason or another, some floats did not participate in the festivities. One no show in particular was Toki (1-3), who for some reason was making a rare visit to Forward Sumo Avenue where he went toe to toe with Musoyama (3-1) and got into a throwing match with him and prevailed. But who wants to see that. Maybe he'll come to his senses tomorrow and join us for some good 'ole pulling.

Also absent were Tochiazuma (3-1), who kept the pressure on Tochinonada (2-2) and Asashoryu (4-0) who absolutely blasted Wakanosato (2-2) out with the help of two vicious, alternating nodowa thrusts. He'll never be welcome here on Hatakikomi Street.

Joining Asashoryu and Chiyotaikai with unblemished records through 4 days are M4 Kotomitsuki and none other than M10 Takanonami. We're all pulling for you, Nami.
Day 2 Comments
There were no upsets today from the Komusubi rank through Yokozuna as all of the higher ranked rikishi prevailed over their challengers. Actually, it was a dominant performance by everyone from Asashoryu down to Tochinonada.

Let's start with Sho, who was matched up with Takamisakari. After 13 kensho and the Kokugikan crowd in a frenzy for an upset, the Yokozuna started with a strong right nodowa to drive Sakari back. Sakari then side-stepped Sho in an effort to evade the onslaught but the Yokozuna would have none of it. Sho would not fall forward and stuck to the crowd favorite like white on rice. Sho was so intensely into the bout that I thought he would unleash some kind of pro wrestling move even after pushing out Sakari but thankfully came to his senses in time not to do so. Rusty or not, Asashoryu is off to a solid 2-0 start while Takamisakari falls to 1-1.

Chiyotaikai (2-0) likewise is off to a strong start as he drove back Sekiwake Tamanoshima (0-2). Unlike yesterday, Chiyo was tested a bit today as his furious tsuppari was met with resistance. After being stopped briefly though, the Ozeki passed the test as he soldiered on and sealed the deal without resorting to a pulling technique.

Kaio (2-0) found himself in migi-yotsu, not his favored position, against Tosanoumi (0-2) after stopping the Sekiwake's tachiai. Moreover, he was in a somewhat awkward sideways position that gave Tosa quite a bit of leverage. Tosa, who was in his favored yotsu stance, chose not to take advantage, however, and stood there too long. Kaio then showed his throwing skill as he dumped him with shitatenage.

Musoyama (2-0) and Kyokutenho (1-1) met for the 19th time with their records locked at 9 wins apiece. True to this history, the bout was one of the best of the day as it went back and forth before the Ozeki prevailed. Tenho did a good job stopping Muso's bullish attack and gave a nice uwatenage that almost worked, but Musoyama proved too much in the end. He won despite being stood up by the Mongolian, which leads me to believe we may be seeing a Musoyama in good form this basho.

Tochiazuma (1-1) redeemed himself against Tokitsuumi (0-2) after an inexcusable day one lapse yesterday against Wakanosato. I couldn't believe Azuma stood there like a bump on a log with belt grip locked down against Waka. Too cautious? Stage fright? Whatever the reason, you don't stand there in a yotsu bout against Waka and expect to win. While Azuma deserved to lose yesterday, today he came out with a vengeance and looked exactly like he did in Kyushu. On the right side he immediately pushed upward in Tokitsuumi's armpit while on the left he handcuffed Tokitsuumi's right by driving in and up. The oshidashi took about two seconds and puts Tochiazuma back on track.

The two Komusubi Wakanosato (2-0) and Tochinonada (1-1) both showed their dominance over the M1 rikishi as Waka blasted Toki (0-2) out of the ring while Tochinonada patiently withstood Hokutoriki's (0-2) tsuppari before throwing him off balance and pushing him out.

Fast out of the gates at 2-0 from the rank-and-file are Kotomitsuki, Kyokushuzan (oh boy), Shimotori, Kokkai (I second Mike; this guy looks exciting), Takanonami (who has not kachi-koshied since 2002), Buyuzan, Asasekiryu, Takanowaka and Asanowaka (oh boy again).
Hatsu Basho pre-basho report
A new year and token resolutions have done nothing to shed my procrastinating ways, it seems. Thus I bring you my look at the 2004 Hatsu basho a full day before shonichi. Let's see here, as I browse the news I see that Kyokushuzan is going back to school, Takamisakari is going on a date, Asashoryu is going back and forth to Mongolia and Akebono is going to the looney bin if he thinks he can beat Bob Sapp in a rematch.

I guess I should comment on the whole Asashoryu thing. As "un-Yokozuna like" as ever, Sho continues to come up with impressive ways to alienate himself. As if the Japanese don't hate him enough, now he misses an important funeral of the former stable master in addition to missing practice and pre-basho ceremonies. "He's reflecting" seems to be the trendy phrase regarding our misguided Yokozuna these days. My feeling is that SOMEBODY better start reflecting or we're going to have not one-third but two-thirds of the seats empty for hon-bashos this year. I agree with Mike that Sho has crossed the line and his excellent sumo no longer justifies his immature behavior, Yokozuna or not. If he weren't so darn competitive I'd write him off this basho because of his poor fitness. But we're not talking about Musoyama here, I'm going to have to give him the benefit of the doubt. He stays in the race but falls short of a yusho at 12-3.

One way to get more fannies in the seats is to get a Japanese Yokozuna, and Tochiazuma is primed to do just that. The reports of his form are impressive indeed. And I believe he has something else working in his favor: The odds. The last eight times an Ozeki has been up for promotion, only one has succeeded (Asashoryu). The last time a Japanese Ozeki made it was the summer of '98 (Wakanohana). Since then, Japanese Ozekis have a combined 48-40 record following a yusho basho, hardly "Yokozuna-like" numbers. This streak of futility includes Kaio and Chiyotaikai thrice each and Tochiazuma himself once. I usually resist bandwagons, but I can't help but think Azuma is going to break the jinx this time. If anything, I kind of hope it happens for the sake of sumo's popularity. Tochiazuma duplicates his 13-2 from Kyushu and brings hope back to sumo by becoming the first Japanese to be promoted to Yokozuna in six years.

Of course, any of the other three Ozeki could challenge for the title despite the bad reports about Chiyotaikai. He could easily get on a roll if he demolishes a line of rank-and-filers in the first week. Anything can happen with Kaio. Musoyama would be the most doubtful since he no longer has the fire and seems not in shape again, but with no kadoban pressure what does he have to lose? All three Ozeki manage kacki-koshi and Kaio pushes Azuma with a 11-4 record.

Looks like we have four tough customers at Sekiwake/Komusubi with Tosanoumi, Tamanoshima, Tochinonada and Wakanosato. All are capable of winning majority and I say it's a toss up if you're on the fence in fantasy sumo. Tamanoshima is really coming into his own but is the biggest question mark. The remaining three should win at least seven but I say not more than ten. Not even Wakanosato.

The somewhat watered down Maegashira ranks features a whopping 33 rikishi starting with the ever present Toki at M1 and the hard luck Hayateumi way down at M17. Kakizoe (M5), Kasuganishiki (M5) and Takekaze (M6) are ranked as high as they've ever been and could see some big action this time. Kokkai (M10) of Georgia is the most visible rookie and is very promising but his debut may be dampered by a recent knee injury. Seasoned performers Dejima (M6), Miyabiyama (M7) and Kotonowaka (M13) should make noise, but for some reason no one is really striking me this time. Since I feel obliged I'll go with the following predictions:

Yusho: Tochiazuma 13-2
Shukunsho: Kotomitsuki 10-5
Ginosho: Aminishiki 10-5

Enjoy the basho!

Home