Sumo News (archives)

May 30th
Futagoyama Oyakata Dies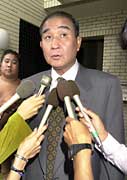 Former Ozeki and the current Futagoyama-oyakata, Hanada Mitsuru, died May 30th after a battle with mouth cancer. Futagoyama-oyakta fought as Takanohana during his active career and gained immense popularity as he rose to the Ozeki ranks. In more recent times, however, he is best remembered for apprenticing his two sons to the rank of Yokozuna, the only brotherly tandem to have accomplished the feat in Takanohana and Wakanohana III. Futagoyama-oyakata first entered sumo in 1965 at the Natsu Basho where he was apprenticed by his older brother and former Yokozuna Wakanohana I, who then led the Futagoyama-beya. In less than three years, Futagoyama-oyakata achieved sekitori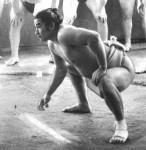 status for the 1968 Haru basho and became at the time, the youngest rikishi ever to do so despite his 100 kilogram frame. He was promoted to the Makuuchi division for the Kyushu basho of the same year and was promoted to the rank of Ozeki after the 1972 Aki Basho, a rank he held until his retirement at the Hatsu Basho in 1981. Futagoyama-oyakata still holds the record for number of basho maintaining Ozeki status. Futagoyama-oyakata was an excellent competitive swimmer in junior high school setting many records. He was even being touted as a possible representative in the Olympics, but the oyakata then stated, "one can't make a living in swimming," so he quit that sport and entered professional sumo. Futagoyama-oyakata attributed his then record-breaking rise through the sumo ranks to the strict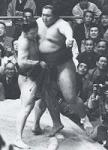 leadership and guidance of his older brother, former Yokozuna Wakanohana I who lamented, "he [Futagoyama-oyakata] would never rest until he had his opponent out of the dohyo." Futagoyama-oyakata's style was sometimes even branded as "circus sumo." Highlights of his career include a defeat of Yokozuna Taiho in Natsu 1971 as a Komusubi that spurred Taiho's subsequent retirement and his first Makuuchi yusho in Haru 1975 where he defeated of Yokozuna Kitanoumi in a yusho playoff bout that drew a television ratings percentage over 50 percent. Futagoyama-oyakata would take the yusho one other time, but he was never able to get over the Yokozuna hump. At the time of his retirement in 1981, he expressed, "I did the best I could. My popularity was a burden at times, but without the support of my fans, I would have only lasted in the Ozeki ranks for 20 basho or so."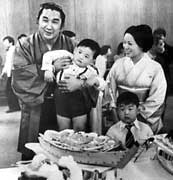 Futagoyama-oyakata's two sons, Masaru and Koji, would sit in the seiza style and watch their father's performance on television. When the two boys decided to enter professional sumo themselves, their father proclaimed that he would end his father-son ties with them and treat them as any other rikishi forcing them to perform ferocious keiko. Besides his two sons, Futagoyama-oyakata also apprenticed many other sekitori who would reach Ozeki/sanyaku status including Takanonami, Akinoshima, Takatoriki, Misugisato, Wakakosho, and Naminohana. The dominance of his Futagoyama-beya and the popularity of his two sons created a fervor surrounding the sport that peaked in the latter half of the nineties. Along with this success, however, came fierce media scrutiny that unwelcomingly documented a public rift between his two sons and the divorce from his wife and kamisan of the Futgoyama-beya in 2001.



Futagoyama's health began to deteriorate after the Aki 2003 basho and led to his being kyujo from each subsequent basho. Despite the rapid decline of his health, in January of this year, Futagoyama-oyakata displayed considerable mental toughness as he rose from his hospital bed to make an appearance at the danpatsushiki of his apprentice Takanonami where he snipped at the former Ozeki's oi-cho to a considerable buzz from the crowd. That would be Futagoyama-oyakata's final public appearance. He is survived by his two sons, Masaru, who is no longer affiliated with the Sumo Association, and Takanohana-oyakata who took leadership of the Futagoyama-beya and formally changed its name to the Takanohana-beya.