Sumo Headlines/Sumo News
Asashoryu Suspension
In order to keep the Asashoryu news separate from the hon-basho and to create a file that can be
archived when the story finally concludes, we will track Asashoryu-related news on this separate page.

December 1st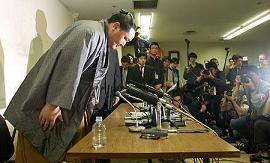 Asashoryu hold long awaited press conference; meets with Yokozuna Deliberation Council
Yokozuna Asashoryu returned safely to Japan yesterday around 3PM and was escorted by his manager and airport officials through the Arrival lobby and into a waiting car at Narita Airport. Dressed in a gray kimono, Asashoryu ignored the press that had gathered in the lobby and headed straight to the Ryogoku Kokugikan. He was first examined by Doctor Takagi at the Kokugikan's health clinic before holding a press conference with Takasago-oyakata at his side. The Yokozuna's first order of business at the press conference was to stand before the gathering and apologize. "I've caused everyone much concern, and I apologize from the depths of my heart. I am dedicated to continuing to fulfill my duties as a Yokozuna to the best of my ability."

The dialog of questions and answers that proceeded is as follows:

How is your current condition?

"At first, I really lost a lot of muscle mass, but I've been training and am almost at my former level again. My elbow has completely healed. As for my lower back, I'll just have to find that out when I do keiko."

Why did you choose to go back to Mongolia for treatment of your mental illness?

Because it's my home. When first diagnosed, I didn't want to see anybody and just wanted to be alone in my room. At home, though, my parents, my children, and my wife were by my side, and it really helped me settle down mentally. I think that going back to my place of birth was the best medicine for me."

How effective was the onsen treatment?

When I was injured at last year's Natsu basho, I went to that same onsen for treatment. It was something I had done before. I also needed to heal myself mentally first, so I went out to the countryside."

Why did you play soccer in Mongolia?

This year is the 35th anniversary of my country's founding, and I was originally just going to hand t-shirts, but government officials, Mongolian Soccer Federation officials, and officials from the embassy pleaded with me to play, so I did. It was also for my country. But, it's something that I did, and something that I need to take the responsibility for. I was the one at fault the most."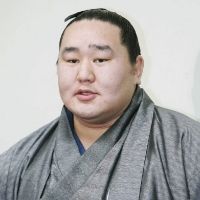 How did you feel about the house arrest punishment?

"I think it was expected. I had to take responsibility."

What were your feelings at that point?

"I love to do sumo, so it was a huge shock for me. Now, however, I'm ready to start over form the beginning."

Most of your punishment was served in Mongolia. What did you do there for treatment?

"For the first month and a half, I needed to heal mentally, so I stayed at the Harahorin onsen. After returning to the city, I began image training and physical training. That's how I've always treated myself. When I look back now, it was a long time, but I didn't waste any time and made good use of it."

Did you do any sumo training in Mongolia?

"It's a completely different feel, but I did do some on top of sand and on top of a mat. There were no other rikishi around, so practiced butsukari-geiko with a big guy. It was good image training for me."

Did you watch any of the sumo broadcasts back in Mongolia?

"I tried to avoid it as much as possible."

How about the jungyo which will begin shortly?

"My feeling is that I just want to do sumo."

How badly do you want to step back onto the dohyo at the Hatsu basho?

"Really bad. That's why I've come back to Japan...to talk to you all and apologize."

Can you post results worthy of a Yokozuna at the Hatsu basho?

"I've done everything to this point so that I'd be ready for the Hatsu basho. And even now, that's the feeling I want to take into the Hatsu basho."

Your dignity as a Yokozuna has been in question.

"I think a Yokozuna is someone greater than just that."

A message to your fans?

"I'm extremely sorry for all the trouble that I've caused and for causing so much concern for so long. I will do my utter best from here on out as a Yokozuna."

Takasago-oyakata also added a few comments, "This is a result of my improper management. From now on, I plan on discussing everything with Asashoryu regardless of what he does. I also hope to lead him so that he builds more character." When asked about the chance of Asashoryu's going back home, the oyakata replied, "For now, I won't allow it."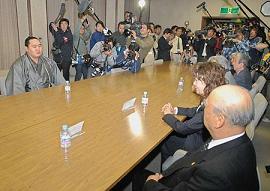 After the press conference, Asashoryu met with the Yokozuna Deliberation Council. Katsuji Ebizawa, Chairman of the YDC, explained, "He bowed his head and said 'I'm deeply sorry for all of the concern I've caused'. He was very regretful, and if he his willing to start over again then we will continue to watch over him. I think we have some closure to this incident now." Never to be outdone, token female member of the group, Makiko Uchidate, who called for Asashoryu's retirement back in August, commented, "I'm following the chairman's suggestion to continue to watch over him. I thought he would be more audacious than he was, and he seemed to be sorry in his press conference. I hope he never forgets the way he is feeling today" Asashoryu became the second Yokozuna to ever sit in a meeting with the group with the first being Wakanohana after suffering a make-koshi at the Aki 1999 basho.

Former chairman of the YDC, Hideo Ishibashi, was also asked for his comments. "I accepted his apology. I think it's best that we all move on and continue to place expectations upon him. I feel as if all of the ill feelings up until now have gone with the wind."

Kitanoumi Rijicho was asked at his stable facilities in Fukuoka about Asashoryu's press conference after he watched the proceedings on television. The commissioner responded, "I think that he does realize how careless his actions were and that he really is sorry for them. When he went home in August, he had a blank stare, but today he speaking very coherently. I think he has recovered from his illness." When asked about expectations for Asashoryu at the Hatsu basho, he answered, "He's a Yokozuna, so his goal should be the yusho." When asked about the Sumo Association's responsibility in handing down the punishment, Kitanoumi replied, "It was very strict, but it is the responsibility of the stable masters to instruct their rikishi." Finally, the commissioner was asked why he didn't attend the press conference in Tokyo, and he answered, "I had other obligations here as a stable master."
November 30th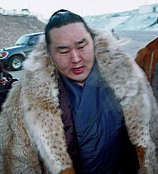 Asashoryu leaves Mongolia
Yokozuna Asashoryu departed Mongolia this morning on his way to Narita Airport. The Yokozuna is seen at right wearing a fur coat to battle the -17 degree weather in Ulan Bator. He will arrive at Narita Airport in the late afternoon before making his way to the Ryogoku Kokugikan. There was some question as to whether or not Asashoryu would make his connecting flight in Seoul. His plane from Mongolia was scheduled to land at 11:55 AM with the next plane departing Seoul at 12:15 PM. Those close to the Yokozuna when asked for comment on the matter said "All is well." (Picture provided by Kyodo New Service).
November 28th
Asashoryu forced to change flight plans
Yokozuna Asashoryu has been forced to change his flight plans for his return to Japan on Friday. The Yokozuna was originally scheduled to return on a direct flight from Mongolia, but press agencies have purchased all of the business class seats on the flight locking the Yokozuna out. Asashoryu will instead fly to Japan with a stopover in Seoul, Korea. He will arrive on the afternoon of the 30th and then once he passes through immigration and customs, he will be escorted to a personal room away from the public. A hair dresser and multiple tsukebito will be waiting in the room so that Asashoryu can be properly groomed and dressed for his meeting with the Yokozuna Deliberation Council and subsequent press conference.
November 27th
Asashoryu will meet with YDC after all in a special meeting
It was reported yesterday that Asashoryu will indeed meet with the Yokozuna Deliberation Council on November 30th, the day he will return from Mongolia. Originally, Asashoryu was slated to return November 26th in time for the YDC's usual post-basho meeting, but the Yokozuna delayed his return until the 30th. Several of the Council members expressed their sorrow at the move, but Takasago-oyakata promised that he would have Asashoryu visit them when he returned. The YDC agreed to hold a special meeting on the 30th to accommodate the Yokozuna, but this was before Takasago-oyakata had even spoken to Asashoryu about the matter. After taking a beating in the press for saying that Asashoryu wanted to apologize to the YDC before he had even confirmed this with the Yokozuna, Takasago-oyakata announced this morning that he had indeed spoken to Asashoryu and that the Yokozuna was on board with the meeting on the 30th. "I told him that I wanted him to apologize to the Council at their special meeting, and he replied 'Ok, I understand'." Kitanoumi Rijicho and other high-ranking officials attend the YDC post-basho meetings, but they reportedly will not be in attendance at the special meeting on Friday leaving just Asashoryu and Takasago-oyakata to make the visit. After apologizing to the YDC, Asashoryu will hold a general press conference and reportedly apologize for the disturbance he cause all of his fans.
November 21st
Asashoryu changes return date to November 30th, cancels meeting with YDC
Yokozuna Asashoryu had changed his plans once again and will now return to Japan on November 30th instead of the 26th as previously announced. The former plan was to have Asashoryu return the Monday after the Kyushu basho and go straight to the Ryogoku Kokugikan to attend the post-basho Yokozuna Deliberation Council meeting and apologize to that body, but now he will miss the meeting. Takasago-oyakata announced Asashoryu's schedule stating, "He'll come back on the 30th and go straight to the Kokugikan where he'll apologize to the executive committee members and to the Exhibition Committee. After that, he will hold a press conference and apologize. As for the winter exhibitions, he will participate from the beginning. After that, we'll decide on the Yokozuna's plans after he returns." Prior to Takasago-oyakata's remarks, four members of the Exhibition Committee met and issued a statement through Takatagawa-oyakata stating, "We would like Asashoryu to attend the winter exhibitions. When the punishment was first handed down, we did state that we wanted to ban him from the exhibitions forever, but since we both eat from the same pot..." Apparently, the exhibition committee has been fielding calls from anxious fans asking whether or not Asashoryu will attend the events. "We are relieved to hear that Asashoryu will be attending," Takatagawa-oyakata concluded.
November 8th
Asashoryu bumps up return date to November 26th, will meet with YDC
Yokozuna Asashoryu's plans to return to Japan have been finalized. The Yokozuna will return now on November 26th instead of November 30th as originally reported. After arriving at Narita Airport, Asashoryu will head directly to the Ryogoku Kokugikan where he will meet with the Yokozuna Deliberation Council, who will be holding their usual day after meeting. After meeting with the YDC, Asashoryu will hold a general press conference. Kitanoumi Rijicho had stated earlier that the Association did not want him to return during the Kyushu basho due to the distraction it would cause, so when asked for comment, the commissioner offered, "We are now looking at the 26th. As for his press conference, he should announce his return and then apologize to the sumo fans for the big disturbance that he caused."
November 5th
Asashoryu resumes full workouts; will return to Japan November 30th
Asashoryu's personal manager returned to Japan yesterday and revealed that Asashoryu has resumed full workouts as he looks to gain his prior form. On November 2nd, his manager handed over his practice mawashi and judo gear, and the Yokozuna promptly began his workouts the next day. He began with a two hour run in the mountains, and then in the afternoon he visited an Ulan Bator wrestling center and practiced with his older brother, a Yokozuna in Mongolian's version of sumo. Both brothers wore judo outfits as Asashoryu practiced his tachi-ai and throw techniques. The session reportedly lasted 3-4 hours.

Asashoryu's manager also made it clear that the Yokozuna would return back to Japan on November 30th. He plans to hold a press conference the following day, and then he will head to Oita Prefecture to participate in the winter exhibition tournaments. The Yokozuna's manager will head to Fukuoka at the end of this week and give Takasago-oyakata a full report.
October 31st
Asashoryu to implement a little cross training
It was revealed yesterday that Asashoryu will use judo training techniques as he looks to get back into fighting shape before returning to Mongolia. His personal manager, who is heading to Mongolia on November 2nd, said, "He requested that I bring his judo outfits." Before heading to Japan as a high school student to do sumo, Asashoryu dabbled in judo in his home country, and even now he will don the his judo gear and practice throws against tsukebito whom he also has wear the judo digs. The training method is called the Asashoryu special, and he uses it to practice spectacular throws such as tsuri-otoshi. At the end of September, Asashoryu had begun working out two hours a day, but a sprained ankle hampered those efforts and sent the Yokozuna back to the hot springs resort area for more treatment. As for his return to Japan, Takasago-oyakata insisted that it won't be during the Kyushu basho. "That would create too much of a disturbance," he explained.
October 25th
Asashoryu's manager to take the Yokozuna's practice mawashi to Mongolia
Asashoryu's personal manager will head to Mongolia again in early November, and this time he says, "I am taking his practice mawashi with me." It was first reported that Asashoryu would return to Japan sometime in late October, but due to an ankle injury suffered in his workouts, the Yokozuna will likely postpone his return to Japan until the end of November. Takasago-oyakata has stated that Asashoryu will not return until he is ready to step back into the keiko ring at full health, and Kitanoumi Rijicho indicated that he didn't have any problem with that train of thought either.
October 16th
Asashoryu delays his return, possibly to late November
It is now being reported that Asashoryu will not return back to Japan in late October as originally speculated. In fact, the Yokozuna may not return until after the Kyushu basho. Asashoryu, who has resumed physical workouts in Ulan Bator, has indicated that he wants to return to the Harahorin hot springs area for more treatment on his left elbow. The said treatment consists of six to seven steps that lasts more than a week and would put Asashoryu back in Japan after the Kyushu basho banzuke is released. The Yokozuna wants to continue his training at home and avoid creating a disturbance during the Kyushu basho itself. Regarding the new development, Takasago-oyakata commented, "I haven't talked to him today, but I'm leaving his treatment up to him. He has not decided when he will come back, but as soon as he does, my plans have not changed to hold a press conference with him to apologize." Asashoryu will be allowed to return to his job in time for the winter exhibitions from December 2nd thru the 4th.

In the meantime, Asashoryu injured his left ankle during workouts last week and called for his personal trainer to come from Japan to assist in his rehabilitation. Those close the Yokozuna reported, "We've heard that he isn't in very good shape. I think it's impossible for him to come back this month. It's no use for him to come back to Japan if he hasn't healed from his injuries."
October 12th
Asashoryu will not travel to Fukuoka during the Kyushu basho
It's been reported that Yokozuna Asashoryu began his physical training in Ulan Bator on October 9th. The Yokozuna left the hot springs area of Harahorin on the 8th and traveled back to the capitol to begin his workouts. Asashoryu spent about 3 hours stretching and working out. Takasago-oyakata also reported that Asashoryu will likely return to Japan the week of October 21st, which has everyone speculating on the 24th as direct flights from Mongolia to Japan are on Mondays, Wednesdays, and Saturdays. "I think it's best if we hold a press conference together and apologize before I leave for Kyushu," Takasago-oyakata stated. However, those close to the Yokozuna are saying he still feels pain in his left elbow and that he may return to Harahorin for more treatment.
October 3rd
Asashoryu will not travel to Fukuoka during the Kyushu basho
Takasago-oyakata revealed today that he will not be taking Asashoryu with him to Kyushu for the November tournament. The Yokozuna is scheduled to return to Japan at the end of October, but rather than have him go to Fukuoka, Asashoryu will stay in Tokyo where he has better access to training and rehabilitation facilities. Asashoryu's personal manager is busy in Tokyo now scouting out facilities, and some say that the Yokozuna could hole himself up at a Buddhist temple somewhere. Regarding Asashoryu's return to the dohyo, Takasago-oyakata speculated that it would be on December 2nd at an exhibition event in Oita Prefecture. "It will be important to see if he can get his stamina and physical strength back by then," the oyakata explained.
September 25th
Asashoryu's manager and doctor will travel to Mongolia tomorrow
It was announced today that Asashoryu's personal manager and Dr. Masaki Honda will head for Mongolia tomorrow. As for the purpose of the visit, Asashoryu's manager explained, "The purpose of our trip is not for further treatment nor to finalize a date for his return to Japan." Both men are scheduled to return by the weekend although it's been reported that Dr. Honda will return again to Mongolia in October to determine whether or not Asashoryu is mentally fit enough to come back to Japan.
Despite the manager's comments, rumors have surfaced that Asashoryu will return sometime around October 20th or shortly thereafter. Takasago-oyakata also revealed that Asashoryu will begin physical workouts beginning early next week. The plan is to have Asashoryu begin to rebuild his muscles and physical condition. After returning to Japan in October, the Yokozuna will stay in Tokyo and continue his workouts as the other rikishi head for Fukuoka to participate in the Kyushu basho. Takasago-oyakata indicated that he will call Asashoryu early next week to discuss the details of his training regimen. The Yokozuna celebrates his 27th birthday on the Thursday.
September 14th
Asashoryu raves over onsen treatment
Asashoryu is apparently raving over the therapeutic effects of the mud baths in the Hojirto area of Mongolia where he is currently rehabbing his injuries. The Yokozuna made a call to some acquaintances in Japan and asked them to research the contents of the mud baths. It's reported that he would like the same treatment available to him when he returns to Japan, and many also view this as an indication of Asashoryu's desire to return to the sport. At least one member of the Yokozuna Deliberation Council is against that, however. Makiko Uchidate stated, "He should be a real man and create his own hanamichi (exit path). If this were another company, he would have already been forced out. If you have an employee like this, those at the top would surely let him go." The YDC Chairman, Shoji Ebizawa, didn't have the same opinion and stated, "As a council, our attitude is wait and see. Personally, I would like to see him return to Japan, make an apology for his actions, and then resume his keiko."
September 13th
Asashoryu emerges from resort for the first time; begins mud bath treatment
Asashoryu left the Dreamland resort and stepped out in public for the first time since returning home to Mongolia to treat his stress disorder and physical injuries. As widely speculated, the Yokozuna made his way to a hot springs area famous for its therapeutic mud baths about 50 kilometers away from the Harhhorin area where had had been holed up. Asashoryu was surrounded by a swarm of locals as he entered the Hojirto area. Takasago-oyakata received word of Asashoryu's movement and commented, "This is the next step. He's begun treatment of his elbow and back. I think his mental situation has nearly gotten better." According to a Mongolian newspaper, Asashoryu spent much of his time at the Dreamland resort studying English and economics with the assistance of personal tutors.
September 12th
Doctor Honda talks about the reasons behind Asashoryu's mental state
The Sports Hochi newspaper sent guest reporter, Sachiyo Nomura, to sit down and talk one on one with Dr. Masaki Honda, a psychiatrist who diagnosed Asashoryu and has been involved in his recovery. Dr. Honda was also part of the group who accompanied Asashoryu to Mongolia. The following is the dialogue as reported by Sports Hochi:

Sachiyo Nomura: What I want to ask you first, doctor, is how could a Yokozuna of that magnitude fall prey to a mental illness?

Dr. Honda: The Yokozuna very much regrets having played in that soccer match after having submitted a doctor's note excusing him from the summer exhibitions. Regarding the situation, he felt that he first and foremost owed the Sumo Association an apology. That's why he came back so soon. He wanted to make his apology and then join the summer exhibitions. However, he was told that he wasn't welcome at the exhibitions, he was then given a two basho suspension, and then he was put under house arrest on top of all that. The fact is it was more than he was prepared for and caused him to go into a sudden mental depression. It may seem strange that such a strong Yokozuna would find himself in that condition, but just as an athlete who is strong physically can still catch a cold, becoming psychologically distressed is completely unrelated to one's mental strength.

Sachiyo Nomura: That's the first time I've heard that he wanted to apologize and then join the summer exhibitions.

Dr. Honda: That's why he came back to Japan. If he wasn't going to apologize, he just as well could have stayed in Mongolia to treat his injuries. He intended to apologize and then join the summer exhibitions. Also, he was under the assumption that he would only be suspended for one basho. He just went into a panic when he heard that it was a two basho suspension and house arrest on top of that. At any rate, he couldn't comprehend the reason for the house arrest punishment from the start.
September 11th
Asashoryu progress report given
Asashoryu's personal manager flew to Mongolia yesterday to attend to the Yokozuna's needs and to provide a contact point for Takasago-oyakata, who has come under fire for not providing timely reports regarding Asashoryu's progress. The day before Takasago-oyakata revealed that he had received a report from a Mongolian doctor who is treating Asashoryu for his mental distress condition. According to the doctor, the Yokozuna is convalessing well. Takasago-oyakata also indicated that Asashoryu will likely start treatment on his left elbow and lower back soon at the hot springs located in Hojurto.
September 3rd
Asashoryu says he won't retire
A source close to Asashoryu revealed that the Yokozuna has no intentions of retiring from sumo. "I cannot quit just because of all this," he was quoted as saying. The source also indicated that the Yokozuna wasn't interested in the reported approximately 25 million dollar (US) offer from a mixed martial arts organization to sign with them. "I'm not sure just how to handle this affair that's gotten out of hand. But even if it was my fault, I wouldn't quite because of it. I just can't meet anyone right now, and I have no intentions of talking right now," Asashoryu was quoted as saying. The Yokozuna was joined at the Dreamland Resort where he is currently holed up by two of his older brothers who reported brought in training equipment so the Yokozuna can resume his workouts. "I still want to yusho," Asashoryu reportedly said. "I will have to offer an explanation of things, but why do I have to go through this?"

Takasago-oyakata briefly attended a celebration for Hakuho's promotion to Yokozuna this evening but only stayed long enough to pass along an "o-iwai" envelope with some cash. Asashoryu's older brother indicated several days ago that Asashoryu would return to Japan sometime during the basho, but Takasago-oyakata denied that claim saying, "He won't come back during the basho. His return date hasn't even been determined," the oyakata offered before hurrying out of the party. An unnamed director from the Sumo Association heavily criticized Takasago-oyakata for failing to offer any report to the board on his brief trip to Mongolia. "He gave the chief director a report, but that was it. He hasn't even bothered to say 'hi' to the rest of us."
August 30th
Asashoryu arrives in Mongolia, escapes gathered media and fans
With other unimportant matters to cover--like pre-basho keiko reports--the Japanese press followed Asashoryu as far as they could and thankfully offered details of the flight itself. The plane, which took off from Narita Airport just after 1:30 PM arrived in Mongolia at 5:50 PM local time. Asashoryu was seated in the front row of business class on the left side of the plane, and after sitting down, he dropped off to sleep for the entire flight not bothering to eat or drink anything. Guards were placed in front of the curtains that divide business class from economy class and shooed anyone away who tried to catch a glimpse of the Yokozuna. Takasago-oyakata, who is accompanying Asashoryu on the trip home, spent some of his time reading a newspaper!

After arriving at Genghis Khan Airport, Asashoryu exited the plane through a special gate used to escort VIPs and entered a Hummer that was waiting at the base of the stairs. Takasago-oyakata followed in tow with neither acknowledging the throng of reporters and fans who had gathered. The party was then taken by a chartered helicopter to Kharakhorum, the ancient capital of the Mongol Empire located about 400 kilometers southwest of Ulan Bator. Asashoryu will be staying with his family at the Harhorin camp, which is situated near hot springs that are said to have therapeutic qualities. The camp has been close off to any outsiders during the Yokozuna's stay.
August 29th
Asashoryu arrives at Narita Airport for 1:30 PM direct flight to Mongolia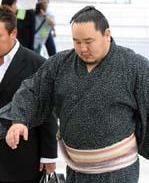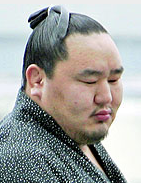 Rikishi comment on Asashoryu at all-hands meeting; Hakuho's father criticizes the Japan press
The all-hands sekitori meeting was held yesterday at the Ryogoku Kokugikan where several prominent rikishi were asked their opinions regarding Asashoryu's release to return home for treatment. Yokozuna Hakuho said, "He just needs to relax himself if he's going to heal his injuries. I think his mental anguish is worse than the pain in his body." Stablemate and newly-promoted Sekiwake, Asasekiryu, said, "He should be able to relax mentally [at home]" while countryman Kyokutenho offered, "As a human being, he needs to heal himself mentally." From the Ozeki ranks, Chiyotaikai seemed to support the Yokozuna saying, "I want him to come back as soon and as healthy as possible" while Kotooshu's comments were more stern, "This takes away any meaning to his punishment."

Meanwhile, back in Mongolia Hakuho's father criticized the Japanese press saying, "All of this is the result of the media fanning the flames. Making him sit out two basho is over the top." As for the general reaction from the citizens of Mongolia, most are just happy that Asashoryu is being allowed to return home while some are claiming that the whole affair was a violation of human rights. One man, however, countered that view saying, "In Mongolia, people of any status are never punished, so I think it's great that Japan places such importance on rules and regulations."
Details emerge regarding yesterday's meeting of the board and Asashoryu's travel plans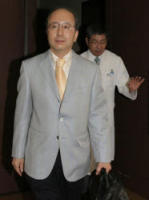 Details of yesterday's special meeting among the board of directors and other executive officers have begun to emerge. The meeting started at 11:25 AM with 14 officials from the Sumo Association in attendance along with the two doctors who have taken charge of Asashoryu's diagnosis and treatment. Shuichiro Takaki passed out a two page report outlining Asashoryu's condition and explained the details to the board for about 20 minutes. Afterwards, there were a few questions, but those in attendance seemed satisfied with the doctor's responses. After the presentation, Doctor Takaki and Hiroyuki Yoshida, head of the Sumo Association's medical clinic, excused themselves from the meeting (at right) while the higher-ups of the Sumo Association discussed the possibility of sending Asashoryu back to Mongolia for treatment as recommended by the doctors. Initially, some in attendance opposed sending Asashoryu back saying that the priority would be to have Asashoryu treated in Japan, but Takasago-oyakata came forward and said that he would accept all responsibility if Asashoryu was allowed to return home, and this seemed to quell the opposition. In the end, the decision was unanimous to allow Asashoryu to return home based on the testimony of the doctors and Takasago's willingness to accept responsibility. Tomozuna-oyakata, a member of the board, commented afterwards, "I'm glad that there will be some accountability now." Kitanoumi Rijicho offered, "The main reason for allowing him to return home was for his treatment."

As for Asashoryu's return home, it is still under the condition that he not engage in any irresponsible behavior or he could be kicked out of the sport altogether. Kitanoumi Rijicho explained, "He is not allowed to make any public appearances other than the express purpose of receiving treatment. I know they have a lot of horses there and if he goes out for exercise that's one thing, but we do not approve of his going to any bustling area or business district." Takasago-oyakata will accompany Asashoryu back to Mongolia and won't return until he's satisfied that a sufficient treatment plan has been put in place. Masaki Honda, a doctor who examined Asashoryu back on August 5th, will also accompany the Yokozuna back home it was learned today. Takasago-oyakata also promised Kitanoumi Rijicho that five oyakata including Wakamatsu (former Asanowaka) will take turns traveling to Mongolia to monitor the Yokozuna's condition and report back to the Sumo Association.

Once home, Asashoryu will head to a hot springs area about 400 kilometers from Ulan Bator where it's said that applying a mixture of the hot water and mineral-enriched soil forms a mud that is famous for healing wounds when applied to the body in a traditional method of healing injuries in Mongolia. It has been reported that Asashoryu's parents will join him and that his wife, Tamil, is already in the hot springs area making preparations for her husband's arrival.
August 28th
Asashoryu to return home tomorrow despite leaked news that he recently paid back taxes
It's official. Yokozuna Asashoryu will return home to Mongolia tomorrow accompanied by his stablemaster, Takasago-oyakata. The board of directors gave Asashoryu the approval after a special meeting was called to discuss the issue again and receive direct reports from the two doctors who have been closest to Asashoryu's diagnosis and treatment.

Earlier in the day information was leaked to the press that Asashoryu owed back taxes on income he failed to declare going back as far as 2005, but the news had no effect on the decision. It was learned that the Tokyo Regional Tax Bureau audited the Yokozuna some time ago and discovered approximately 110 million yen (about $900,000 US) worth of income from appearance fees at various events, income from television commercials, and income from broadcast rights paid to the Yokozuna for the right to broadcast his wedding. Asashoryu had already paid the back taxes, which amounted to 30 million yen ($260,000 US), and the Sumo Association already knew about the issue. Kitanoumi Rijicho commented, "There is not problem because he restated his income and took care of the matter." Takasago-oyakata commented, "The stable was unaware of this issues. We just assumed that he had properly declared all of his income." Those affiliated with sumo being audited and told to account for undeclared income is not new.

In June of 1995, Kokonoe-oyakata was ordered to pay back taxes of 55 million yen for income earned between 1990 - 1992; in July of 1996 then Futagoyama-oyakata was ordered to pay taxes on 300 million yen worth of undeclared income; Takanohana was ordered to pay back taxes on 90 million yen; and Wakanohana had failed to declare about 26 million yen. Former Yokozuna Wakanohana I, former Ozeki Kirishima, and even the Sumo Association itself have all been ordered to pay back taxes in the last decade. The timing of the leaked news suggests that someone may have been trying to influence the decision to let Asashoryu go back to Mongolia, but as widely speculated the last few days, the Yokozuna will head home tomorrow.
August 27th
Asashoryu's return to Mongolia on August 29th all but determined
According to insiders within the Sumo Association, Asashoryu will be returning to Mongolia on August 29th with Takasago-oyakata. The Board of Directors and other executive officers will meet today to make the decision official. Doctor Shuichiro Takaki and Hiroyuki Yoshida will attend the meeting and explain Asashoryu's mental condition to the Sumo Association officials, but Asashoryu is already booked on the next direct flight to Mongolia on August 29th. Takasago-oyakata has been ordered to accompany Asashoryu back to Mongolia and return only after all arrangements for his treatment have been made. In the meantime, Takasago-oyakata issued a written apology for his actions and mishandling of this whole Asashoryu affair. Parts of the statement read, "Dear fans and everyone involved, I apologize from the depths of my heart for the huge amount of trouble I have caused you all. My initial response to this incident was mishandled, and I sincerely regret that my underestimating this problem caused these events to be dragged out for so long." As if it mattered, the chairman of the Yokozuna Deliberation Council also commented to reporters, "We want to see [Asashoryu] return to his previous form as soon as possible as we also have the responsibility of making recommendations."
August 25th
Asashoryu could return home as early as August 29th
It was learned yesterday that the executive officers of the Sumo Association will convene on August 28th to hear explanations directly from the doctors who have treated Asashoryu so far. The meeting will also satisfy the demands of some of the directors to have Asashoryu appear and give them an explanation in person. With the release of the Aki basho banzuke on August 27th, it's been determined that the 28th is the best time to hold the meeting. If Asashoryu is given approval to return home to Mongolia for treatment then he could leave Japan as early as the 29th, a day where there is a direct flight from Narita Airport to Mongolia. Isenoumi-oyakata commented, "Up to this point, we haven't received an explanation of Asashoryu's symptoms. Currently, he is apparently suffering from an emotional disorder, so we need a setting where the doctors can explain the situation to the directors face to face."

In recent days, Kitanoumi Rijicho has offered, "Anything decided upon by the board of directors can be revised by that same board." Reports are that the director has been leaning towards allowing Asashoryu to go back home but that a faction of the board members are vigorously opposed to that scenario. Those opposed have been quoted as saying, "We want Asashoryu to attend [a meeting with us]. If he can't do that in his current emotional state, then we need his doctors to explain things to us. If we don't get such an explanation, we are opposed to his returning home." If the doctors offer a satisfactory explanation, those opposed have said that the could reconsider their stance.

Takatagawa-oyakata critical of Takasago-oyakata
In a rare move yesterday, Takatagawa-oyakata spoke out in favor of Asashoryu while blasting his stablemaster, Takasago-oyakata. Takatagawa-oyakata reportedly visited Asashoryu at his residence on the 20th and then paid a visit once again on the 23rd at the hotel where Asashoryu is reportedly staying. The oyakata heavily criticized the Yokozuna early on, but has now out saying that enough is enough. "Asashoryu is still young and has been sanctioned enough. The most to blame for this incident is Takasago-oyakata. Takasago-oyakata needs to go back to Mongolia with Asashoryu. He always puts on a good face when he's scouting there, but when things go wrong he pretends as if nothing has happened. That's not what I call a stablemaster."

Comment was sought from Takasago-oyakata last night at a pep rally sponsored by supporters of the stable held at a hotel in Hiratsuka City, Kanagawa Prefecture. Those affiliated with the stable told the three television cameras and 50 reports not to bother the event, but Takasago-oyakata agreed to speak briefly with the press. As for the rumors that Asashoryu would leave for Mongolia as early as August 25th, Takasago-oyakata denied them saying, "If he did go then, the repercussions would be severe." When asked about Kitanoumi Rijicho's slight change of heart on the matter of Asashoryu's going home for treatment, the oyakata said, "I'm certainly in no position to say anything about that. I'm also one who is being punished."
August 23rd
Asashoryu has left the building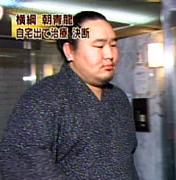 Yokozuna Asashoryu left his apartment for the first time since his punishment of sitting out two basho was handed down on August 1st. Shortly after 7 PM yesterday evening, Asashoryu emerged from his apartment building and hopped into a black SUV. Takasago-oyakata revealed that Asashoryu left his residence to receive treatment from doctor Shuichiro Takaki at an undisclosed location. It was learned that Asashoryu would stay the night at wherever he was headed. While a return to Mongolia this week was nixed by the Sumo Association's board of directors, Asashoryu may be able to return home to Mongolia after being treated locally in the short term. Takasago-oyakata commented, "We're moving him to further his diagnosis and to give him a change of environment. He will receive concentrated treatment for the next few days. The Sumo Association acknowledged that they were aware that Asashoryu had left his residence for treatment but they declined to say where.
August 22nd
Former Yokozuna, Kotozakura, honored
The viewing for former Sadogatake-oyakata, Kotozakura, was held last night where approximately one thousand people visited to pay their respects. Kotonowaka and current Sadogatake-oyakata was the official host of the event, and he commented in his remarks, "I have come to realize this man's greatness. The thing I remember most about him were his words, 'if you're injured then treat it with keiko'. I was proud to be his apprentice. He was a strict man, but get him away from the dohyo, and he was extremely gentle." Newly-promoted Ozeki, Kotomitsuki, commented, "My happiest memory was just after I received news of my promotion to Ozeki and he said, 'yokatta na' (good for you). I know that he'll be watching over me, so I will continue to give it my all in the keiko ring." Kotozakura was known for his successful scouting program and the large number of sekitori he produced. Three of them became Ozeki while four of his prodigies have taken the Makuuchi yusho.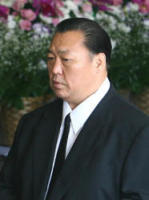 At the proceedings, several sumo officials were asked their opinions on the Asashoryu matter and whether or not he should be allowed to go back to Mongolia for treatment. Shoji Ebizawa, Chairman of the Yokozuna Deliberation Council, commented, "I think they should be serious about taking the advice of the specialists and their diagnosis." Kitanoumi Rijicho, however, seemed firm in his stance not to let the Yokozuna return home. "Isn't there anyone that can get through to Asashoryu? Can't we bring someone over from Mongolia? I can't say yet that I approve of his going back. Everyone (on the board of directors) will not be okay if we let him go home now." Adding to the confusion, the President of Mongolia reportedly spoke to some Japanese officials at a formal party in Ulan Baotr saying, "I think it is best if he recovers in his place of birth, Mongolia. I realize that Japan has there own ways of doing things, and when in Rome do as Romans do; but they also need to understand the younger generation."
August 21st
Rikishi return from the exhibitions; Asashoryu could be heading to Mongolia this week
The Exhibition season that spanned 17 days ended today with the rikishi returning home to the Ryogoku Kokugikan via bus from Gunma Prefecture. Kyokutenho was asked about fellow countryman, Asashoryu, and the former Sekiwake responded, "Once we've settled in, I'd like to go and talk to him. All of the rikishi are back now, and I think that will help change his mood. That'd be nice if his fellow Mongolian rikishi could buoy him up. I want him to get well soon."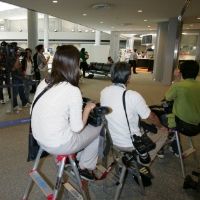 Kyokutenho may not get his wish, however, as reporters have already camped out at Narita Airport in anticipation that Asashoryu could be leaving for Mongolia any day now. The two doctors appointed by the Sumo Association's board of directors held a press conference and both were of the opinion that Asashoryu needed to go back to Mongolia in order to receive the best treatment. Several directors have voiced their fierce opposition to Asashoryu's going home, but the Association has been drawing more and more criticism for the imposed house arrest restrictions placed against Asashoryu, and now if they defy their own doctors' orders regarding the mental health of one of their rikishi, the backlash could be overwhelming.
August 20th
Asashoryu's latest diagnosis revealed; doctors recommend his return to Mongolia
Hiroyuki Yoshida, head of the Sumo Association's medical clinic, announced today that Yokozuna Asashoryu has been diagnosed as suffering from a dissociative disorder, and Yoshida also revealed that he recommended to Takasago-oyakata that Asashoryu be sent home to Mongolia for treatment. The actual diagnosis was performed by a new doctor, Shuichiro Takaki, at the request of the Sumo Association. Takasago-oyakata took the findings and reported them to Kitanoumi Rijicho. Yoshida commented at a press conference, "Asashoryu shows no spontaneous behavior, and he is in a state of stupor severely lacking any self motivation." The two doctors also discussed the two possibilities for treatment--hospitalization in Japan or returning home to Mongolia--but Yoshida-san explained his reasons for recommending that Asashoryu be allowed to return home, "If he were to stay here, it would create an environment where he is completely surrounded and detained by the media, so it's hard to believe that that would contribute to his getting better. The best method of treatment is to place him in an environment where he is most comfortable." Takasago-oyakata also seemed to soften his stance a bit saying, "Well, we could choose to send him home after some treatment here. Based on this diagnosis, I will request that the directors convene to discuss the issue [of sending him home]." Kitanoumi Rijicho's initial reaction was, "The directors had already determined our stance on this, but we will re-examine our view based on the opinions and direction from the doctors."
August 16th
Kotozakura's last words and thoughts were of Asashoryu
It was learned yesterday that on his death bed former Sadogatake-oyakata's final thoughts and words were directed towards Asashoryu. Though Asashoryu's senior of some 40 years, and even though they didn't even belong to the same Ichimon, the former Sadogatake-oyakata was always fond of Asashoryu. The former Yokozuna, Kotozakura, commented to his prodigy and current Sadogatake-oyakata, Kotonowaka, that he hoped Asashoryu would recover as soon as possible and make it back to the dohyo as strong as ever. Kotonowaka, who was visiting his former master when he died, commented, "He has been concerned about the Yokozuna from the beginning [of this ordeal]. He told me that if Asashoryu is injured, he wants him to heal as soon as possible and return to the dohyo." The former Sadogatake-oyakata would watch television for updates on Asashoryu every day from his hospital bed and comment to family members 'what's going to become of all this?'.

Asashoryu seemed to hold an equal affection for Sadogatake-oyakata. Back in 2005 just prior to the Kyushu basho, a meeting of all past and present Yokozuna was held. At the time, Sadogatake-oyakata's left leg was giving him problems and he was having a hard time moving around. Asashoryu bent over at the former Yokozuna's feet and meticulously polished his shoes. The former Sadogatake-oyakata also explained at the time, "He took me by the shoulder and would help me to my feet. There has never been a Yokozuna who was as kind, who had empathy for others, who showed concern for others, and felt as great a responsibility as Asashoryu." The former oyakata was always thrilled when Asashoryu would show up at his stable for de-geiko and would call out thanking him for coming. Asashoryu always returned the respect and praised the oyakata for his keiko facilities. According to those close to Asashoryu, he has yet to learn of the former Yokozuna's death, but they say in his current condition, it is unlikely that Asashoryu will attend Kotozakura's funeral.
August 15th
Ministry of Education critical of Sumo Association's handling of Asashoryu incident; Asashoryu welcome at Kotozakura's funeral
Fumiaki Ibuki, the official at the Ministry of Education who governs the Sumo Association, held a press conference today following his Cabinet Meeting. Ibuki-san expressed his concern over the manner in which the Sumo Association has handled the Asashoryu incident. "It is important that the Sumo Association handle the daily affairs regarding Yokozuna Asashoryu including his understanding of Japanese culture. Currently, nothing has been resolved because everyone has been avoiding the issue and treating him as the bad guy. Up until now, the Association has been handling this like a boil on their skin. I think the members of the Association have got to be a little bit more up front about things."

Meanwhile, Isenoumi-oyakata, head of the Lifestyle Management Committee, commented today that Asashoryu would be more than welcome to attend the funeral proceedings for the former Sadogatake-oyakata, Kotozakura. "That would be great. It would give him a chance to get out, and I think his offering of a stick of incense would be appreciated." Recently, Asashoryu had been visiting the Sadogatake-beya for de-geiko prior to the major tournaments prompting the late Kotozakura to once proclaim, "It's admirable that even though he's a Yokozuna, he comes for de-geiko. I'm thrilled that he visits." Isenoumi-oyakata further emphasized that Asashoryu is not exactly confined to his residence, "We don't' care if he does everyday things like visit the keiko-ba or soak in an onsen."
Takasago-oyakata warns Asashoryu not to go home without permission; Asashoryu's doctor roulette continues
It was learned yesterday that Takasago-oyakata would submit Asashoryu's retirement papers to the Sumo Association without consulting the Yokozuna if Asashoryu returned to Mongolia without receiving permission. "I've already told him if he break his house arrest it will be a huge deal. And of course that includes going back to Mongolia. I think he's aware of the situation," Takasago-oyakata commented. According to those close to the Yokozuna, he wants nothing more than to go home to Mongolia. Takasago-oyakata also acknowledged that Asashoryu has told him in their three face to face meetings that he wants to go home, but the oyakata has taken the stance that Asashoryu can receive the same treatment in Japan. The only way Asashoryu would be able to go back home is if the Sumo Association permitted. Takasago-oyakata said that he sternly warned his Yokozuna that there won't be a next time. Precedent of having a shisho, or stable master, retire a rikishi against his will was set in 1987when Tatsunami-oyakata submitted the paperwork to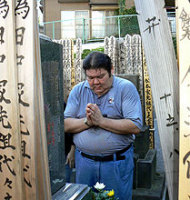 have then Yokozuna, Futahaguro, banned from the sport.

Takasago-oyakata spent his day paying his respects to his former masters as he visited the graves of former Yokozuna, Asashio, the fifth generation Takasago-oyakata; former Komusubi Fujinishiki, the 6th generation Takasago-oyakata; and former Sekiwake, Fusanishiki, the 10th generation Wakamatsu-oyakata. Takasago-oyakata reportedly bowed his head and apologized to his predecessors for allowing all of this to happen on his watch. "I just want Asashoryu to return to his normal self as quickly as possible and be able to hold a press conference."

On the same day, Asashoryu received a visit from a psychiatrist, Masaki Honda, who examined the Yokozuna for about an hour at Asashoryu's apartment. It was reported, however, that Takasago-oyakata was not aware that Honda would visit. "Ask him yourself," Honda replied to reporters who questioned whether or not he should be visiting Asashoryu. This was the second visit by the psychiatrist, and he reported that nothing had changed since he last visited the Yokozuna on the 5th, but according to some close to the Yokozuna, Asashoryu is becoming more aggressive and hostile towards those around him. Honda is the doctor who recommended that Asashoryu be returned home to Mongolia as part of his treatment. Hiroyuki Yoshida, the head of the Sumo Association's medical clinic, has scheduled another appointment for a different psychiatrist to visit Asashoryu on the 17th. After receiving that diagnosis, Yoshida said that he will decide what course of action to take next. Adding to all the confusion, Takasago-oyakata stated on the 13th that he would have Yasushi Imasaka be the sole provider of Asashoryu's mental care. Imasaka is the one who diagnosed Asashoryu as suffering from acute stress disorder on August 6th. Imasaka is currently out of the country and will return on the 16th.
August 14th
Japanese soccer star, Hidetoshi Nakata, blogs about Asashoryu events
Japan soccer star, Hidetoshi Nakata, posted a message on his personal website telling Asashoryu to hang in there. Nakata was a participant with Asashoryu in the now infamous soccer match in Mongolia that led to the Yokozuna's current situation. This is a direct translation from Nakata's blog on his website nakata.net:

Honestly, from point of view I don't know what is real and what is false, but was Asashoryu really faking any injuries? Asashoryu never admitted to faking his injuries, but it's as if the press has already made the judgment that we was. It's hard to imagine that a person who was active enough to just win a yusho would make the claim that he has the sort of injury that would make him unable to walk. It's completely acceptable to think that a Yokozuna would take a wait and see approach regarding the exhibitions in order to heal from his injuries and prepare to fight as a worthy Yokozuna the next basho.

There's no denying he was injured, so what if he went back to Mongolia to heal from his injuries? The serious injury was to his elbow but what if it wasn't bad enough to prevent him from playing a little soccer with some kids? And so what if he felt it was okay to participate in the charity event for the kids because both the Mongolian and Japanese governments made the request, I was scheduled to participate, and it was for the good of both countries and the children?

I had no idea that he was missing the exhibition events, but he told me after the event that his arm was really bothering him. He even looked in pain as he reached for his plates over dinner. He said that he came back to Mongolia to receive treatment and that there was a good onsen (hot springs) in the area that helped the problem.

I realize there was a problem with Asashoryu's behavior that led to some misunderstanding, but from my point of view as an outsider in all of this, the only conclusion that I can reach is that the media is taking this opportunity to lynch Asashoryu. They don't really know the world of sumo, and they can't really say whether or not he's worthy to be a Yokozuna. It's not their place to make these kinds of comments. It's not as if they can't understand the concept that it isn't just enough for a Yokozuna to be strong.

He has 21 yusho, and he carried the Japan Sumo Association on his back as a lone Yokozuna and as a Mongolian. No one can deny what a superior athlete his is and the records he has set. I wish everyone would rethink things about him, and I wish people wouldn't let themselves be swayed so much by the media and the opinions of others.

In conclusion, if I may call him my friend, I can't wait to see Asashoryu defeat his current troubles and return to the dohyo and as one of the strongest Yokozuna ever.

Hang in there, Asashoryu!!

Hide
Former Yokozuna, Kotozakura, dies; Sumo Association explains Asashoryu's punishment to Ministry of Education
Former Sadogatake-oyakata, Kotozakura, died this evening at a hospital in Chiba Prefecture. The cause of death was cited as complete organ failure due to an infection in his blood. The former Yokozuna fell ill on August 9th complaining of stomach pain and was admitted to a hospital in Chiba. He went under the knife this morning, and doctors pronounced the surgery successful, but in the evening, his condition suddenly deteriorated causing his organs to fail. The former Yokozuna died shortly after 6 PM.

Born Norio Kamatani, Kotozakura first set foot on the dohyo at the 1959 Hatsu basho. He reached the Makuuchi division in Haru 1963 and was promoted to Ozeki after the 1967 Aki basho. Kotozakura was known for his fierce attack from the tachi-ai and powerful nodowa thrusts that earned him the nickname "Mogyu" or ferocious bull. Shortly after his promotion to Ozeki, however, he suffered from a string of injuries that led to less than stellar results prompting the derogatory nickname "Uba-zakura" or Old-man Zakura. Despite his injuries, Kotozakura took the yusho at the 1972 Kyushu basho and 1973 Hatsu basho earning him promotion to the Yokozuna rank at the age of 32, the oldest rikishi ever to have achieved Yokozuna promotion. He became the 53rd Yokozuna in the sport's modern history. His tenure at Yokozuna only lasted 8 basho, but he managed to save face by winning the yusho as a Yokozuna. Kotozakura enjoyed 5 career yusho before retirement.

After retirement, he assumed the Sadogatake-beya and immediately built up a network of scouts nationwide that made him one of the most successful recruiters in the last 30 years. Kamatani-san raised two Ozeki in Kotokaze (current Oguruma-oyakata) and Kotooshu as well as countless sekitori rikishi over the years. As part of the Sumo Association, the former Sadogatake-oyakata served as head of the Judging Committee before retiring at the end of 2005 and leaving his stable to Kotonowaka, the current Sadogatake-oyakata. Viewing and funeral arrangements have yet to be determined.

Sumo Association attempts to justify Asashoryu house arrest punishment
Meanwhile, yesterday the Sumo Association dispatched Isenoumi-oyakata, head of the Association's Lifestyle Management Committee, to visit Toshiaki Endo of the Ministry of Education (the non-profit Sumo Association is governed by the Ministry of Education) to explain Asashoryu's punishment. There have been complaints that have surfaced in the press that Asashoryu's house arrest is an unfair denial of his humanitarian rights. The Sumo Association explained through Isenoumi-oyakata, "Until the end of senshuraku of the Kyushu basho, we have stipulated that Asashoryu remain confined to his residence unless he visits either the Takasago-beya or a hospital for treatment. These limits will not be enforced if there is a special reason."
August 10th
Takasago-oyakata dashes any hope of Asashoryu press conference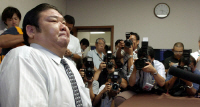 Takasago-oyakata visited Asashoryu at his apartment twice today for the second time in as many days. After his visit yesterday which lasted 90 minutes, the oyakata announced that Asashoryu would soon be able to hold a press conference to address his fans and apologize for his actions. Today at 3 PM, he went back to the Yokozuna's apartment for an hour and twenty minute visit after which he returned to the Sumo Association offices only to head back to Asashoryu's apartment again. The second visit only lasted 13 minutes with Takasago-oyakata leaving the Yokozuna's apartment exasperated by the situation. Arriving at the Association offices around 5 PM, Takasago-oyakata held another press conference. "I wanted the Yokozuna to address you all, but he is still not in a state of mind to do so. Yesterday, he appeared quite relaxed, but it seems to hit in waves. We need to take care of his mental state, his back, and then his elbow before he meets the press." Takasago-oyakata revealed that Asashoryu would begin both physical and mental treatment from home starting early next week. "It seems as if I just don't have the strength to turn him around myself." The press and tabloid shows continue to provide daily updates on the Yokozuna's condition, but little seems to have changed since the Association announced his punishment. "It's not as if he committed a crime. It was just a little...no a big mistake that he made that led to this sort of criminal punishment from the Association."
August 7th
Takasago-oyakata meets with the press again; Former Minister of Agriculture and Fisheries criticizes Sumo Association
Takasago-oyakata announced this morning that Yokozuna Asashoryu has been diagnosed as suffering from acute stress disorder (ASD). On the night of August 6th, a psychiatrist designated by the Sumo Association visited Asashoryu and performed an examination of the Yokozuna's condition. That same psychiatrist contradicted the report of a previous doctor who said Asashoryu was suffering from depression. The findings of the diagnosis will be reported to Kitanoumi Rijicho, who is taking time off and will be back on the job August 9th. Takasago-oyakata commented regarding his prodigy, "I want to wait for a day or two and then talk to him again. Right now we just need to get Asashoryu settled down and relaxed. The best thing for him would be to enter the hospital, but that would cause too much of a stir at this point."

Hirosuke Yoshida, head of the Sumo Association's medical clinic, added, "It's not good to leave him by himself in this condition. He either needs to be hospitalized or returned to Mongolia. His face is expressionless, and he's not talking. I don't think he's eating enough either. His returning back to Mongolia would at least pull him out of this state." Regarding the possibility and suggestion from several that Asashoryu should return home to Mongolia for some rest, Takasago-oyakata commented, "I don't dare suggest that from my mouth."

The examination of Asashoryu lasted about 30 minutes, and according to Yoshida, Asashoryu had been biding his time all day sitting on a sofa with the curtains closed and watching a television with the sound turned off. "It's hard to generate a pinpoint analysis in such a short time, but I can tell you he is not faking this." Takasago-oyakata also added that he would like the opinion of several specialists but that it ws ultimately up to the Sumo Association's board of directors to decide what Asashoryu can and cannot do.

Yoshinobu Shimamura, a friend of Asashoryu's and the former Minister of Agriculture and Fisheries, visited the Yokozuna at his residence yesterday and presented him with some expensive sushi from Osaka. Asashoryu reportedly only said, "sorry to cause you the trouble" at seeing his friend. Shimamura-san described the scene of Yokozuna's large living room as, "He just sat there not moving on the sofa with his eyes closed. He didn't have any tea nearby which is very rare for him as he eat and drinks about 10 times more than the regular person. He wore a black t-shirt, and his mage was limp and disheveled. I couldn't even smell the binzuke oil anymore. It's the first time I've ever seen the Yokozuna like that." Shimamura-san continued, "When his eyes were open, he would just stare at the same place. In my various occupations, I've had to decipher people's expressions and their state of mind, but this case looks extremely serious. I was at his place for about 30 minutes, and each 10 minutes seemed to drag on for 2 -3 hours."

Shimamura-san also told the story about when the top referee, Kimura Shonosuke, retired, Asashoryu waited in the hanamichi for the him to come and then handed him the kensho envelopes he had won that day saying "gokurosama" or job well done. "We've never had a Yokozuna like him. That's Japanese culture right there. Are we just going to sit here and confine him to this? If he is damaged permanently from this, then it is a humanitarian problem. Banning him for two basho is too extreme. How long can a person be expected to perform keiko without a purpose? Yes, he is a foreigner, but he's also a human being. I see that we still have a closed-door policy when it comes to Japan's national sport."
August 6th
Takasago-oyakata meets with Asashoryu face to face, holds press conference
Takasago-oyakata met with Asashoryu face to face today for the first time since the Sumo Association announced on August 1st that the Yokozuna would be forced to sit out the next to basho and would also have his pay cut by 30% for the next four months. The days following the announcement were filled with rumor and speculation alleging that Asashoryu was taking tranquilizers, watching a television set all day with the sound turned down, and acting schizophrenic. Takasago-oyakata finally met with his prodigy for about 15 minutes and shed light on the situation afterwards with the media. "He seemed completely worn out. I usually can't get him to shut up, but he hardly talked with me and only usually responded to my questions with 'ganbaru' (I'll do my best)." When asked if Asashoryu had any apologies for his fans, he stated, "It will be impossible for him to hold a press conference until he gets better." When asked what advice he gave Asashoryu, Takasago-oyakata responded, "I told him that if he just gives up now, then he has lost. You need to patiently wait this out and do your best." On August 5th, Asashoryu was examined by a psychiatrist who said the Yokozuna showed signs of depression, but the oyakata refused to comment on the matter. Speculation has also arisen that Asashoryu has requested and was advised by his doctors that he would do better recovering in Mongolia, but Takasago-oyakata denied any such rumors saying, "Neither Asashoryu nor myself have given any indication whatsoever that he should go back to Mongolia." Takasago-oyakata wrapped up the session by saying that he has requested through the Sumo Association's doctors that a re-evaluation of Asashoryu's mental state by performed. He will then take those findings and report them to Kitanoumi Rijicho.
August 2nd
Takasago-oyakata holds press conference; Asashoryu taking medication
Takasago-oyakata met with the press today to discuss the situation surrounding Asashoryu. "Just as soon as he says he's okay, he turns around and says maybe it's all hopeless. I'm just praying that he doesn't retire." Takasago-oyakata indicated that he hasn't yet spoken to his prodigy face to face but that he is receiving from affiliates from the stable. The oyakata also revealed, "He has also been taking tranquilizers to settle down his nerves. Right now he's really uneasy to the point where he can't grasp the severity of the punishment." The oyakata was also frank in his thoughts the the punishment was too severe for a Yokozuna who has been carrying the sport for 4 1/2 years and who has taken the yusho 21 times. "It's as if all of his work and effort until now have been ignored leaving him to ask why. He just can't settle himself down right now, but when he's ready and of a positive mindset again, I will have him hold a press conference."
Sumo Association phones ringing off hook
Since the punishment was announced by the Sumo Association, all 30 phones in the Sumo Association offices have been ringing off the hook. According to the staff, they are receiving opinions from both sides...some saying the ruling was too harsh and some saying it was too light. They estimate that it's about 50-50 as to what stance people are taking. Furthermore, fans are also giving strict suggestions beyond just the Asashoryu incident saying things like "Not only Asashoryu, but Kitanoumi Rijicho and the other officials should all resign", "this is unfortunate now that we have two Yokozuna", and "we're rooting for Asashoryu to overcome this trial."
Reaction to Asashoryu's punishment
Yokozuna Asashoryu remained holed up at his residence after the announcement came down that he would be banned from fighting in the next two basho and would also receive a 30% paycut for four months. Instead of visiting the hospital for treatment, he summoned a doctor to the house instead. As the doctor left the residence, he commented to the press, "Asashoryu said that he still wants to do sumo. He likes Japan, and he likes the Japanese people. He says he loves sumo and that he is still going to do his best when he gets back." Asashoryu's mentor, Takasago-oyakata, did offer some comments to the press. "Asashoryu and myself will once again restudy some things. I told him the punishment over the phone, and he seemed quite troubled. There are things in the past that I have probably overlooked regarding his behavior, so in the future if we're in this situation again, I'll grab him by hairs on his neck and reel him back in."

The three major players in the incident all offered statements as follows:

Asashoryu - "Of course I accept the punishment. As I rehabilitate, I will prepare for the Winter exhibitions and next year's Hatsu basho."

Takasago-oyakata - "I accept the punishment. We will do our best so that his 21 yusho are not put to waste. [The next time he tries to go home to Mongolia] I will grab him by the hairs on his neck and bring him back. He must now focus on healing his injuries. I will offer my support to him. I want to make this all a positive."

Kitanoumi Rijicho - "The punishment is valid. The Yokozuna must learn that others are constantly watching his actions. Asashoryu is very disappointed I'm sure, but I want him to rededicate himself again."

Timeline of previous behavioral incidents from Asashoryu:

Nagoya 2003: Asashoryu is disqualified from his bout against Kyokushuzan on day 5 after grabbing a fistfull of Shu's hair and yanking him to the dirt. The Yokozuna broke the mirror of Kyokushuzan's car as he left the venue and got into a verbal squabble with Kyokushuzan in the locker roon on day 8.

December 2003: Asashoryu secretly returns home to Monglia and is absent for the funeral of the former Takasago-oyakata

Natsu 2006: Asashoryu withdraws from the tournament on day 3 but is seen in the locker room on day 7 seeking signatures from his fellow rikishi in support of an exhibition tournament in Mongolia.

Haru 2007: Asashoryu knees Kisenosato after he's down in their day 8 bout. On day 10 after a loss to Aminishiki, Asashoryu kicks a zabuton out of his way while walking down the hanamichi.


Mongolia Exhibition put on hold for now
The Nikkansports Shimbun reported yesterday that the Sumo Association is now reconsidering its prior plans to hold an exhibition tournament in Mongolia in August 2008 as punishment for Yokozuna Asashoryu's recent disregard for local exhibitions. Takekuma-oyakta who visited Mongolia a month ago and has been actively working on the logistics of the tournament, commented, "We won't consider such an exhibition until all of this trouble ceases. The reality of a Mongolian Exhibition now is in more doubt than ever." The newspaper quoted others within the Exhibition Tournament Committee anonymously, "He is taking too lightly the second pillar of our sport, the exhibitions. Going out of our way and holding an exhibition for that kind of Yokozuna is stupid."
August 1st
Asashoryu to miss the next two basho and receive a 30% pay cut for four months
An unprecedented punishment to an active rikishi was handed down to Asashoryu this afternoon as the Sumo Association announced it will force the Yokozuna to sit out the next two basho as well as take a 30% pay cut over the next four months. Asashoryu's stablemaster, Takasago-oyakata, was also punished to the tune of a 30% reduction in his stable allowance for four months. Details leading up to the astonishing punishment handed down are in the article below.
Asashoryu to face punishment for allegedly faking injuries
The board of directors for the Sumo Association will hold a special meeting today to discuss possible punishments to be levied against Yokozuna Asashoryu and his oyakata for allegedly submitting inaccurate medical diagnosis forms along with kyujo papers in an effort to skip out on the summer exhibition tours. The medical forms suggested that Asashoryu's left elbow was bad enough that it required surgery, and they also listed a strained lower back. Asashoryu submitted the forms obtained from a hospital in Mie Prefecture shortly after the conclusion of the Nagoya basho and then went home to Mongolia to receive treatment and recover. Reports surfaced in the press later in that week that the Yokozuna would miss most if not all of the exhibition events; however, shortly thereafter, footage was obtained that showed the Yokozuna energetically participating in a soccer event back home attended by Japanese soccer star, Nakata. The Yokozuna's actions were inconsistent with his reported injuries leading to a firestorm in the Japanese press asserting that Asashoryu had lied to the Association and faked his injuries to get out of exhibition duties.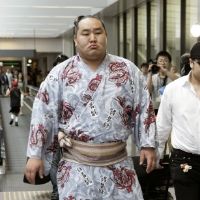 The Yokozuna was ordered to return from Mongolia on July 30th and joined by Takasago-oyakta immediately visited Kitanoumi Rijicho to explain himself and apologize for the incident. Asashoryu was noticeably upset over the incident and only commented to reporters, "I apologize for my actions. I will receive treatment in Japan and give it my all next basho." Takasago-oyakta also commented, "He was asked to attend the soccer event by the Mongolian government, but that still doesn't excuse his actions. Along with Asashoryu, I must offer my sincere apologies because I allowed him to submit those kyujo papers as well." When Kitanoumi Rijicho was asked for comment, he simply responded, "I have no comments because it will only invite more misunderstanding." At a minimum, the board of directors is expected to fine both the Yokozuna and deduct the amount of money given each month to the Takasago-beya itself for possible up to six months, but speculation is that the Yokozuna may even be forced to sit out the upcoming Aki basho. One un-named director commented, "He is making light of our national sport along with his stablemaster by showing disregard for the exhibitions. I don't think a cut in pay is sufficient." Another director anonymously commented, "We've got to be strict this time or the message won't be received. I think there will be those who will call for him to sit out the next basho."

In the meantime, the committee in charge of exhibitions convened on July 27 and determined that Asashoryu would be banned from participating in exhibition events due to his actions. Oshima-oyakata stated, "We received a medical note that said he required 6 weeks of recovery time, but we do not need his attendance at our events even beyond that time scope." Takasago-oyakata had said when Asashoryu first withdrew from the planned exhibition events that the Yokozuna could attend later on if his injuries healed properly, but Takadagawa-oyakata, one of the directors in the association, stated, "Even if he wants to attend now, we don't want him. In the 200 year history of sumo, exhibition events have been just as important as hon-basho. Giving special exemptions just because one is a Yokozuna is inexcusable. In fact, for the time being he doesn't need to bother. We will not stand for selfishness on the Yokozuna's part where he comes and goes as he pleases." The committee is moving towards a temporary ban on Asashoryu from attending any exhibition events even beyond the summer season. Takasago-oyakata responded to the exhibitions committee's stance by saying, "I'm still going to encourage him to participate."

Also being drawn into the mess is the Yotsukaichi City Hospital in Mie Prefecture, which provided the Yokozuna with the initial health results that cited the injuries. The hospital has been overwhelmed with requests from the press and other inquiries to the point where normal hospital operations have been affected, so in a seldom-seen scenario, the hospital issued a statement revealing the Yokozuna's condition: the focal point of the first injury is the lower back area. [The patient] was previously diagnosed with a stress fracture to the fifth lumbar vertebra, and the patient complained of serious pain in the area. The next injury was a sprain to the anterior colateral ligament in the left elbow and severe pain in the joint bone of the same arm. After x-raying the joint, we determined the injury was serious enough to require surgery to heal properly. Due to the previous occurrence of injury and the patient's complaint of serious pain, 6 weeks of rest and recovery was recommended.

Asashoryu visited a Tokyo hospital on July 31 to undergo more examinations where it was determined that neither hospitalization nor surgery on his left elbow were necessary. They indicated that he could just receive his treatment by making periodic outpatient visits. Takasago-oyakata stated, "I don't think we will go through with the operation. We'll continue to have him rehab daily here. I will not let him go back to Mongolia though." The Mongolian government also stepped forward to offer a formal apology through the Mongolian embassy. They apologized for asking Asashoryu to do too much and explained that a charity event was being held to benefit children, and when they learned that the Yokozuna had come home, they asked him to participate. "We were told by Asashoryu that he had come home for treatment, but we persuaded him to promise to attend. We offer our sincerest apologies to the Nihon Sumo Kyokai and to Asashoryu for causing so much confusion."

The entire saga has created a media firestorm, and the Association has reportedly been flooded by complaints and demands for refunds from paying customers in all 17 cities scheduled on the exhibition tour.